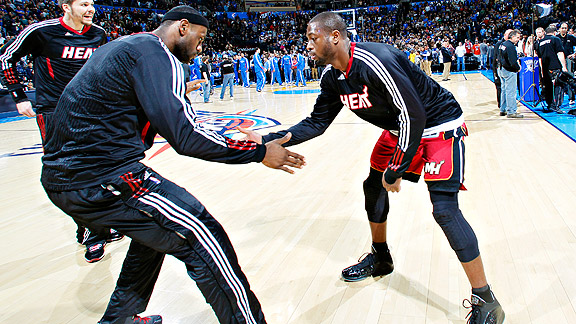 Layne Murdoch/NBAE/Getty Images
LeBron James, Dwyane Wade and Mike Miller took the floor together Sunday -- to stellar results.
For an NBA team, every season has its pivotal moments, mileage markers along the way that carry significant meaning. For the Heat, those events on the journey have included the loss to Dallas that produced the players' only meeting, LeBron James' triumphant return to Cleveland and the overtime win in Portland.
There are several tracks along that timeline. Emotional flash points like the ones above, the media narrative and, particularly for this team, the schematic course. A coach inherits a roster of players at the beginning of the season. It's a puzzle to be assembled. Some of the pieces are larger than others, some more inscrutable, a few of them are flexible, but for the team to be successful, all of them have to fit.
For Erik Spoelstra, the challenge of putting that puzzle together offers special challenges. His roster is stacked with talent, but there's not much depth. There are redundancies in the games of his best players, but as counterweights on the wings, they compose one of the strongest, fastest, most aggressive tandems -- certainly since Michael Jordan and Scottie Pippen.
Each NBA coach has biases and proclivities, axioms about how basketball games are won and lost. Learning to adjust his philosophy and temperament to the realities that play out on the court is a huge part of the job. Spoelstra is a structuralist at heart, a coach who likes order and convention. So is one of his star players, James, who has a very clear idea of where he should position himself on the court. He said last week -- again -- that he's "not a 4." He's also repeatedly stated that he's not a point guard, even if he prefers to initiate half-court sets.
All of these conditions -- which also included an injury to Mike Miller - prompted Spoelstra to sculpt a very well-defined rotation over the first half of the season. When the Heat were ripping off wins, they did so with Carlos Arroyo and Mario Chalmers sharing 48 minutes at the point; James Jones subbing on the wing for James and Dwyane Wade; Chris Bosh manning the high post, backed up by Juwan Howard; Zydrunas Ilgauskas (for spacing), Joel Anthony (for defense and speed) and Erick Dampier (for bulk) held down the center by committee.
This rotation worked wonders during December, as the Heat rolled through their schedule. But questions lingered and certain truths surfaced. Spoelstra's stars went down one by one and Miller returned. Arroyo demonstrated real limitations.
Spoelstra is devoted to order, but he's also an empiricist and a pragmatist. He relies on data and makes adjustments as those fundamental truths reveal themselves. He knew he needed to incorporate Miller's talents into the mix for the stretch drive, even if it meant taking some lumps along the way. Spoelstra must have also seen that his team was a far better defensive unit when Chalmers was at the point and that pick-and-roll coverage is far easier when Anthony is manning the back line.
There were also other experiments that still needed to be undertaken. When the Heat signed Miller, they did so with the expectation that he would be part of a dynamic "crunch-time lineup." However traditional the Heat's starting five would be, it was imperative that they have their best players on the floor when the game mattered most.
Trial and error is the foundation of the scientific method and Spoelstra -- a man of science -- had yet to perform that trial.
That is, until yesterday in Oklahoma City, at the 5:48 mark of the first quarter with the Heat trailing 22-13. At that moment, Spoelstra went to the bench, inserting Miller into the lineup for Chalmers. For the first time, the Heat had James, Wade, Bosh and Miller on the floor together. They scored on six of their first seven possessions and recorded a plus-6 over about four minutes of playing time. (Eddie House checked in for Wade at the 1:50 mark, yet another sign that Spoelstra was putting spacing at a premium).
When Chalmers took a seat at the 4:16 mark of the third quarter and the Heat leading 78-77, the Heat would not have a "true" point guard on the floor again. Chalmers is a valuable defensive player, but he wasn't helping the closing unit when the Heat were struggling. Meanwhile, Arroyo recorded a DNP-CD, with Miller playing every second of the game's final 16 minutes. James operated as the Heat's de facto point guard over that stretch, and the team held on for a win.
In 43 possessions Sunday, the Heat's "no point guard" units outscored the Thunder 52-42. That's an offensive efficiency rating of 120.9 per 100 possessions and a defensive efficiency rating of 97.7.
There's always a risk of falling victim to small-sample-size theater when measuring a puddle of data as small as 43 possessions. But the analytics here are far less important than the tangibles that played out on the court. Spoelstra reached into his back pocket, a place he's referenced in numerous statements to the media, and found a solution to a problem. It's not a perfect solution. Wade and James will have to take on more responsibility as on-ball defenders. The absence of a point guard might produce a slightly higher turnover rate on a given night.
But whatever misgivings Spoelstra or his star players might have about such a scheme were sublimated for a larger purpose -- progress and innovation.
This morning, the Heat know a lot more about themselves. And self-knowledge is a very powerful tool.