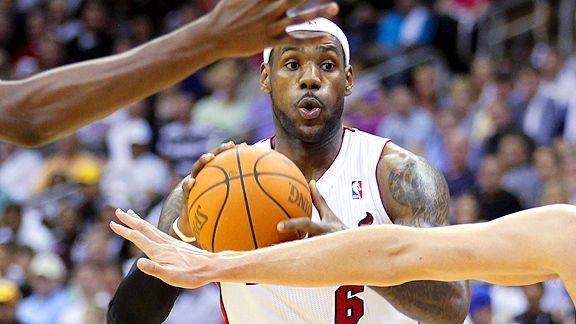 Jamie Squire/Getty Images
LeBron James' second exhibition game in a Heat uniform brought him to Kansas City.In the battle of preseason MVP candidates, LeBron James and the Heat joined Kevin Durant and the Thunder to show Kansas City a taste of what it's been missing all these years.
NBA basketball hasn't been played regularly in Kansas City since the Kings left in 1985 (when LeBron was but a toddler), but the Sprint Center was filled with 18,222 fans, some of whom may have actually coughed up a Benjamin-plus to see this preseason game.
James finished with 22 points, seven rebounds and eight assists in a 103-96 win. Favorite son Mario Chalmers -- he of the 2008 NCAA title-game heroics for the Kansas Jayhawks -- had five points on 1-of-6 shooting. Chris Bosh finished with 23 points on 10-of-15 shooting. Mike Miller did not hesitate to shoot from beyond the arc, sinking 3-of-10 treys en route to 15 points. Udonis Haslem, the lone holdover on the court (D-Wade still out with hammy injury) from the 2005 Miami Heat title team, finished with 17 points and nine boards.
And don't tell Durant he's the anti-LeBron.
See box score, recap and watch the highlights.