On Tuesday, Heat forward James Jones was selected to participate in the 2010-11 All-Star 3-point shooting contest. He'll join Boston Celtics sharpshooters Ray Allen and Paul Pierce, as well as Kevin Durant of the Oklahoma City Thunder, Dorell Wright of the Golden State Warriors and Daniel Gibson of the Cleveland Cavaliers.
Jones, a 30-year-old native of Miami, is in the midst of one of the best 3-point shooting campaigns in his seven-year career. He has made 93 of his 219 3-point field goal attempts (42.7 percent) and currently ranks 30th all time with a career 40 percent conversion rate from downtown.
"It's an honor and a privilege," Jones said before Tuesday's game against the Indiana Pacers. "It's one of those things as a kid, and especially as a professional, that you relish the opportunity to participate in something like this. For me, being a 3-point shooter, this is the ultimate competition. It's going to be a lot of fun."
We might be a little more than a week away from the event, but we won't waste time having fun with Jones' selection.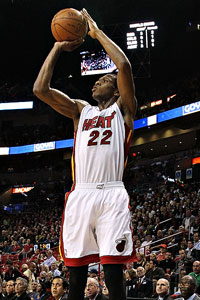 Mike Ehrmann/Getty
James Jones: 3-point savant
The History
Jones says this will be the first 3-point contest he's ever participated in -- not just as a pro, but in his entire life. And considering he has enjoyed a long career primarily due to his 3-point talents, it's a surprise the invitation hasn't arrived sooner.
Back in 2007-08 while Jones was with the Portland Trail Blazers, he felt pretty good about his chances of making the field. After all, he was shooting a blistering 48.3 percent from downtown heading into the All-Star break. But alas, he didn't make the cut.
Jones will become the fifth member of the Heat organization to participate in the contest. Daequan Cook (2009), Jason Kapono (2007) and Glen Rice (1995) each won the event.
Although the Heat have a decorated history in the contest, Jones said he isn't expecting advice from past Heat participants.
"I've been shooting my entire life," Jones said. "They've been shooting their entire lives. If you go into this trying to switch it up and reinvent the wheel, you don't have a shot."
Jones says he wasn't a viable candidate for the 3-point contest as a collegiate at the University of Miami, mostly because he was treated like a big man at 6-foot-8. He shot 38.3 percent as a Hurricane, nailing 124 of his 324 attempts over his four-year career.
Jones the Specialist
From a percentage standpoint, Jones is more than qualified for the competition. And he might have a leg up on the rest of the contestants because of his shooting style.
Unlike others in the contest, Jones is a set shooter who spends most of his time lurking along the perimeter waiting for the defense to collapse on Dwyane Wade, LeBron James and Chris Bosh. Jones is a specialist's specialist. He has been assisted on every single one of his 93 3-pointers this season. Denver Nuggets wing Arron Afflalo and Jones are the only players this season to make at least 75 3-point field goals and have all of them assisted so far.
"It caters to a guy like me, being a stand-still shooter," Jones said. "Pick it up -- or catch it -- and shoot, not off of movement. The way I shoot it is the easiest way to shoot it, whereas those guys like Ray [Allen] shoot it off of screens full speed, trying to get their body in position. That's tough."
Not only is James a stand-still shooter, but he's exclusively a 3-point artist.
"I think 95 percent of my shots are 3s, so naturally I take a lot and I make a lot," he said.
Ninety-five percent is an exaggeration on Jones' part, but not by much. Of James' 251 total field goal attempts, 213 of them have come from beyond the arc, which means 3-pointers make up 85 percent of his overall repertoire.
Offensive players aren't allowed to stand in the paint for more than three seconds. For Jones, it's almost as if that rule extends out to the 3-point arc. The line almost serves as a boundary. He rarely ventures across the curved stripe and does so only in the rare event that he is running off a screen. According to Hoopdata.com, the veteran has taken only one layup this entire season.
One layup in more than 1,000 minutes of playing time.
He missed it.
What's more, Jones has taken only three shots inside 16 feet. He has missed all three of those attempts. In fact, you'd have to go back three seasons in order to find his last made basket inside 10 feet. He made a layup in a loss against Boston on April 10, 2009. He has missed all 10 shots within 10 feet since that game.
His shot repertoire is the closest thing to a 3-point contest that you'll ever see.
Finding the hot spot
Shooting from five stationary positions around the arc, the 3-point contest isn't entirely representative of in-game circumstances. However, Jones does have the advantage of being a set-shooter, which stylistically is similar to the contest's format.
With that said, being a set-shooter has its disadvantages as well. For one, as someone who camps out in the corners, he rarely shoots head on at the top of the key.
But that fact isn't keeping Jones up at night.
"None of the racks are scary," Jones said. "You go up there and you shoot the ball. Evidently, within this system, I shoot a lot in the corners, but every day when you're in the gym, you're shooting from all the spots. It just so happens in the game, you get the corner shots. But you always have to be prepared for the top of the key or the wings."
Which will be Jones' best rack on All-Star weekend? The one in the left corner. If his performance this season is any indication.
James Jones shooting zones
* -- minimum 40 attempts. Note: data through 2/7/2011
As we can see, Jones has attempted only eight 3-point shots from center, according to data generated by ESPN Stats & Information. For his career, Jones is merely a 28.6 percent shooter from the top of the key, converting just 28 of his 98 career attempts from there.
But everywhere else, he's significantly above the league norm.
Heat coach Erik Spoelstra said the team still has ball racks in the practice gym. Jones says he'll dust them off in preparation for the show, but he's not thinking about it now.
"I'll get in a little bit of practice," Jones said. "But it's all in fun, though. At the same time, we still have games that we're trying to win. It's the furthest thing from my mind.
"It's just a minute."