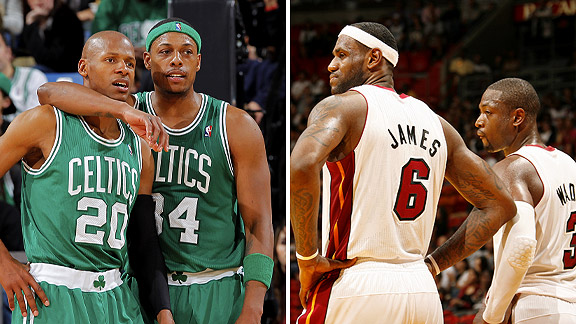 Rocky Widner/Isaac Baldizon/NBAE via Getty Images
Ray Allen and Paul Pierce win by feeding off each other. Do LeBron James and Dwyane Wade need to?
Celtics vs. Heat.
Old guard vs. new guard.
As the defending Eastern Conference champions, the Celtics have ground to protect against Miami. Adding fuel to the fire, the Celtics have a moniker to preserve. The trio in Boston were the original bearers of the Big Three nickname when Kevin Garnett and Ray Allen joined Paul Pierce four seasons ago. But now in their mid-30s, they are the elder statesmen of the East.
Then there's Miami, nipping at Boston's heels. Sure, the Heat will enter Sunday's matchup with a half-game lead atop the Eastern Conference standings, but they still have plenty to prove as they're 0-2 against the C's. As the Heat's Big Three enter their prime, they hope to supplant Boston's conference supremacy for good.
But the most interesting dynamic between these teams won't be found in nicknames, title belts or records -- but on the wings. Namely, the contrast between Boston's tandem of Ray Allen and Paul Pierce, and Miami's tandem of LeBron James and Dwyane Wade.
Again, it's the interplay of old guard vs. new guard.
Say you're picking teams and you have to choose between the two wing duos. There are countless factors to consider when assembling your team, but if you value the virtues of order and synergy, you may anchor your unit with Allen and Pierce. With them, there's no role confusion, no power struggle nor pitfalls that come with experimentation. The duo offers a pure, balanced combination of a shooting guard and a small forward bolstered with a shared possession total in the thousands.
And that complementary bond is a valuable commodity in basketball. After all, scorers are a spot-up shooter's best friend. Pierce's multifaceted scoring attack draws the attention of help defenders on the perimeter. And Allen is perhaps the best spot-up shooter ever to grace the court, though we didn't need Thursday's record-breaking performance to tell us that. Synergy Sports Technology informs us that Allen has nailed 51 of his 101 spot-up jumpers this season, which gives him a mind-boggling 75 percent effective field goal percentage on those shots.
Leaving Allen to help on Pierce is a losing gamble, but one that defenses often can't resist. And just like any symbiotic relationship, spot-up shooters are a scorer's best friend as well. Pierce possesses that crafty inside-out game that draws the envy of every YMCA over-the-hill regular. But without the threat of a lurking 3-point shooter, Pierce would be forced to constantly circumvent help defenders. Furthermore, as Allen runs around a barrage of off-ball screens, Pierce can slip through the cracks and free himself for an easy bucket.
But while Allen and Pierce have perfected our ideal complementary relationship between a 2 and a 3, Wade and James don't ascribe to that model. And they're talented enough that they don't need to.
When the Heat struggled out of the gate to a 9-8 record, many critics pointed to the lack of synergy between Wade and James. They are too similar to coexist, the gallery posited. Is this true?
When we look at Synergy, we find that James and Wade are nearly identical in their scoring attacks. For James, 24.4 percent of his plays originate from the pick-and-roll, his most common play type. Wade? 24.8 percent. Wade's second-most popular play type is in transition, which accounts for 18.8 percent of his plays. James? 19.7 percent. Post-ups? 5.9 percent for Wade and 6.1 percent for James. You get the idea; their scoring palettes are virtually indistinguishable.
But this similarity hasn't plagued the Heat's offense by any stretch. Whereas Pierce and Allen succeed by integrating their dissimilar scoring attacks like puzzle pieces, the Heat's wings thrive without the supposedly vital interdependence. The Heat score 114.7 points per 100 possessions when James and Wade play on the court together, which stands above the Celtics' 112.5 points per 100 possessions mark with Pierce and Allen this season.
So early-season critics were absolutely justified in calling Wade and James similar, but not to the extent that it was a fatal flaw. That was a knee-jerk reaction. No, Wade and James don't feed off each other quite like the rival duo they'll face Sunday, but there's more than one way to skin a cat. Allen and Pierce appeal to our teamwork sensibilities and follow the traditional model of wing play. But through the Heat's success, James and Wade are breaking the mold set by their predecessors.
As Wade and James barrel through opponents these days, we're learning that a symbiotic relationship is not as critical as we may have thought. In their primes, Wade and James are creating a new brand of winning basketball -- their own.