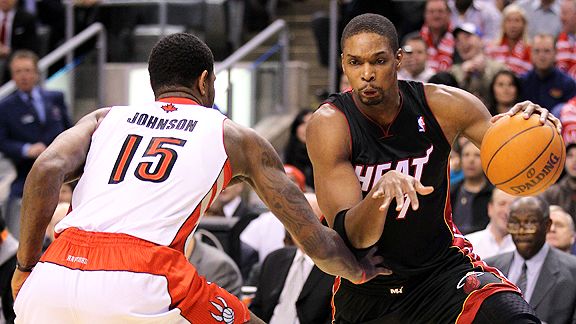 Claus Andersen/Getty Images
Chris Bosh's return to Toronto was marked by heavy booing and another Raptor loss.
TORONTO -- What a fitting end to the Heat hatred tour: uncomfortable and bizarre.
As he walked off the Air Canada Centre floor after the Heat's 103-85 win over his former Raptors teammates, Chris Bosh looked up to the crowd and blew kisses. Half of the fans started to cheer and half of them continued to boo in a moment that was as odd and unprecedented as many have been since last July.
Was Bosh being sincere or sarcastic? For a guy who has admitted he's a bit of a geek and can seem socially awkward at times, it was hard to tell other than it was another strange sight during this season.
"What does sarcasm mean?" Bosh said with a smile. "It was sarcastic to all the naysayers, it is real to all the supporters. People are going to take it the way they want to."
Mostly Wednesday night there were naysayers. Bosh was booed steadily from the moment he took the floor, fans even cheered when he missed shots in warmups.
But the Heat are used to this sort of stuff by now. It also wasn't anywhere near the level of fire that fell on the team two months ago in Cleveland for LeBron James' return, where the hate was so heavy it seemed like it weighted down the air in Quicken Loans Arena.
"You can't compare it," Dwyane Wade said.
"It wasn't close, it was very different," James said.
Because no fan base exactly knows how to behave under these circumstances -- the Heat's moves last summer touching new nerves where loyalty and players' rights intersect -- the Toronto actually cheered Wade when he was introduced. And, of course, booed James.
The same thing happened in Cleveland, Wade got some cheers from fans unsure where to put him. Wade didn't like it and after the game did his best to keep it from happening again.
"We go back to Cleveland, I get cheered, we come here I get cheered, that is a slap in the face to these guys," Wade said. "Those cheers are boos to me."
"I know the decision they made was very tough, to come to Miami and join me down there. I understand what those cheers mean. Miami was the best city to choose. I'm not saying anything about Toronto, it wasn't a focal point of mine. I wasn't coming here. I'm not saying anything about Cleveland, I wasn't going there either."
Still, overall there was an edge to the evening and Bosh felt at least some of its sting. He played relatively well, scoring 25 points, the most for him in 11 games. The Heat finished off their road trip 3-1 and hit the All-Star break winners of 10 of their last 11 games.
He attempted to be cordial, which is Bosh's personality. Other than a brief yell after a first-half dunk and then his peculiar departure from the court, Bosh kept his emotions even-keeled. He shook hands with security guards and ballboys -- but not former coach Jay Triano, who declined to shake Bosh's hand when the teams first played in Miami earlier this season and now the two seem to avoid each other -- and even hugged and kissed some longtime season-ticket holders.
The boos leveled off as the game went along, the focus shifting to the Raptors' upset bid. It was ultimately thwarted by the Heat's big three, with Wade finishing with 28 points and James putting up 23 points with 13 rebounds.
For that reason the Heat players left the building smiling and laughing. Bosh, James and Wade were headed for a plane that would whisk them to Los Angeles for All-Star fun and games. If there were any real wounds created, Bosh seemed to forget them rather quickly.
"It was an interesting environment," Bosh said. "If people don't support you now, they never supported you at any time. We've been getting booed and people have been saying all kinds of things in all kinds of ways everywhere. We use that for motivation. We don't let that get to us. When people go talking at the mouth and saying ignorant, crazy stuff, we love it."