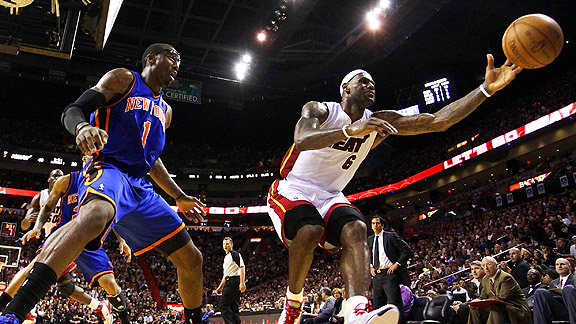 Marc Serota/Getty Images
Don't call it a rivalry yet, but the intensity is brewing between the Heat and Knicks.
MIAMI -- When Amare Stoudemire looked at his situation at the start of the season, he felt like he'd taken a risk by signing with the New York Knicks.
The incumbent conference champion Boston Celtics had re-signed several stars, while the Miami Heat, and to a lesser extent the Chicago Bulls, had added talent in a developing arms race in the East. That was before the Orlando Magic made a series of dramatic trades that added talent to their roster.
"It was definitely a huge risk on my part to come to New York because there was no one here and, at the time, no one wanted to come," Stoudemire said. "Not one person. The team wasn't known to be successful. So it was a huge, huge risk for my career."
Now, things have changed again and Stoudemire finds himself in the middle of the talent build-up as Carmelo Anthony has joined him in New York.
With the trades over and all the contracts now signed -- the Knicks and Heat have combined to commit nearly $500 million in new deals to Stoudemire, Anthony, LeBron James, Chris Bosh and Dwyane Wade since July -- the path has been cleared for a new rivalry between new East heavyweights to begin.
These stars, for the foreseeable future at least, are now locked in with their new teams. And every time Miami and New York play, as they will Sunday night at 8 p.m. on ESPN, it will be considered an event.
"It is going to be battles for many years with Amare and Melo," Wade said. "They're guys around the same age as we are. We're not going anywhere, they're not going anywhere. It is going to be some battles for a while. As competitors, I'm sure they look forward to it and we look forward to it with open arms. We look forward to this game and many more."
The Heat come into the game in a virtual tie with the Celtics for the top seed in the East, and the Knicks are in sixth position. With the standings tight and still more than a quarter of the season to go, it is possible they could be playoff opponents.
"We felt the intensity [against Miami] before we brought in Carmelo," Stoudemire said. "Now it is more magnified with Carmelo and Chauncey [Billups] joining us."
It is not until there is a playoff series, most players say, does a true rivalry materialize between teams. Even if fans from both sides will remember the Heat-Knicks battles from the '90s, the current combatants aren't ready to go that far. But that doesn't mean they don't expect extra energy when they play.
"Regardless if it my third game or not, it should be a statement for us to want to beat this team," Anthony said. "I think the East has become more powerful now and you're going to see a lot more competitive games in the East."
So far this season, the Heat have beaten the Knicks in two of the three meetings. But there has been an extra edge to the games, especially last month in New York when the Knicks prevailed in a come-from-behind victory.
"Rivalries don't start until you have a playoff series or two," James said. "But we'll welcome it back. We'll make it fun like it has been in the past."