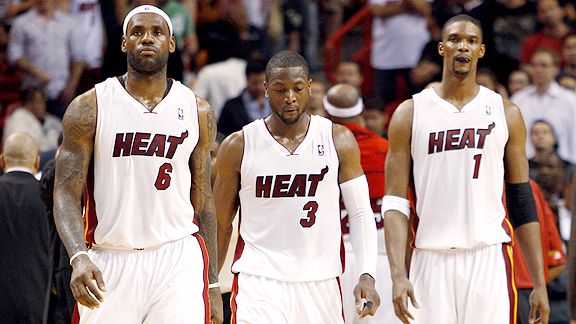 Derick E. Hingle/US Presswire
The Miami Heat's big three found it hard closing out the half, losing a 24-point lead to the Orlando Magic.
MIAMI -- Move over, Charlie Sheen.
When it comes to spiraling out of control before our very eyes these past few days, dude, you've got company. Star-studded company. Miami Heat company.
To borrow a line from Scottie Pippen, two-and-a-half players company.
Meet LeBron James, Dwyane Wade and Chris Bosh, the talent core of a team going through another stretch of turbulence. And that's never a good thing, especially when this latest post-debacle itinerary included boarding a plane after midnight Thursday to San Antonio to face a Spurs team Friday that is sporting the league's best record.
Just like yours, Charlie, the Heat's show was once the hottest thing going. After Thursday night's demoralizing 99-96 loss at home to the Orlando Magic, this Miami cast is only crashing and burning.
In blowing a 24-point lead over the game's final 20 minutes, the Heat continued a destructive set of trends that reveal this team is stumbling backward at a time when it was supposed to be storming down the stretch and peaking on the way toward the playoffs.
Instead, the Heat has been petering out at the most pivotal points of games. What transpired against the Magic in the fatal final 20 minutes could be summed up in three words Bosh spoke after he pulled his head out of his hands at the postgame podium and glared through glossed-over, bloodshot eyes.
"We just collapsed," Bosh said.
This wasn't just any collapse. It was a colossal calamity of a collapse. If Charlie was watching, even he had to be shaking his head, wondering, "What in the hell happened to the Heat?"
I've covered this team now for five seasons, and this was the worst loss by a relatively healthy and supposedly motivated Heat team since my very first game on the beat. That debut happened to be the 42-point home loss to the Chicago Bulls on the night Wade, Shaquille O'Neal and Alonzo Mourning and company were presented their championship rings in the 2006-07 season opener.
Unlike this current Heat team, that previous team had already accomplished something. And that group proved to be hung over from a summer of partying. But this installment of the Heat was supposed to be tired of the naysayers nitpicking their 17 losses and not given them enough credit for their 43 victories.
That's what Wade said Wednesday, when the Heat were still trying to explain away how they squandered a 15-point lead in Sunday's loss to the New York Knicks and blew another double-figure lead down the stretch in last Thursday's setback in Chicago.
These Heat players were supposed to be refocused and motivated to find a cure for the common collapse. That's what LeBron tweeted the other day, using those silly references to his team being at war and banding together with his soldiers.
But the only thing more remarkable Thursday than how the Heat advanced to a 24-point lead with 8:56 left in the third quarter was how amazingly fast they retreated in being defeated. We knew LeBron, D-Wade and Bosh had trouble closing out the final minutes of close games against winning teams.
But struggling to close out entire halves?
There was more to this than Wade and LeBron losing their shooting stroke at a time when Jason Richardson and Ryan Anderson found theirs. This was deeper than Jameer Nelson slicing through Miami's defense at will late in the game at a time when Heat point guards Mario Chalmers and the newly acquired Mike Bibby were a step slow defensively and shot 3-of-15 from the field offensively.
And you don't get to the bottom of this by breaking down how LeBron and Wade, two of the best closers in the game, both were shut out from the field in the fourth quarter.
No, there was only one way to explain this.
"It was one of those nights where the stars aligned," said Magic coach Stan Van Gundy, whose team rallied from the second-largest deficit in franchise history to get the victory. "I've never been a part of one of those, coming from 20 down in the second half. This one defies imagination. I don't have an explanation why. This is probably one of those games I'll remember 10 years from now when I've forgotten everything else except all of the losses."
What will forever be memorable for the Magic should be a forgettable game for the Heat.
But pain doesn't work that way.
"This will eventually help us," Heat coach Erik Spoelstra said. "I know nobody wants to hear that right now. We have two choices. We can collapse or we can continue to stay the course."
The Heat did both of the above Thursday night.
They collapsed. And they stayed on a course that leads to disaster and disappointment. This team has mastered the art of squandering double-digit leads. They're already 1-3 at the beginning of their toughest stretch of the schedule.
"We're going through this and it [stinks]," Wade said. "We have to figure out a way. We've had leads, and we've let it go away. I'm not used to being on a team like that. It's mind-boggling."
It's also a reversal of fortunes for the Heat, who haven't seemed this frustrated and lost since they tumbled out to that 9-8 start to the season. I asked James which disappointment felt worse, now or November?
"Now," he said.
Why? Because at a time when the Heat is supposed to be coming together, they keep finding a way to fall apart against quality competition.
Sorry, Charlie. You're not the only train wreck on these tracks these days.
Right now, Miami is a mess, too.