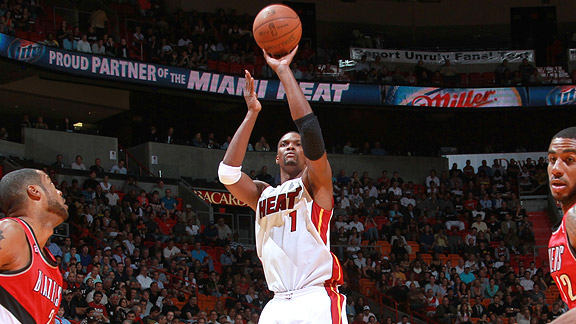 Victor Baldizon/NBAE via Getty Images
Chris Bosh has evolved into a perimeter player in Miami, but he's looking to reverse that trend.
Chris Bosh is a different player this season. And he's not happy about it.
Following one of the worst games of his career, the normally reserved Bosh opened up about his role on the team and called for a change.
"I think I've got to get back in my comfort zone," Bosh said. "I haven't been in my comfort zone. A lot of things are new for me."
Each of the Big Three has had to make sacrifices this season. While LeBron James and Dwyane Wade have had their touches only marginally cut this season, Bosh has taken nearly three fewer field goal attempts per game than last season. His per-game average of 18 points and 8 rebounds is a far cry from his 2009-10 campaign when he posted 23.9 points and 10.8 rebounds per game as a Raptor.
When asked whether he's being put in a position to be effective, Bosh's answer was particularly revealing.
"Was I effective today?" Bosh said Tuesday after scoring a season-low seven points. "It's common sense. We can talk about it. I have to get it where I'm effective. I'm a big man. I can shoot the ball, but I'm a big man. So I have to get it where big guys get it."
Bosh is asking for an equilibrium. There's no doubt that Bosh's game has become more perimeter-oriented in Miami. In his postgame news conference, Bosh took turns blaming himself, his teammates and his coach for his deployment on the floor. And he's mostly correct; the outward migration is as much a product of his own doing as it is a product of his surroundings.
To see this development, let's take a look at the numbers. Synergy Sports tracks every player's shots from the floor. For Bosh, we can see how he gets his shots, where he gets his shots and how effective he is when he gets those shots.
In Miami this season, 49.6 percent of Bosh's shot attempts have been jumpers. In Toronto last season, the jump shot made up of just 30.9 percent of his overall shot repertoire. We rarely see a player's shot distribution change that dramatically year-to-year, but there's a reason: his role has dramatically changed from last season.
Bosh was targeted by the Heat to stretch the floor with his inside-out game. As a finesse player with a silky midrange jumper, he can open up the paint and keep the big man guarding him away from the rim. Theoretically, that opens up the lane for explosive attackers like James and Wade to penetrate to the rim.
This is all part of the plan. Erik Spoelstra likes to anchor Bosh on the right elbow so he can facilitate the offense, using handoffs to James and Wade or pick-and-rolls to create mismatches and disruption.
But if you've watched Bosh over the past couple of seasons, you'll notice a huge difference in what Bosh does after setting the pick. Following the screening action on the ball, Bosh typically pivots to the perimeter where he can spot up for the midrange jumper. Yes, the pick-and-pop was a large part of his arsenal last season in Toronto, but Bosh has become almost exclusively a pick-and-pop player in Miami.
Synergy tells us that of Bosh's 187 plays after the pick-and-roll last season in Toronto, 50 percent of them were pick-and-pops while 46 percent were rolls to the basket. That's a pretty even split. This season in Miami though? He pick and pops 84 percent of the time after the screen and rolls just 10 percent (the remaining small portion consists of Bosh slipping the pick).
But he's trying to change that recently. Take the final possession against Chicago. Spoelstra ran a high pick-and-roll with James as the ball handler and Bosh as the screener. After setting the screen, Bosh uncharacteristically dove to the rim, but the play wasn't designed to get Bosh open. He was a merely a soft decoy so James could provoke a mismatch on Joakim Noah. James didn't hit Bosh with the pass -- he didn't even look for him -- and James drove toward the rim, missing the off-balance pull-up jumper.
Bosh said he tried diving to the rim more on Tuesday night and it was evident that Bosh was more aggressive. In the second quarter, Bosh was fed the ball on a pick-and-roll with James when Gerald Wallace, Bosh's defender, tried to swallow James on the perimeter. Bosh dove to the rim, James hit him with a pass and Bosh earned an and-1 opportunity on a layup. Simple as that.
That interaction should happen more often. But it doesn't.
Bosh's smooth midrange game is a double-edged sword. Sure, he can hit the spot-up jumper consistently, but it's a low-percentage play compared to getting the ball in the paint. Bosh has scored 1.34 points per play on rolls to the basket this season, shooting 64.3 percent on his attempts and getting to the free throw line on 33 percent of those attacks. Bosh's efficiency on rolls to the basket ranks among the league leaders but what's more interesting is who ranks just behind him: Amare Stoudemire -- largely known as the most effective pick-and-roll companion in the league. But Stoudemire has made 100 of those plays this season. Bosh? Just 20.
Looking at pick-and-pops, Bosh isn't nearly as potent as a scorer. Bosh has scored just 0.9 points on pick-and-pops, due to his 42.9 percent shooting from there and the low foul rate (just 7.1 percent). Over the course of a season, that efficiency gap has had enormous effects on Bosh's impact as a scoring big.
The Heat are not paying Bosh to shoot six midrange jumpers a game. They signed him because he was an elite inside-out presence. But the inside component has vanished this season. Part of that is by design; Spoelstra likes Bosh in the high post for the team's corner sets and to space the floor.
But part of that is on Bosh, too. Judging by his words after Tuesday's loss, look for him to show more aggression in the pick-and-roll game as well as his setting up his post game on the block. Right now, his post-up game makes up just 23.6 percent of his scoring, down from his 34.6 percent share last season. Expect that gap to close going forward -- that is, if Bosh has any say in the matter.
To be clear, Bosh isn't a powerhouse on the block but he also isn't just a stretch 4. There's a healthy equilibrium here that the Heat haven't found yet, which should be concerning for the Heat given that they're 64 games into the season.
"I'm uncomfortable now," Bosh said. "I just feel that I have to be my normal self because I'm really not there right now. I haven't been there many times this season."
With 18 games to go before the playoffs, time is running out.