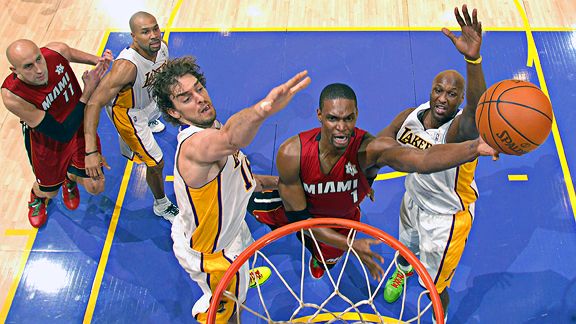 Andrew D. Bernstein/NBAE/Getty Images
Chris Bosh thinks he needs to be more aggressive and get the ball around the basket more. Pau Gasol agrees.
MIAMI -- It could be said that Chris Bosh and Pau Gasol are kindred spirits in the NBA.
Both are tall and slender bigs who have been selected to multiple All-Star games. Both left the franchise that brought them into the league and joined a more decorated one with championship expectations. Both feature an inside-out game built on finesse. Both have been called "soft" by critics.
Even though they have never been teammates, Bosh and Gasol have shared similar experiences in the league. Ahead of Thursday's matchup between the Lakers and Heat, Gasol expressed some sympathy with Bosh's desire to receive the ball on the block more often. Sitting in a courtside seat in AmericanAirlines Arena on Wednesday, Gasol said he has dealt with that balancing act over his nine-year career.
"It makes sense for him to be more of an inside player, because he's very productive and a very good post-up player there with a variety of moves," Gasol said. "He can do that for his team.
"As soon as I got to the NBA, my teammates always needed me more of an inside player, even a center, when I was more naturally a power forward, so I adjusted to that. I think the Heat need that inside presence. They need a productive post-up player that gives them balance with their other great outside pieces."
After guarding Bosh over the years, Gasol knows Bosh is more than capable of thriving in the post.
"He's a great face-up player that can get his shot up very consistently and make it," Gasol said. "He can get you up in the air and attack with good quickness, good footwork. I've seen him do it in Toronto, but here it's a little different. Obviously, he's not the focal point. And you have to adjust to that."
Gasol has made that adjustment in Los Angeles. In pairing up with Kobe Bryant, Gasol had to learn how to play alongside a ball-dominant superstar. But Bosh has two Kobe Bryants to deal with, so building chemistry and maintaining that cohesion has been difficult for Bosh.
Gasol says the Lakers had chemistry right away after he was traded midseason in 2007-08. But having superstar teammates can be a blessing and a curse.
"It's tough when you have great players on the same team and you have aggressive players who can take over and dominate certain moments and certain games," Gasol said. "Sometimes you might get away from that balance. But for the most part, you have it, and that's why your team is successful."
Everyone seems to have an opinion about how to fix the Heat's problems. After watching the team play over the past couple of weeks, Gasol offered his take.
"I can tell when guys are trying to do too much individually to overcome a struggle," Gasol said. "It's not bad intentions, but it's that aggressiveness spirit and competitiveness that players have that sometimes hurts a team. You have to realize that sometimes the easier play or the right pass to the open teammate makes things a lot better, even though they may not make the shot. Guys are going to miss shots, so be it."
In Miami's loss to the Blazers on Tuesday, Wade and James combined for 69 of the Heat's 96 points. Bosh and Mike Miller were supposed to strengthen the two superstar wings, but they combined for just nine points on 4-for-18 shooting. It will be interesting to see how the ball is distributed on Thursday. Will James and Wade trust their teammates after their recent misfires? They've done it before and they'll need to do it again on Thursday.
"It's still a team game," Gasol said. "You have to rely on your teammates."