MIAMI -- It was only a few days ago when Miami Heat coach Erik Spoelstra, his team deep in the dumps, walked into his postgame news conference after a loss to Portland and pounded on the table to place an emphasis on each syllable as he spoke.
Don't. Let. Go. Of. The. Rope.
It sounded so corny then. In hindsight, the point Spoelstra was trying to make couldn't have been more clear than it is now. After stumbling to their season-high fifth consecutive loss last Tuesday against the Trail Blazers, the Heat have beaten the two-time defending champion Los Angeles Lakers and the much-improved Memphis Grizzlies to close out the week.
In other words, Miami followed its most needed regular-season win of the season with its most lopsided victory in Saturday's 118-85 thrashing of the Grizzlies. And that rope Spoelstra talked about holding onto earlier in the week was an essential element in both wins.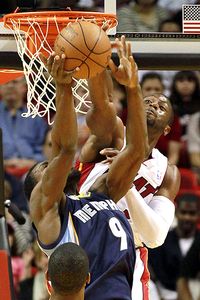 Marc Serota/Getty
Dwyane Wade blocked five shots in the first quarter.
With a strong defensive grip, the Heat corralled Kobe Bryant and crew and also smothered Memphis to avenge a loss in November, a setback that came amid Miami's 9-8 rough start.
A week that started with the Heat sinking in self-inflicted chaos ended Saturday with the team showing a level of cohesiveness and confidence that's been missing for weeks. Heat forward Chris Bosh didn't need to mince words when asked to describe the range of emotions his team has juggled in recent days.
"Crap to awesome to awesome," Bosh said of the overall feelings from Tuesday to Thursday to Saturday. "In this game, you have to have a short memory. All games aren't going to be the best. You're going to have highs and lows. Tuesday [against Portland] we didn't come out with what we needed to, and they made us pay. All this crap started coming out. But we stayed together, kept working. Thursday, we had a good win. It felt good to get the monkey off our back. Today, we just kept it going. We prepared the right way."
For days, Spoelstra insisted the Heat wouldn't escape their malaise until they recommitted to their defensive identity. On Saturday, he saw effort that resembled the Heat's play during that stretch of 21 victories in 22 games in December and January.
After limiting the Lakers to 88 points and frustrating Bryant into an 8-of-21 shooting performance, the Heat had a challenge on Saturday to validate that victory over what was the hottest team in the league with another strong effort under a much smaller spotlight on a matinee stage.
Miami responded with as close to a shutout as an NBA game can get. The Heat had a season-high 11 blocks and 10 steals, held the Grizzlies to 39.3 percent shooting and led by as many as 37 points. Offensively, the production was just as staggering.
Dwyane Wade had 28 points, nine assists and five blocks; LeBron James added 27 points; Bosh had 18 points and 10 rebounds to build on Thursday's 24-point, nine-rebound effort against the Lakers. The Heat shot 58 percent from the field, including 63.2 percent from 3-point range, and 86.7 percent on free throws.
All 12 Heat players on the active roster scored. That included 17 points from Mike Bibby, who made all five of his 3-pointers, to contribute to 36 points from a much-maligned Heat bench that's ranked as the least productive reserve unit in the league.
The pressure, stress and strain over the course of the week had weighed so heavily on the Heat that Spoelstra gave the team a day off Friday.
"Really because of mental fatigue," Spoelstra said. "We had been holding onto that rope for seven straight days, been practicing every single day, have had long film sessions and shootarounds. All of us needed a break to get away from each other, and get away from this."
James agreed.
"The expectation of us going out and playing at a high level every night was wearing on us a bit," he said. "It was only going to take one win for everybody to let their hair down and relax. We have been able to do that the last two [games]."
In getting away from one another, the Heat got back to being themselves -- or at least the version of the team Spoelstra had been hoping to see on a more consistent basis since training camp. He saw a defensive gem during one stage of the first quarter when the Heat blocked five shots in a span of 55 seconds, including three rejections by Wade.
"The most important thing is we got back to our game," Spoelstra said. "There were a lot of strong defensive possessions that lasted late into the clock, and we stayed with it. Guys were swarming ... without fouling, without losing focus. We have to keep on moving forward and build these habits. We understand we need to get better, and part of that is mental resiliency and mental toughness."
After Tuesday's loss to Portland, the Heat didn't have to look far for motivation, considering all of the hype that surrounded the visit from the Lakers two days later. On Saturday, the focus was on avoiding a letdown and building on Thursday's performance.
Monday offers another game that shouldn't have any problem keeping the Heat on edge. That's when the San Antonio Spurs, who own the league's best record, visit AmericanAirlines Arena.
Those would be the same Spurs who handed the Heat their worst loss of the season two weeks ago in San Antonio, a 125-95 drubbing that still resonates.
"We want to redeem ourselves," Bosh said. "We should have enough motivation for that. You move on, but you never forget. They beat the crap out of us. And it was on [national] TV. So that's like added embarrassment. My friends started asking me, 'What happened?' And they don't even watch basketball. That's when I know it's a problem."
Therein lies the rub. And the rope.
The Heat might not have solved all of their problems with these last two victories. But they're starting to find some answers as they emerge from their funk.
The first step involved not letting go of the rope.
The next step is maintaining their defensive grip on games.