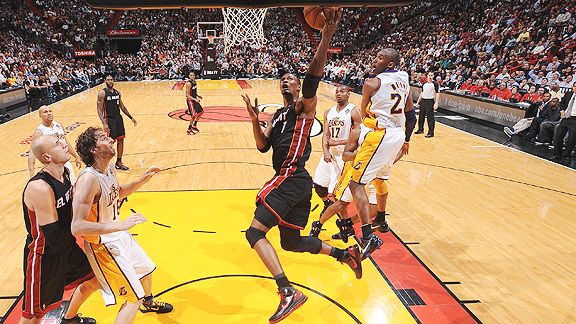 Andrew D. Bernstein/NBAE/Getty Images
After the Portland loss, Chris Bosh said he needed to make a change and be more aggressive. It's working.
MIAMI -- In the fourth quarter of Saturday's game against Denver, the Heat are up 84-80 and needing some points to stretch the lead.
LeBron James dribbles the ball up the court and sees Chris Bosh posting up the smaller Wilson Chandler on the left block. James decides he needs to get the ball to his star power forward. James promptly swings the ball to Dwyane Wade, who's planted in the left corner, to work a better angle for the entry pass into their big man. Wade dumps the ball into Bosh on the low block, who then backs Chandler down, turns his left shoulder for a textbook up-and-under. Chandler bites on the pump-fake. So does Danilo Gallinari. So does Chris Andersen. All three pummel Bosh as he tries to get his shot off but the whistle is blown and Bosh goes to the charity stripe for some freebies.
Mission accomplished.
This is the aggressive version of Bosh -- anchored on the block and attacking. This is the aggressive version of Bosh that the Heat expected when they signed him this summer for a cool $110 million.
In other words, this is the new and improved Bosh.
When Bosh opened up and vented to the media after losing to Portland, he vowed to spend more time on the block and less on the perimeter. Judging by his newfound game, he's certainly made good on that promise.
In his last seven games, Bosh has tallied six double-doubles. The one game he didn't reach a double-double? He scored 24 points and nine rebounds against the trees of the Lakers frontline. All in all, since Bosh insisted on being more aggressive, he is averaging 21.3 points and 10.5 rebounds on 54 percent shooting.
Bosh declared on Monday that he's playing his best ball of the season.
"I'm just trying to take advantage of what I can do," Bosh said after practice. "I'm just trying to be really aggressive with my teammates out on the court and try my best to help this team out."
After hearing Bosh confess that he wasn't in his comfort zone following the Portland game, Heat coach Erik Spoelstra devised a plan of attack. On a pick-and-roll, Spoelstra advised Bosh to focus more of the "roll" part of the equation.
"Coach came up with the idea [to roll more]" Bosh said. "He watches like a million hours of tape a day. He said you should start exploring rolling to the basket. He said we are effective when I did that. So I'm just trying to make sure that I do it and finish when I get those low pocket passes and bounce passes when I roll to the basket."
Spoelstra finally made the tweak to Bosh's game, but it was long overdue. It may seem like a subtle change, but considering how skewed Bosh's game had become, it has produced huge results. Through the Portland game, Bosh rolled to the basket on just 10 percent of his on-ball screens according to Synergy Sports Technology, a video tracking analytics service. That was down from 46 percent last season in Toronto, a precipitous drop-off.
"We've made a much bigger emphasis of his rolling," Spoelstra said. "We fell into it a little bit because the pick-and-flare was so successful. But that's part of the evolution of your team."
Spoelstra's right, the pick-and-flare (or pick-and-pop as it's more commonly known) was effective on its own. Bosh is one of the best in the NBA at the pick-and-pop game. But the ceiling of its effectiveness is much lower than if he rolls. Synergy tells us that Bosh averages .81 points every time he shoots a jumper off the pick-and-pop. When he rolls to the basket? That efficiency soars to 1.3 points per play, which is about 60 percent more productive for the offense. Think about those numbers every time you see Bosh pivot to the perimeter rather than diving to the rim after he screens the ball handler.
After Monday's practice, Bosh admitted that it's easy to get too comfortable with his midrange jumper.
"I could sit out and shoot jump shots all night if I wanted to," Bosh said. "That's the easiest thing to do."
Armed with a silky jump shot, Bosh has fought the temptation to shoot it every time. But Spoelstra doesn't want Bosh to abandon the midrange jumper all-together. He needs it in his backpocket to lure the defender.
"He has a terrific skill level that allows him to put the ball on the floor and he's got the great equalizer: he shoots so well outside," Spoelstra said. "You have to lean toward his shot and he has the ability to put the ball on the floor two or three times. A lot of power forwards don't have that in their game."
In his slight frame, Bosh won't ever overpower his defender. But his quickness, his handle with the ball, and ability to draw contact is equally devastating to the opposing defense. Whereas Amare Stoudemire and Blake Griffin may muscle their way to the rim, Bosh draws the contact off the dribble and gets to the free throw line almost routinely. It may not be pretty, but it's wildly effective.
How good is he at drawing fouls off the dribble? According to Synergy, Bosh belongs to a group of 48 players who have made 150 or more isolation plays this season. Bosh has earned a trip to the free throw line on 23 percent of his attacks and among those 48 players, only two players have frequented the charity stripe more: Kevin Martin and Chauncey Billups. In fact, Bosh is the only big man in the top 20 in the free throw category. Overall, Bosh ranks as the sixth most effective isolation player in the NBA, primarily because he can draw the whistle so effortlessly.
"He's aggressive and he's not afraid of contact," Spoelstra said. "He will go into a crowd with his eyes on the rim to draw fouls. These last few games with that emphasis has changed his offense."
When a player makes a public vow to change his game, rarely does he actually follow through on the court. But Bosh has certainly walked the walk. With a nudge from Spoelstra, Bosh's jumpers are down, his rebounds are up, and it's no coincidence that the Heat offense is thriving.
When Bosh is rolling, so, too, does the Heat offense.