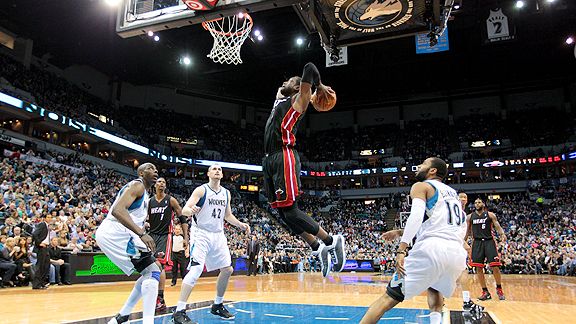 Jordan Johnson/NBAE/Getty Images
These kinds of plays have a way of turning boos into oohs and ahhs.
MINNEAPOLIS -- Carly Simon's "You're So Vain" blared over the sound system at Target Center as the Heat were introduced. LeBron James got roundly booed as he was announced. Then Miami flattened the Minnesota Timberwolves 111-92.
Just another night on the road for the most hated team in America.
"Everyone has really bought into this 'hate the Miami Heat' thing," said James, who had 27 points. "That's OK. It's just basketball."
Friday marked the completion of the Heat's first loop around the NBA, their 28th arena visited in their first post-"Decision" tour. The restaurants around the arena were jammed, and the Wolves, who average just more than 15,000 fans, crammed more than 19,000 into the building.
The Heat, who now are in a tie (in the loss column) with the Celtics for the No. 2 seed in the Eastern Conference, were unmoved.
As the road trips progressed, some locales were more hostile than others. The Dec. 2 visit to Cleveland was likely the most intense non-playoff environment the players had ever experienced. Chris Bosh's first visit to Toronto was a jeerfest replete with a bizarre conclusion when Bosh got cheered for blowing kisses to the crowd. Surprisingly, the fans in Portland and the Clippers' fans in Los Angeles had stronger than expected negative reactions with inventive signs and costumes when the Heat made their visits.
For the most part, though, the routine went like it did Friday night. There were pro forma boos in warm-ups and for the first few minutes. But after awhile, the fans forgot about it and started to get enraptured by the Heat's overall star power.
For the 20th time this season, Dwyane Wade, Bosh and James each had more than 20 points. Even though a timeout early in the night featured a "Bandwagon Cam" mocking the Heat-clad fans in attendance, by the second half, the building was buzzing as Wade threw down four dunks on a 25-1 Heat run that decided the game.
In rivalry games, such as those in Boston and Chicago, the fan intensity has naturally been higher from start to finish. But it was the bitter treatment from the crowds early in the season in places such as New Orleans and Memphis that caught some Heat players off guard.
However, the Heat have long since desensitized themselves to it. On most nights, the crowd's edge doesn't have much staying power and gradually becomes background noise.
"Like villains," said Bosh, who had 24 points and 11 rebounds. "You have to embrace the villain role. They're going to hate us anyway, and we've got to try to enjoy being in this position."
James generally gets the lion's share of the mocking and jeers -- fans voted Metallica's "King Nothing" as their choice to be played after the third quarter Friday. It beat out other choices such as "King of Fools" and "Me, Myself and I." Bosh is the one who often gets most mocked with various nicknames aimed at his finesse style of play. And Wade, well, he doesn't catch much flak.
Wade actually got cheers in Cleveland and Toronto this season in a mass display of reverse psychology. Trying to shake that routine, Wade bashed both Cleveland and Toronto in an attempt to avoid getting that treatment in the future. Nonetheless, he seems to have enjoyed the experience, as he was spared most of the direct distaste for his new teammates.
"It's been awesome, actually. I've enjoyed it," said Wade, who had 32 points. "The fans are going to be into it from the start. We appreciate it because it drives us. We've had some of our better performances on the road."
As with just about everything for the Heat this season, this acclimation has been a process. In November, a frustrated James rolled his eyes when he got jeers during a loss to the Grizzlies in Memphis. "It wasn't like I ever said I'd be coming to Memphis," James said, unsure of why he was getting such treatment in cities that weren't in the fight for his services.
Used to fans clamoring for autographs when he hit the floor, James now just tried to avoid getting hit with debris.
By January, James changed tack. During a rousing game in Portland, he enticed the crowd to keep booing him after sinking a basket in overtime that sealed the Heat's hard-fought victory. He said he was dealing with his new normal, but it wasn't his personality and it predictably didn't last. Soon enough, he was no longer inviting abuse.
Now, things have settled to detachment. Occasionally James will engage a zealous heckler, as he's done throughout his career. For the most part, though, he and the rest of his teammates try to just go through their business without taking note or commenting on how they're treated.
The crowds, even in Cleveland this week, have predictably mellowed along with them.
"It was an adjustment for all of us, including myself," James said. "Once we got used to it, we started to take a liking to it."