MIAMI -- Tidbits from the Heat's 112-103 win over the Bobcats and lessons for the playoffs.
Does Bosh Time work?
With injuries preventing Erik Spoelstra from establishing a set rotation, the lineups the Heat have been throwing out have been volatile to say the least. But there's one clear lineup trend we keep seeing: Bosh on the court with Dwyane Wade and LeBron James looking on from the bench.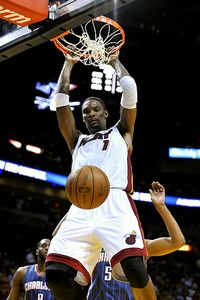 Steve Mitchell/US Presswire
If "Bosh Time" is going to last, he'll need to do more of this.
I call it Bosh Time. We saw it Friday night to open the second quarter, and it lasted about six minutes. And then it happened again to open the fourth quarter. This is Bosh's time to get the ball in the post and become the focal point of the offense.
So, how is Bosh enjoying Bosh Time?
"It's going good," Bosh said. "I'm just trying to be more aggressive. They really look for me to establish myself early in those quarters and get some good shots. I keep that in mind and just try to make it work."
"It allows us to run offense through Chris, and we've been doing that now for the last two or three weeks," Spoelstra said after the game. "I like the way it looks but it also has to be successful for me to continue doing that."
Strictly from a scoreboard perspective, it wasn't very successful Friday night, although it gave James and Wade some much-needed rest. All in all, Bosh Time lasted 10 minutes and the Heat were outscored 25-20 during those minutes -- and Bosh had a lot to do with that deficit. On one occasion, he turned the ball over taking his man off the dribble. On the possession before that, he dropped an entry pass from Mario Chalmers (not the best pass, to be fair to Bosh). He also missed some easy layups and was charged with an offensive foul.
On the season, he's had more success. According to Elias Sports Bureau, the Heat outscore opponents by 2.9 points every 48 minutes when Bosh rolls solo on the court.
Will we see Bosh Time come playoff time? Friday night's showing certainly did not instill much confidence.
Joel Anthony re-enters rotation
If you thought the Heat played with more energy tonight, you can thank Joel Anthony. He might not be able to score unless the ball is served on a platter next to the rim, but the guy radiates energy like a sun.
Erick Dampier was a late scratch from the starting lineup Friday night, and Zydrunas Ilgauskas made his first start in months. But Anthony came off the bench for 27 minutes -- his second straight 27-minute game.
Sure, the Heat got the usual from Anthony -- altered shots, a moving screen and strong coverage on pick-and-rolls -- but they received something a little extra Friday night: offense. And you rarely see that from Anthony.
No, the Heat won't start running their sets through the Anthony on the block, but they continue hitting Anthony when he's open. With all the passes he's fumbled in the past, teams tend to ignore him even if he's wide open underneath the rim. But if he dunks the ball early like he did against the Bobcats, Anthony might make his defender stick around a moment longer before helping out on James' and Wade's attacks. And with those two penetrators, a moment is precious time.
Anthony's 12 points -- eight against the Bucks on Wednesday and four Friday night -- tied his season high for points in back-to-back games. It's not much, but with Anthony, anything more than top-notch defense is gravy.
Mike Miller finally flashes his attack game
Mike Miller is on this team to stretch the floor and hit 3s. But Friday night, he did his best Dwyane Wade impression and attacked the rim, something we haven't seen from him in a Heat uniform. In fact, Miller tallied six shot attempts in the basket area Friday night, doubling his season high, according to Hoopdata.com.
After the game, Spoelstra said he was happy to see him flex that part of his game but also expressed some cautionary words.
"I don't mind it when it comes from within the offense and we can create a couple triggers," Spoelstra said. "He was able to put the ball on the floor with daylight. But his number one objective offensively for us is to find open opportunities on the perimeter and spread the floor for us and hunt down 3-point opportunities. I want him to fill that role first.
There were times Miller seemed to be pushing things that weren't there. On a couple of occasions, there was no daylight to exploit. Two of Miller's scoop layups were swatted away by Bobcats defenders.
"If people run at him and it opens up opportunities like that, he has the skill set," Spoelstra said. "He's always had the ability to put the ball on the floor and make plays. But I like it that it came from the details of our offense."
Miller's playmaking abilities set him apart from James Jones, a set-shooter who fills a similar role as a perimeter assassin. If Miller doesn't use his variety of skills, he becomes the most expensive set-shooter in the league. Look for Miller to attack more off the dribble in the playoffs as he gets his feet under him.