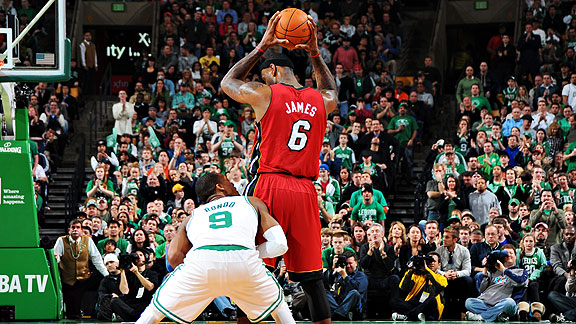 Brian Babineau/NBAE/Getty Images
Miami would like the upper hand against Boston, but how much is really at stake with the No. 2 seed?
LeBron James wants to win, but he's not hung up on getting the No. 2 seed, which would give the Heat home-court advantage throughout the Eastern Conference semifinals.
"What does the 2 seed guarantee you?" asked James after losing to the Bucks on Wednesday.
"It doesn't guarantee you win the series. ... I'm a prime example. The last two years, I have been the first overall seed of everybody, all 16 teams, and it didn't pay off for us."
James is right. There are no guarantees in the playoffs. Just ask Dirk Nowitzki about 2006-07.
Dwyane Wade agreed with his teammate but did not downplay the significance of earning the No. 2 seed over Boston.
"It doesn't guarantee anything," Wade said Friday. "But we want to put ourselves in the best position as we can. You're in a better position in two versus a three. It's easy, we learned that as a kid: one, two, three. That's what us and Boston are playing for. The game on Sunday will show that."
With all this talk about the value of winning the No. 2 seed, I asked Neil Paine, statistics extraordinaire and purveyor of the terrific Basketball-Reference blog, to give us the lowdown on how much the No. 2 seed actually matters.
In an email, Paine crunched the numbers and gave us the facts:
Having home-court is pretty important in a best-of-7 series -- since the merger, teams w/ HCA have won 73.5% of best-of-7 playoff series.

Now, the response might be, "that's because teams with the HCA tend to be better teams, since they had the better seed." Which is true. But the HCA also seems to be hugely important independent of team quality.

Since 1977, there were 11 series where the team without HCA had as many or more wins than the team with HCA; the team with HCA won 63.6% of those series. Teams with inferior regular-season W-L vs. their specific series opponent or vs. every other team in the league still won 68-70% of the time when they had HCA.
But what about specifically Boston versus Miami? Paine used some statistical techniques to estimate how often the Heat would win a best-of-7 series against the Cetlics, given team quality and how much home-court advantage has impacted every series between a No. 2 or No. 3 since 1977.
What did he find?
With home-court advantage, the Heat would have a 69.2 percent chance of winning the series. If Boston gets that home-court edge, the Heat are still favored, if barely -- they would have a 51.1 percent chance of winning the series in that case. Paine concludes, "Whichever equation you use, gaining or losing HCA is worth about a 20-point swing in series win expectancy."
How can we interpret that 20 percent edge in real terms? Let's compare it to free throws. Say the winner of a series depended on hitting a free throw. Would you rather Shaquille O'Neal (career 53 percent free throw shooter) shoot the freebie or Tim Duncan (career 69 percent free throw shooter)?
That's the difference. If Miami gets that No. 2 seed, they have Duncan on the line. Not a sure thing, but he's certainly more inspiring than having Shaq toeing the line.
Like James and Wade said, there are no guarantees.
Wanna simulate the series on you're own? Hit up the ESPN NBA playoff predictor and give it a whirl.