MIAMI -- There was no shortage of nicknames for Joel Anthony on Sunday night.
Miami Heat coach Erik Spoelstra referred to his backup center as "The Matrix," because Anthony spent most of the game against the Boston Celtics "in two places at once."
Celtics forward Kevin Garnett simply equated Anthony to a basketball assassin.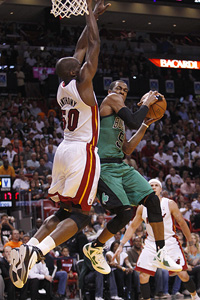 AP Photo/Alan Diaz
Joel Anthony: The No. 1 trending topic on Twitter in Miami on Sunday afternoon!
"Anthony killed us today by himself," Garnett said after the Heat's 100-77 victory over Boston at AmericanAirlines Arena, a win Miami desperately needed after so many meltdowns and disastrous defeats against its biggest Eastern Conference nemesis.
For Anthony, that's some rather high praise for arguably the lowest-profile player on the Heat's roster. But on Sunday, Anthony emerged from the shadows to help the Heat's bench provide the boost that allowed them to blow past the Celtics and into position to finish with the No. 2 seed in the East.
Anthony grabbed a game-high 10 rebounds, scored seven points and anchored a Heat defense that hounded the Celtics into 19 turnovers and just 42.9 percent shooting in the second half.
On most nights, it's LeBron James, Dwyane Wade and Chris Bosh who combine to do the heavy lifting, while their supporting cast is criticized for a lack of consistent production. Against the Celtics, a team that fairly contained the Heat's Big Three on Sunday, it was Miami's reserves that made the biggest difference in the game.
James, Wade and Bosh were glad to share the spotlight with Anthony, Mario Chalmers, Juwan Howard and James Jones. The Heat's bench outscored the Celtics' reserves 32-12 in Miami's first victory in the season series after three consecutive losses.
The Heat's bench had contributed just eight points in their previous loss to Boston, and had struggled to provide much support throughout the season as one of the league's least-productive units. But that wasn't the case Sunday.
"We had a lot of contributions from different people," Spoelstra said. "We are a more dangerous team when more people are involved, more people being active and engaged in the game, and that doesn't necessarily mean scoring. Those guys can bring a lot of different intangibles."
Chalmers got the second unit going when he scored all nine of his points in the second quarter, during which the Heat recovered from a slow start to outscore the Celtics 26-18 in the period and lead 47-40 at the half. Anthony punctuated the third quarter when he cut to the basket, caught a pass from James and finished with a dunk to push the Heat's lead to 74-59.
Anthony has probably cost James more potential assists than any other teammate this season. But Anthony is starting to make up for those missed opportunities by making baskets when the ball comes his way near the rim.
"I just try to stay in Joel's ear," James said of the Heat's leading shot-blocker. "When he's on the floor, he's always thinking defense. And rightfully so because he's really good. But he has to be aggressive on the offensive end, too. I got on him today. D-Wade made a pass to him right under the rim, and he threw it back out and it was a turnover. So I'm staying on him. D-Wade stays on him. We can't ever have a player out there that's not confident in his ability."
Anthony said his confidence is building. That's also the case with the Heat's bench. Miami is counting heavily on Anthony and that bench heading into the playoffs. On Sunday, it responded against a heated rival in what essentially was a playoff atmosphere in the Heat's regular-season home finale.
"It was real important because there was so much at stake," Anthony said. "Everyone wanted to make sure they were able to do their job and everything they could to make sure we were in position to win. The bench came out with so much energy and so much focus. We definitely did a good job with that."
The Heat's reserves shot 12-of-19 (63.1 percent) from the field and contributed 16 rebounds. Miami pounded Boston 42-26 on the glass and held a 44-26 edge in paint points. Those totals included an 18-3 advantage over the Celtics in second-chance points.
"I think we're a better team than we were the first few times we played them," Chalmers said. "We're all a lot more involved, and I think we really wanted this one."
The Heat's top three players could certainly use the help more consistently as the stakes get higher in the playoffs.
"When our bench plays well, we're a pretty good team and we're hard to beat," James said. "And that's why we were able to win a big game today, because they stepped up."
And finished.
Especially around the basket, thanks to Anthony.
There was a time when he used to be called Hands of Stone, because of his inability to catch the ball and finish around the basket.
But that's starting to be no longer the case. Anthony is earning more flattering nicknames these days.
"It's my job to make sure I finish those plays," Anthony said of the feeds into the post. "So I was just trying to focus and dial in. Just focus and finish. And I've been successful at that lately."