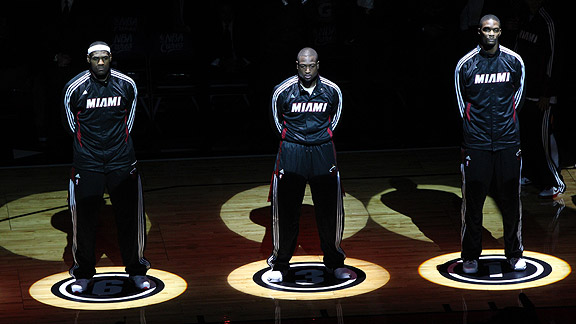 Ned Dishman/NBAE via Getty Images
We put the spotlight on the Big Three every game this season. Who graded out the best?
The regular season has come to a close which means it is time to publish our first annual Heat Reaction GPAs.
For Heat Reaction, a Heat Index writer handed out grades after every Heat game right after the buzzer. Every. Single. Game.
We doled out five letter grades assessing the performances of each member of the Big Three, an X-Factor of our choice, and the opponent. With none of the Big Three playing in the season finale, it gave us the rare opportunity to grade the real Big Three Eddie House (A!), Jamaal Magloire (A!) and Dexter Pittman (B). Kevin Arnovitz typically took the helm and I subbed in here and there. I will say, in my time as a substitute, I gained a newfound respect for teachers. Grading is hard. And it's especially difficult to evaluate a subject without straightforward rubric.
Our rubric: how did they play today?
As expected, James, Wade and Bosh were fantastic students, delivering A-grade performances seemingly every other game and rarely stinking up the joint. Bosh was the only trio member to receive an F (the Cleveland loss) while Wade sprinkled in a couple D performances here and there. LeBron had some off games but he impacts the game in so many ways that he rarely put forth a complete dud.
With the season under wraps, I got out the grade book, tallied up all the grades and calculated the grade point average for James, Wade and Bosh.
So here's the big question: who had the best GPA on the season?
The answer: Dwyane Wade.
By a hair.
Without further ado, here are the official Heat Reaction 2010-11 GPAs:
Dwyane Wade: 3.28
LeBron James: 3.23
Chris Bosh: 2.92
The GPA scale, for those wondering: A = 4.0, A- = 3.666, B+ = 3.333, B = 3.0, etc. So Wade and James were basically B+ students this season while Bosh was just below a B student.
We're tough graders, apparently.
Here's the breakdown:
Heat Reaction grades
So congratulations Dwyane Tyrone Wade!
You win a sparkling Heat Reaction gold star.