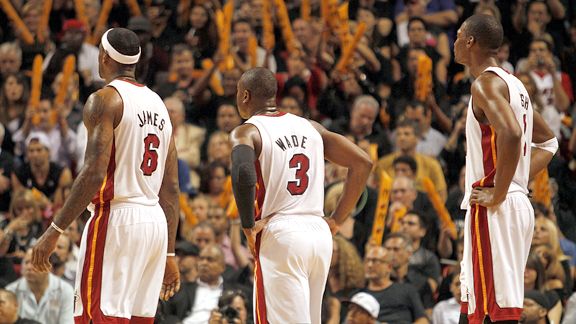 Marc Serota/Getty Images Sport
After a tumultuous week, are things starting to jell for the Heat?
MIAMI -- It is relatively standard for the Miami crowd to come late and stay late -- there's a nightclub in AmericanAirlines Arena after all. But this new Heat team seems to have the potential to reverse that habit.
Perhaps the new trend could be to come early and then leave early for the afterparties. The potential of the Heat is that high and that was evident in their 96-70 victory over the rival Orlando Magic on Friday.
Let's start with the little impressive details, like the Heat holding the Magic to 19 percent shooting in the second half and the Magic's expensive and talented starters managing only 37 combined points.
The Heat played strong, active defense -- another developing trend -- but the Magic are simply too good to go 4-for-24 from 3-point range all that often. There were anomalies both inside and outside the box score. Vince Carter and J.J. Redick both got hurt. It was an emotional arena with LeBron James, Dwyane Wade and Chris Bosh playing their first home game together as the Magic were on the second night of a back-to-back.
But look beyond those numbers and circumstances and examine the big picture. The Heat don't seem to be even close to reaching their potential, a fact that was clear in their opening season loss in Boston, just as it was against the Magic.
So what happens if they actually can hit it? That was the underlying and sobering thought that had to cross the minds of the NBA as they glanced at the out-of-town scoreboards across the country or flipped on the ESPN broadcast during the second half.
It might mean a lot of crowds heading for the exits midway through the fourth quarter.
The Heat shot just 40 percent. Meanwhile, James didn't have a layup for dunk in a game for the first time in more than two years while Bosh scored only five points after the first quarter. And yet Miami still tasted a 26-point win over a team that had been looking forward to this game just as much as the Heat.
"I think the ceiling is high and we all know that," said James, who was needed for only 30 minutes and scored a modest 15 points. "This is what we envisioned when we made the decisions."
All preseason the Heat tried to keep expectations in check and for good reason. They're still behind teams with familiarity and roots, like the Celtics or the Magic whom the Heat registered opposite results against during their opening week of the season.
But that cohesiveness should evolve, and hints are already surfacing that the Heat might indeed be the juggernaut the rest of the league feared last July.
"We have to keep this in perspective," Heat coach Erik Spoelstra said. "We have a long way to go in terms of building continuity as a team and growing as a team. These are the very early stages. We can feel good about the win. Orlando is a proven, tough, legitimate contending team."
The Heat aren't proven and there's not enough evidence to know if they're championship tough or entirely legitimate. But Friday's straw poll was striking in the impression it left -- especially when seeing how much room there is to grow.
Spoelstra still doesn't seem to have a handle on his star rotations. He gave Bosh and James just 30 minutes even though he didn't empty the benches until the final couple minutes. At one point in the fourth quarter, James hopped up off the bench expecting to be put into the game but Spoelstra didn't even turn to look at him.
There are still passes to nobody. There are still offensive plays that die until Wade, who clearly has more confidence than any of his teammates, takes the reins. More than half of Spoelstra's 400-page playbook is on the shelf right now.
James took just 13 shots Friday after taking only 12 in the last game at Philadelphia. He's clearly not sure of his place yet. A two-time MVP with the respect of his teammates, he's bound to find it at some point.
Oh, there will be hiccups and massive scrutiny when the Heat hit some speed bumps -- that comes with all the hype. But all that anticipation seemed justified as the Magic were getting eviscerated.
Even on bad nights, the Magic generally don't sniff 30 percent shooting. Dwight Howard doesn't go scoreless in a half as he did after the Heat started double-teaming him after his 19 points before intermission.
"There's going to be nights when we play the same way defensively, especially against a team like Orlando, an they're going to make those shots," said Wade, who had 26 points. "We've got to continue to grow from this point on."
Wade is right. Even the most obscure offshore sportsbook wouldn't take bets that Vince Carter, Quentin Richardson and Rashard Lewis would combine to shoot 1-of-19 when the teams meet again. But as their stars get it figured out on offense, the Heat are demonstrating that defense is going to show up nightly. They've given up an average of just 82 points a game.
"We can't take it for granted, it takes a lot of work to build a tough and reliable defense," Spoelstra said. "Tonight was the culmination so far."
It is "so far" that is the scary part.