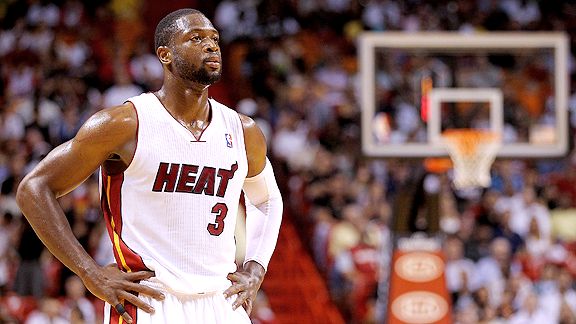 Mike Ehrmann/Getty Images
Dwyane Wade agreed to share the spotlight and the ball for the chance to win another title.
MIAMI -- On the eve of the Miami Heat's much anticipated 2011 playoffs debut, guard Dwyane Wade took a moment Friday to reflect on how the final scenes played out in his most recent painful postseason exit.
It was this time a year ago that Wade, dejected and frustrated, walked into the makeshift press conference room in Boston's TD Garden after the Heat were eliminated by the Celtics in five games. Wade pulled out the middle chair, sat down and subtly shifted a bottle of sports drink to the side as he glared into television cameras and fielded questions about yet another first-round-playoff failure.
That top-of-the-world feeling from that 2006 championship he won alongside Shaquille O'Neal and Pat Riley in Miami had faded into the equivalent of basketball depression. In the four seasons that followed that championship, Wade was the centerpiece of Heat teams that endured three first-round exits and a 15-win 2007-08 season that matched the worst finish in franchise history.
So it was there, in Boston, after another dose of postseason defeat that Wade made the declaration.
"This will be my last first-round exit for a while, I can tell you that," Wade said on April 27, 2010. "I'm looking forward to continuing to build, being with some great players next year, continuing to beef up our roster. We've got some work to do, the front office has work to do. You just have to see things being done, being accomplished. If we see that, we'll be talking again."
With that statement, the seeds of sacrifice were planted by Dwyane Tyrone Wade Jr.
Now -- after the free-agency additions of LeBron James and Chris Bosh; a turbulent season that ended with a 58-24 record; and all of the controversy and scrutiny in between -- it's harvest time for the Heat. Miami opens the playoffs on Saturday at AmericanAirlines Arena against the Philadelphia 76ers in Game 1 of a best-of-seven series.
Wade was reminded after Friday's practice of the vow he made when Boston brought his 2009-10 season to an abrupt end. He responded by essentially asking how he could forget.
"Yeah, I remember that," Wade said. "I was angry at the time. I meant it. And it was a message to myself. It was a message to any franchise that wanted me to become part of them [in free agency]. It was a message to get me some talent. So I was sending a message. But most importantly, I was sending it to myself. No matter what, I wasn't going to have a first-round exit again, no time soon."
While that doesn't necessarily register as a guarantee that Miami will dispatch Philly, it does underscore the mission the Heat are on this season. No one knows more than Wade that what has transpired over the last six months and 82 games matters little at this point.
That was the regular season. This is the register season, the one in which the Heat will ultimately be measured. Fair or not, there can only be two results after a team is assembled as boldly as the Heat were put together last season to surround Wade with the talent he demanded.
There's winning a championship or there's a lot of explaining to do amid the disappointment and perceived disaster that would accompany anything less for Wade, James, Bosh and the Heat.
In a season that has been defined by sacrifice, perhaps no one has given up more than Wade. James and Bosh took less than the maximum salary they could have commanded to come to the Heat. Wade took an even deeper cut to make room to retain Udonis Haslem and sign Mike Miller.
James and Bosh gave up their comfort zones after seven seasons in Cleveland and Toronto, respectively, to take on this mission with Wade in Miami. But Wade -- a 2006 Finals MVP and 2008 league-scoring champ who had Miami-Dade County briefly renamed in his honor last summer -- sacrificed his ego, locker space on the road, media attention, role in the offense and plenty of other things to accommodate the type of talent he insisted come aboard to get Miami over the hump.
To Wade, it's not so much about what he has had to give up this season. Instead, it is about doing whatever he needs to do to better position himself and his team for the ultimate capital gain.
"Everybody's had to sacrifice something, or this had no chance of working," coach Erik Spoelstra said. "Dwyane was a big part of that. He was right at the heart of everything. The No. 1 thing he's done is set the tone for everybody -- welcoming new players to our organization."
In strictly a basketball sense, that meant committing himself more on defense to make sure James and Bosh didn't get the wrong impression that stars get to take possessions off on that end of the court. It also meant having less control of the offense and playing off the ball more.
Wade made those adjustments from the outset of the season. And it was noticeable to anyone who has known Wade through all the roster transitions the franchise has made around him.
No teammate has been around Wade longer than Haslem, as the two arrived together as rookies in 2003. Haslem said the biggest changes he's seen in Wade this season revolve around vocal leadership and a take-charge attitude on defense.
"From what I've seen from the sidelines watching is that when Dwyane speaks and when he steps his level of play up the whole team steps it up," said Haslem, who has missed most of the season to recover from foot surgery. "You go back to the games against the Lakers, when he accepted the challenge against Kobe [Bryant], it raised out play to another level. That's one thing I can say about him this year. In the past, I can say this: He's carried so much of the offensive load that he'd relax a bit on defense. This year was the first year we started D-Wade on Kobe both games, and he guarded him basically the whole game. He's accepted the challenge in every major thing we've put on him."
Haslem, a team co-captain, said Wade's approach forced "everyone to be all in from the beginning."
James Jones, who has been with the Heat through their first-round exits against Atlanta and Boston the past two seasons, also said he sees a difference in Wade, born out of the sacrifices he's made this season.
"You can see his demeanor has been relaxed," Jones said. "The last couple of years for him have been tumultuous on and off the court, the frustration of being bounced in the first round. But he understands what this team needs, not just in the moment but long term as well, to really be something special."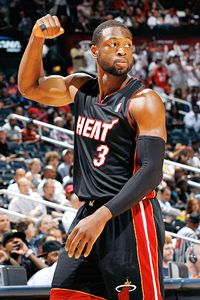 Kevin C. Cox/Getty
Dwyane Wade: "I couldn't have done any of this when I came into the league at 21, 22 years old. But at 29, I've grown into a man."
At times, that has meant being a vocal leader. At other times, a confidante. Sometimes it has required setting the tone at the start of games by delivering 20-point quarters. And it has been knowing exactly how to deal with James when the offense shifted into Wade's hands in the fourth quarter late in the season.
For Wade, it's about having the right timing as well as the right tact.
"I learned a lot about that," Wade said, of adjusting to various demands throughout the season as a leader of one of the most scrutinized teams in NBA history. "I couldn't have done any of this when I came into the league at 21, 22 years old. But at 29, I've grown into a man."
Heck, Wade probably couldn't have coped with major changes to his team and his role at 25. Haslem said he remembers how Wade took a subordinate role on those teams with Shaq and preferred to let his play on the court speak for itself.
Now, everything runs through Wade. Nothing gets past him. Wade knows it requires a different style to deal with a more sensitive and cerebral player such as Bosh than it does to connect with an outspoken, extremely prideful and confident teammate such as James.
That's leadership.
Bosh said Wade still drives home some of the same points now that he did when the two had dinners and lunches together entering free agency last summer.
"Everybody says they will do whatever it takes to win, but how bad do you really want to win?" Bosh said. "If you tell somebody your average is going to go down from 30 to 24, they're going to be like, 'Oh, well. Oh.' You never know until you're put in that situation. But he works hard, and he's a competitor and loves winning. It's easy to kind of assume that when you see guys out there. But when you see what they really do and how they really work, it's a great, great thing."
James, Wade and Bosh have been friends since the days leading to the 2003 draft, in which they were all selected within the top-five picks. Their friendship blossomed during stints with USA Basketball in the summers and visits with each other's families over the years.
But even after 82 games together, James is still amazed at how Wade has handled Miami's makeover process.
"That's something I wanted -- someone who wanted this as much as I did," said James, who insists he would have been as selfless and accommodating had Wade and Bosh joined him in Cleveland. "I would have welcomed him with open arms, just like he did for me. It wouldn't have been like, 'Who's team is this?' or nothing like that. It's about trying to win. You've got the same uniform on; we rep the same city, Miami. It would have been the same had he and Chris come to Cleveland or had we all gone to ..."
James stopped before bringing himself to suggest they could have all gone to Toronto.
He laughed as Wade stood nearby.
Wade wanted nothing more as a basketball player than to get the opportunity to exorcise his recent playoff demons with his boys around him. But even before James and Bosh arrived as teammates last summer, Wade was already in the process of learning how to give more of himself and sacrifice.
That process started with another set of Wade's boys -- his sons, Zaire and Zion. In the middle of the season, Wade was awarded custody of the two after a three-year divorce and custody battle.
So sacrificing has been simple for Wade, who has seamlessly adjusted to major moves made with his team on the court and with his squad at home.
He's even cool with LeBron being Zaire's favorite player in the NBA.
"I have more patience than I thought I had," Wade said Friday. "To go through the things off the court -- I had to go through so many things -- I had to be patient. I had to take the high road as much as I could. I came in here with these guys, opening up the doors to a franchise that was looked at as mine, at one point, and not really having an ego about it at all."
Nope. It's been very little ego from Wade this season.
But there remains an urgency. Especially in the playoffs.
Especially to get out of the first round for a change.
Wade likes his chances this time around. He loves his team.
And he believes there will be a different message delivered this postseason.