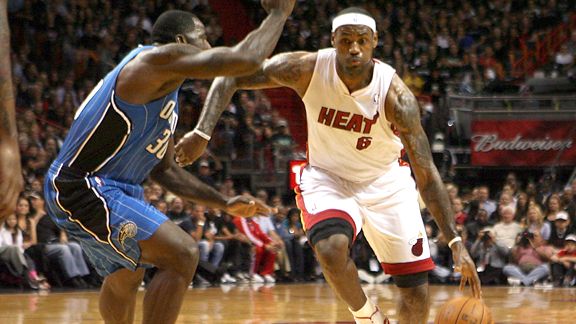 Marc Serota/Getty Images Sport
Neither this drive -- nor any other by LeBron James on Friday night -- finished at the rim.
MIAMI -- As far as home openers go, you can't ask for much more than a 26-point annihilation over a division rival. Or can you?
The Heat will be showered with glowing praise after their blowout victory over the Orlando Magic on Friday night. And deservedly so. Holding a great offense to a mere 70 points is nothing to scoff at.
But a closer look at the performance reveals a Heat team that still has some work to do on offense. Most notably their questionable shot selection.
LeBron James didn't take a layup or a dunk in a game for the first time in years. And neither did power forward Chris Bosh. What's worse, nearly 60 percent of their field goal attempts in the first half were long jumpers with a 2-point payoff.
Oh, the 20-footer: enough distance to wow the crowd but not quite far enough to make it worthwhile.
Over the course of an 82-game season, teams will inevitably have a love affair with the long 2 here and there. It happens. Let's just hope that for the Heat, a team gifted with offensive firepower, their affection is just an innocent early-season fling.
The Heat's final count for the Orlando contest was 10 layups and 37 long 2s, lifting their season average to 24.7 long 2s per game at a 31.1 percent clip. In fact, the total of 37 long 2s ranks as the Heat franchise's highest single game dose since 2008-09 when Hoopdata started tracking the statistic.
You'd expect this from an undisciplined or unskilled offense, but not this one. It's like watching a lineup of Yankees sluggers squaring away to bunt.
But the Magic defense deserves some praise for controlling the basket and forcing the Heat to hit deep jumpers from the perimeter. They rolled the dice and got burned.
"Defensively, I didn't think we were that bad," Orlando head coach Stan Van Gundy said. "We kept them out of the paint. Generally, if you come in against Miami and you can hold them to 20 points in the paint with that crew you are doing a pretty good job."
Shooting lights out from downtown can cover for a lack of inside play. The Heat busted out of the gate in the third quarter, nailing three quick 3-pointers to push the lead to 15 before Orlando called a timeout with 10:07 to go. For the game, Miami finished 9-for-18 from beyond the arc, their best 3-point output on the season.
"Give some credit to Orlando," Heat head coach Erik Spoelstra said. "They were really disrupting our pick-and-roll game and our post up game. They're an excellent defensive team."
After launching 23 long 2s in the second quarter -- which is more than each of their previous two games – the Heat only took 11 for the rest of the game. The solution? Running.
"In the second half, we were getting a lot of shots off the backboard and getting down before they're defense is fully set. That's the idea," Spoelstra said. "We want to push the pace. Regardless of whether we're getting a straight out fast break, which is great. We want to push for those but also in the secondary offense where we get to early post ups and quick pick-and-rolls. Those are our best opportunities but not tonight."
Rest assured, the Heat won their home opener in decisive fashion, not because their offense was particularly sound, but because their defense was remarkably stingy, allowing only 70 point on 91 possessions. Orlando's perimeter game -- Rashard Lewis, Quentin Richardson, and Vince Carter combined for 1-for19 from the field -- was completely ineffective and the Magic mustered merely seven layups and dunks attempts all night.
The Heat's propensity to shoot long 2s at the expense of potentially easier buckets at the basket will likely cost them a close game down the line. It's not winning basketball. But with their defense on Friday, that hardly mattered.