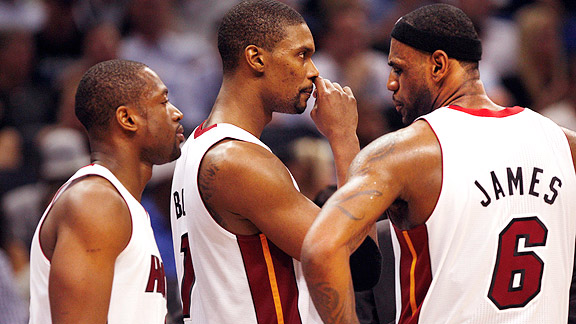 Kim Klement/US Presswire
With sky-high expectations, no contingency plan and a slew of naysayers, the Heat are under intense pressure.
Every team that has the opportunity to contend for a title is under a tremendous amount of pressure. Opportunities to win it all are few and far beyond in any major sport, and basketball is no different. Everything has to go right for a team to win a championship. If it squanders a good opportunity to win one, it is forced to wait for a next year that may never come.
No other team is facing more pressure in the postseason than the Miami Heat. Coming into these playoffs, five teams are being given a good chance to win the championship: the Heat, Lakers, Spurs, Bulls and Celtics.
Of all those teams, only three came into the season with the burden of championship expectations: the Lakers, Celtics and Heat. The Bulls have been a juggernaut, and have just as good a chance to win a championship as anyone. However, they've also exceeded expectations all season long. Their best player is 22 years old, and only four players on their roster were born before 1980.
The Spurs should also be considered favorites, and one imagines that Tim Duncan, Gregg Popovich and Co. won't be satisfied with anything less than a championship, but the reality is that, after last season, 2010-11 was an extremely pleasant surprise.
The Mavericks and Magic have plenty to worry about, as Dirk Nowitzki isn't getting any younger and Dwight Howard's free agency is looming, but both teams have been flying under the radar for most of the season.
The Thunder are the West's version of the Bulls; they have the talent to beat anybody, and the added benefit of being a young team with its best players locked into long-term deals. Nobody expected the Nuggets to contend this season after the Carmelo Anthony trade -- they are playing with house money.
If the Lakers and Celtics fall short, they'll be disappointed but have rings to fall back on.
But the Heat were built to win a championship, and win it immediately.
Chris Bosh is playing for respect. It wasn't that long ago that Bosh was considered the best young forward in the league. This season, he has spent plenty of time as a punch line. As skilled as Bosh is, few people tell their kids about watching the third-best player on a team that didn't win championships.
People still have a lot of good will for Dwyane Wade, and nothing will ever erase what he did in the 2006 Finals, but he hasn't won a playoff series in four years and will need to win titles with this group to be considered one of the all-time greats.
Then there's LeBron James.
After the Spurs swept the Cavaliers in the 2007 Finals, Tim Duncan told LeBron that the league would be his before long. Four years later, we're still waiting for LeBron to win his first ring.
The "And he's still only ___!" phase of his career is over. At 26 years old, James is in his prime. Every year he doesn't win a championship from this point forward does real damage to his legacy, and brings him closer to being a cautionary tale than a legend. He left behind his hometown, a team he won 60-plus games with two seasons in a row, and his status as the league's golden child for one reason -- the best chance to win a championship. If he doesn't win it with Wade and Bosh at his side, watch out.
There are two other reasons the Heat will be under immense pressure in these playoffs. The first is the whole "villain" angle, which shouldn't be discounted; nobody will shed any tears for the Heat if they don't bring the trophy back to Miami. In fact, naysayers will happily dance on their grave until the Heat do manage to win a title. No matter what the Heat say, they are human, and that has to be weighing on the back of their minds.
The final reason that this season means so much for the Heat is that they don't really have a contingency plan if this experiment doesn't yield championship success. The Heat don't have a young player with star potential outside of their Big Three, and their chances of improving through the draft are essentially nil. The new CBA agreement will almost certainly not include a midlevel exception, and could very well include a hard cap, which would make adding an impact player through free agency nearly impossible.
Most of the Heat's best role players are on the other side of 30. There are some deck chairs that could be rearranged, and having Udonis Haslem, Mike Miller and even Mario Chalmers fully healthy all season could really help, but unless Pat Riley pulls off a miracle, Nene is not walking through that door. Tyson Chandler is not walking through that door. Heck, Kwame Brown may be a long shot to walk through that door. If the Heat want to win a championship, this is the squad that is going to have to pull it off.
The question is how the Heat will deal with the intense pressure. It's almost certain that there will be big games for the Heat in these playoffs that come down to a couple of possessions. In the regular season, they may have let the pressure get to them in those situations -- they finished with the league's best point differential, but finished three or four wins under their expected record because of poor late-game execution.
LeBron, in particular, had more trouble in late-game situations than he has in regular seasons past. While the conventional wisdom is that the issue was LeBron's "closer mentality," or lack thereof, James never had a problem with those situations in regular-season play as a Cavalier. The Cavs were consistently dominant in close games, and you don't win 127 out of 164 regular-season games without winning a lot of tight ones. This season, the pressure may have gotten to LeBron, and both he and the team struggled to close out games.
The difference between winning and losing a championship is often mental. If the Heat can rise to the occasion in the playoffs, they'll be able to quiet a lot of people and take a huge monkey off their backs going forward.
If they succumb to the pressure and have the kind of thing that happened to them in the regular season happen to them in the playoffs, they know all too well what the consequences will be.