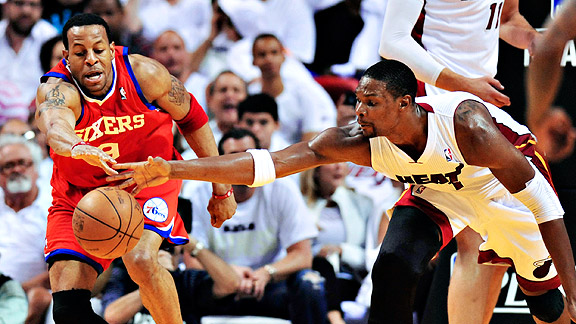 Steve Mitchell/US Presswire
Road wins for underdogs are elusive in a seven-game series. Did Philadelphia let one get away?
MIAMI -- A day after his team's near miss of an upset in Game 1, Philadelphia 76ers coach Doug Collins was still focused on free throws.
"We beat them in every statistic except the free-throw line," Collins said, referring to the Miami Heat's 39 free throws compared to the 76ers' 15 in Miami's 97-89 Game 1 victory. "And that was the difference."
That's not completely accurate. The Heat narrowly had a higher field goal percentage and pounded the Sixers on the boards. But Collins had good reason to be disappointed, though not just because of his perceived injustice at the foul line.
The veteran coach knew his young team had let one slip away in the series opener. In fact, there's a chance it might be as close as the Sixers get to scoring a road victory -- or any victory for that matter -- against the heavily-favored Heat in this series.
Simply, the Heat generally played below average in their first playoff game together, and in different circumstances they might not have gotten away with it -- but they did. Collins might argue it came with an assist of the officials, ignoring the Heat shot 437 more than 76ers during the regular season, but it allowed the Heat to take control of the series.
"I would give us a B-minus or a C-plus," said LeBron James, grading the Heat's overall performance on Saturday night. "We won but we can play a lot better. Everyone looks at us as the better team but this was our first playoff game and it was a 'feel out' game for us."
James shot just 4-of-14 and he didn't make a basket until the late stages of the second quarter. Dwyane Wade was mired in foul trouble and had just 12 points before he led a surge at the end of the game to give the Heat their final separation in the last four minutes. It turned out Wade was battling the beginning stages of a migraine, an issue that held him out of practice on Sunday.
The Sixers showed much more energy and poise from the start and held a 12-point lead after the first quarter. That was a big red flag for Miami, as they were 0-4 this season when trailing by more than 10 points after the first 12 minutes.
Normally when one of the Heat's three All-Stars plays below his average the Heat are in trouble, especially against playoff-quality opponents. Saturday both Wade and James, who scored the fewest amount of points (21) in 10 games, admittedly were off. Yet the Heat survived to win their 16th game in the past 19 tries.
Prudence would dictate that Philadelphia may have missed their shot and the Heat know it.
"It was huge for us [to] win when we shot so poorly as a team," James said. "We know we can play better and they can probably say the same thing. But we were able to win with our defense.
After shooting 61 percent in the first quarter, the Sixers shot just 34 percent the rest of the way as the Heat changed up their defense by introducing some zone. Still it was a one-point game with two minutes to play before Philadelphia missed six of its last seven shots, including two crucial missed free throws by Thaddeus Young.
Had even one of the Sixers' late jumpers gone in, things may have finished differently. Instead, the Heat escaped and vowed to make improvements for Game 2. The expectation is that they will, regardless of Wade's status, and the mountain for the Sixers to climb will likely get taller.
Even as Collins warmed up his gamesmanship with the referee pool, he understood what might have slipped through his fingers.
"We gave ourselves a chance but we could get that big basket," Collins said. "We just couldn't cash in."