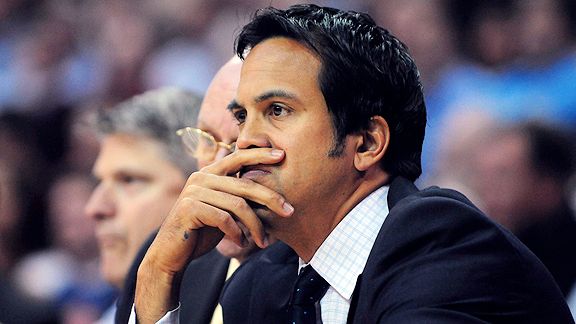 Jason Miller/US Presswire
The Heat can be satisfied with their 2-0 lead, but Erik Spoelstra needs to do some sharpening in their days off.
MIAMI -- The Heat are up 2-0 in their first-round series, heading to Philadelphia after demolishing the Sixers 94-73 in Game 2.
Things are looking good for Miami, perhaps better than any other contender in the NBA. The scene on Monday night certainly tilted the momentum in Miami's favor. The fans were buzzing, the players were reveling in front of their home crowd and Heat coach Erik Spoelstra showered his team with praise.
But there's still work to be done. As solid as the Sixers have played this season, they don't belong in the same class as the Celtics or the Bulls. So we have to grade the Heat's performance against an inferior foe with a steeper curve.
What do the Heat need to specifically work on before the two teams meet again at Wells Fargo Center on Thursday? LeBron James isn't sure.
"I can't look in my head right now and say, 'This is what we need to work on,'" James said following the Game 2 rout. "But there's always room for improvement. That's what you have off days for."
LeBron is right. This is what off days are for: to analyze and improve. So on this off day, let's take out the red pen and circle some areas that need some work.
1. Contain Thaddeus Young and never let him out of sight
The Heat can't get Young out of their hair. The springy 22-year-old finished with another big game off the bench, scoring 18 points and grabbing six rebounds in just 29 minutes of action. On Saturday, the Georgia Tech product scored 20 points and pulled down 11 rebounds in 28 minutes. On a per-minute basis, he's having a more productive series than Chris Bosh has had so far, and the Heat can't stop talking about the Philly forward's talents. James Jones thinks Young could be the next Shawn Marion because of his athleticism and his knack for the ball.
As someone who has had to guard him up and down the floor, Bosh is awed by the ease with which the youngster gets to the live ball. Young has tallied 13 offensive boards in two games and the Heat still haven't found a way to keep him in check.
"If we figured that out, he definitely wouldn't be working on the boards like he is," Bosh said. "He uses his quickness to his advantage. Sometimes you try to outmuscle him, but his lateral quickness is very good and he can jump very high. When you have a guy like that, sometimes it's confusing to box him out, especially in our rotations where our guards have to pick him up."
The guards can be blamed on some occasions, but a review of the game film reveals that the accountability falls squarely on the Heat's big men most of the time. To be fair, a couple of Young's offensive rebounds on Monday were recoveries after he got blocked by Joel Anthony in the paint. But regardless of whether he got stuffed or not, Young persevered and scored point-blank buckets, which is all that matters. This is a downside of Anthony's swat-happy game. He often finds himself out of position to recover the altered or blocked shot. LeBron was also guilty of shot-watching instead of boxing out the Philly forward.
"That's something we can improve on," Bosh said. "I'm sure we'll look at the tape again and try to limit his offensive rebounds and their easy baskets."
2. Get 3-point shooting on track
If you look at the Heat's losses to top teams this season, you'll notice a trend: Miami stinks it up from downtown. The Heat's 3-point field percentage in losses checks out at 30 percent.
In wins? 40 percent.
While that may seem like a "duh" statistical comparison, it underscores the importance of the Heat's downtown attack. The Heat have gotten away with poor shooting so far in this series (7-for-32, or 22 percent) and they can thank their suffocating defense for covering that sore. Rest assured, they probably won't be so fortunate in the next round.
Jones, the Heat's sharpshooter, doesn't want to glean too much from the two-game sample, but he credited Philadelphia's defense for disrupting the Heat's spot-up shooters.
"With a team like Philly, you're not going to get a consistent diet of wide-open shots," Jones said after Monday's game. "Philly's a team that doesn't want you to shoot 3s so they'll run you off, and they've done a great job of that with our shooters. We have to make shots."
The Heat have certainly had their opportunities. According to Synergy Sports video data, the Heat have made just 5-of-14 unguarded catch-and-shoot attempts in the series, which is far below their regular-season success rate. With Mike Miller gimpy, the Heat need Jones and Mike Bibby to step up.
3. Resist the temptation of the 20-footer
Why did the Heat's offense struggle in the beginning of the season? A big reason: Instead of attacking, they routinely settled for the midrange jumper, the most inefficient shot in the game. And in the two games against Philly, the Heat lived dangerously with their shot selection.
At the end of the Heat's regular season, it appeared that they exorcised the demons and got rid of their propensity to settle on long 2s. In the last 10 games of the season (not counting Toronto), just 20.2 percent of the Heat's shot repertoire came from long 2s. Before that? Their share stood at 30.6 percent, which led the NBA in long-2 assault. Against Philly in the first round, the Heat have fallen back a bit into old habits, launching 32.1 percent of their shots from this low-percentage area on the floor.
Who's to blame? The Heat's downtown assassins have inexplicably crept inside the 3-point line. Jones has put the ball on the deck more often than he has all season and has shot six midrange jumpers in the past two games. Jones went entire months during the regular season without shooting six long 2s. As much as we like seeing him flash his dribble game, he needs to stick to stretching the floor and getting the extra point.
I've said before that a puppy dies every time LeBron settles and pulls up for a midrange jumper. So far this series, let's just say he's controlling the puppy population. LeBron has made just 4-of-12 long 2s in the last two games, and often they're completely avoidable.
There was a big head-scratcher late in the third quarter of Monday's game. LeBron held the ball at the top of the key with the shot clock winding down from 15 seconds while Jones, Mike Bibby, Eddie House and Anthony stood on the perimeter. Anthony came out to set a ball screen for LeBron, but the two-time MVP shook him off so he could take Thad Young off the dribble. LeBron wanted to clear it out. And what did he do? He dribbled idly at the top of the key for a few seconds and then took a step-back 22-footer that clanked off the side of the rim and out of bounds. Again, those bad habits are creeping back into his game.
Yes, it's just two games, but the Heat can trim some fat off the shot selection. Cut out some of the midrange J's and it'll do wonders for the Heat's efficiency. If the Heat want to make a title run, the bad habits need to be broken now before it's too late.