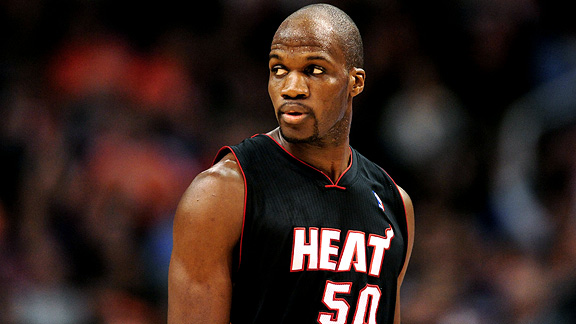 Mark J. Rebilas/US Presswire
Joel Anthony can do something LeBron James, Dwyane Wade and Chris Bosh can't.
LeBron James led all scores and produced YouTube catnip with a thunderous alley-oop finish on a break.
Dwayne Wade fought through migraines and endured the blinding glare of an arena full of white wedding seat covers.
Chris Bosh topped 20-10 for a second consecutive game and had never appeared more comfortable in a Miami Heat uniform.
But who was everyone talking about after the game? Whose locker was the press scrum congregated in front of during the intermission between Erik Spoesltra and Bosh's postgame availabilities in the main interview room? Who was the subject of questions posed to everyone from Andre Iguodala to Bosh?
Joel Anthony.
The Heat's center owns the NBA today, for his consecutive blocks that ignited the aforementioned alley-oop and for anchoring a Heat defense which held the Philadelphia 76ers to a paltry 83.0 offensive rating.
Both Rob Mahoney of The New York Times and Couper Moorhead of Heat.com published smart stories on Tuesday about how indispensable Anthony's presence is to the Heat's defense. If you prefer first-person testimonials to advanced analytics or video footage, there was plenty of that Monday night from the Heat's starters, head coach and opponents.
But there's another variable to the Anthony sensation. The crowds at AmericanAirlines Arena in Miami aren't chanting M-V-P when Anthony steps to the free throw line because they like his plus-minus numbers or even because he brings a unique biography or hustle to the game that was narrated beautifully by Tom Haberstroh last week at Heat Index.
Spoelstra and the Heat coaching staff love Anthony for all those contributions that don't show up in the box score, but we love him for an entirely different set of intangibles. Anthony has been able to accomplish something that no one has been able to do:
Joel Anthony has humanized the Miami Heat.
The league is stocked with guys whose imperfections -- both in game and appearance -- make them lovable. Brian Scalabrine made a career for himself in Boston as an everyman. It's impossible to find a Clippers fan who can suppress a smile if you utter the words "Keith Closs" in conversation. You can probably trace your lineage as an NBA fan by your attachment to these kinds of players over the years.
But this Heat team is different, and one of the qualities it brought into the season was a steely persona that left even those who didn't despise them a little bit cold. The roster was masterminded then manufactured by a remote, powerful luminary. The team's young head coach is universally regarded as sharp, tireless and humble by those around the league, but he comes across as more serious than warm on television.
There are no 85-year-old Heat fans with a lifetime of heartbreak and devotion to their team. There is no lusty bond between an old city and a storied franchise. With the exception of a few mulligans here and there, the Heat have been run with an almost mechanical competence, underscored by the free agent haul last summer. Udonis Haslem was the closest thing the Heat had this season to a tempering force, but he fell to the ground in Memphis before Thanksgiving, leaving the team without its spiritual leader.
The nature of Anthony's faults is nothing unique, nor is the attachment of a fan base to a cuddly, flawed player. Sure, Anthony's failures are more spectacular than most, but every fan favorite has his blooper reel.
What makes that collection of flaws special is that Anthony lends them to a team desperate for a human frame of reference. When you watch Anthony play, you can almost root for the Miami Heat.
No matter what James, Wade and Bosh do, they can't draw on your empathy.
Only Joel can do that.