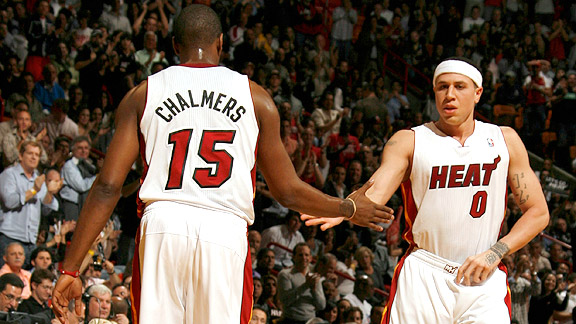 Issac Baldizon/NBAE/Getty Images
Chances are one of these two guys will be asked to drain a huge shot before the postseason is over.
The Heat have assembled a team built around a two-time league MVP, a Finals MVP, and an All-Star forward. Past that, it's a collection of specialists. If Mike Miller (who seems to be all but out of the playoff rotation) or Udonis Haslem (whose return seems less and less likely) had been healthy this season and given the Heat two complete offensive options off the bench, perhaps things could have been different. But as it stand now, the Heat have three players who create offense, a handful of defense/rebounding specialists, some spot-up shooters who make smart basketball decisions, a glacial 7-foot-3 center who can rebound and stretch the floor, and Mario Chalmers.
On paper, the model works just fine. It's proven successful in the regular season and the first two games of the playoffs. James and Wade's driving ability puts tremendous pressure on the interior of any defense. James' improved jump shot can keep the defense honest, and Wade is also good for the occasional jumper. Bosh can post up, beat his man off the dribble, score inside on the pick-and-roll, or pop out and keep the floor spaced.
With those three players being as dominant as they are offensively, the rest of the Heat don't need to do much more than rebound, play defense and make open shots -- and most of the Heat's role players do one or more of those things exceedingly well. The Heat's "Little Nine" may be an island of misfit toys, but they're the right misfit toys.
Here's the rub, though: if history is any guide, the Heat might win 14 more playoff games with James, Wade and Bosh making all the big plays and taking all the big shots. But the Heat's ultimate success or failure could be decided by one of the Heat's misfit toys, and they will have to trust in themselves just as much as they trust in their superstar teammates.
Statistically, Derek Fisher's career averages don't look very different from Mario Chalmers', and Fisher generally spends the first 90 or so games of the season doing a very good impression of a slow, inefficient point guard who has no business being an NBA starter. But when the Lakers -- a team stacked with talent and a superstar widely considered the NBA's top closer -- have needed a big shot from Fisher, he's come through again and again and again.
There's also Robert Horry, who never averaged 10 points per game as a member of the Lakers or Spurs, but hit a mind-boggling number of huge shots for both teams.
Fisher and Horry are outliers, and may even be what Nassim Nicholas Taleb calls "Black Swans." (The non-fiction book, not the ballet psychodrama/Pau Gasol motivational device; high-impact, unpredictable events that we attempt to rationalize in hindsight. "They forced the worst player on the floor to take a big shot ... and he made it! Of course! Derek Fisher always makes those!).
As much as Fisher and Horry stick in our minds, not every championship contender features a solid/mediocre role player who seems to magically become unstoppable when it matters most. The Heat don't need a role player who will be clutch for the rest of his life, but they will most likely need a role player or two to be clutch for a couple of moments.
But history is full of big games that were decided by a role player that either had one shining moment or shrunk when it mattered most, and the Heat's fate could easily be decided in one of those games.
Why did Wilt Chamberlain never beat Bill Russell in a Game 7? Why did Barry Bonds never win a World Series? Because Frank Selvy missed a wide-open 12-foot jumper at the end of regulation in the 1962 Finals. Because the Giants' bullpen couldn't hold a five-run lead.
John Paxson and Steve Kerr both hit huge shots to help Jordan win in the NBA Finals. How different would Tom Brady's playoff career be if Adam Vinatieri hadn't made those clutch field goals, especially the 48-yard knuckleball in Oakland? In every major sport, the list of big games decided by "little" players goes on and on and on and on.
The Heat have a number of players capable of making a big shot. Eddie House is a sharpshooter born without a fear gene, and was instrumental in Boston's pivotal Game 4 comeback against the Lakers in 2008.
Mike Bibby made more than his share of clutch shots when the Kings were competing for titles.
James Jones is the team's best spot-up shooter and most mistake-free player.
Mario Chalmers, as inconsistent as he may be, does have an NCAA championship-deciding shot on his resume.
Maybe the Heat role player that comes up big won't even be a shooter -- maybe Joel Anthony will make the block, rebound, or defensive rotation that saves the Heat's season.
Maybe Big Z will tip in a missed layup at the perfect moment.
Maybe Mike Miller will earn his $5 million with a single shot.
We don't know which player will be asked to step up and if they will rise to the occasion or shrink away from it, but we can count on one of them being asked at some point.
Pat Riley pulled off a massive coup when he got James, Wade and Bosh to join forces, and the Heat may just win a championship based on the strength of their play alone. But chances are that one of the discount players he handpicked will end up having a hand in whether the Heat succeed or fail in a key moment.
---