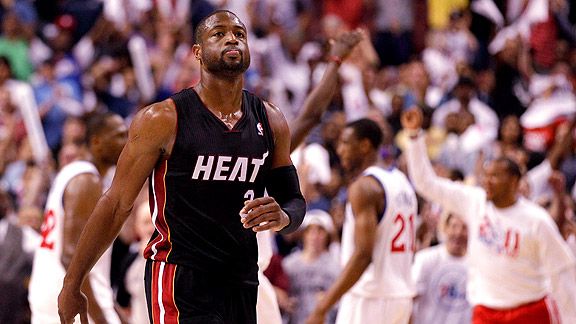 Rob Carr/Getty Images
Dwyane Wade and the Heat saw some old themes resurface in their Game 4 loss at Philadelphia.
PHILADELPHIA -- During the upcoming offseason, extended as it may be, there's a good chance the Philadelphia 76ers will look back on Sunday afternoon as their finest moment. For the Miami Heat, it will either be completely forgotten or the first red flag hoisted up the postseason pole.
In a best-of-seven series, every underdog usually has his day and that's what the Sixers enjoyed in their 86-82 Game 4 victory. It was a game they probably shouldn't have won, down six points with less than 90 seconds left in their season and sitting on eight straight missed shots. The only reason the home fans were on the edge of their seats was because they were about to leave.
But basketball is a fragile game and the Sixers stunningly made three straight baskets. Meanwhile, the Heat started staring into the past -- namely that attention deficit disorder in fourth quarters that was supposedly buried two weeks after the All-Star break.
The Sixers celebrated like a team that hasn't won an elimination game in years, which they hadn't since Allen Iverson was in his prime. The Heat shrugged it off as a speed bump, which it could be depending on how they react to it when these events surface again.
"It meant the world," said second-year guard Jrue Holiday at the end of his first career playoff win.
"Easter Sunday and I told our guys after the game if you have faith you have hope," Philly coach Doug Collins said, his eyes glassy with pride as he waxed poetic about the gravity of the single win. "And if you have hope you have life. Our guys fought to stay alive."
Charming and memorable indeed.
The loss was disturbing for the Heat, not because of the loss or because LeBron James missed another late-game shot to win or tie -- this one came with 3.8 seconds left when Elton Brand blocked his tentative lob attempt -- but because the Heat thought they had put these moments behind them.
The last-second shot stuff is only a fraction of the issue. Let's get this part out of the way from the start. James (1-of-6) and Dwyane Wade (0-of-5) are now 1-of-11 this season on shots in the final five seconds to win or tie games.
Considering the weight so many put on those types of shots, it doesn't make them look very good. But it is also an opportunity for detractors to invoke the names of Michael Jordan and Kobe Bryant, et al.
The Heat also lost traction with the way they finished this game. They had been closing games out much better over the past month and a half, putting those fourth-quarter failures when they didn't use teamwork to bed. In fact, they did a nice job of finishing off the Sixers in that manner in Games 1 and 3.
With a likely series upcoming against the Boston Celtics -- the best finishers in the game -- there's no time for backpedaling, or for doubt. It proved hard to close out the Sixers, a .500 team without reliable go-to finishers. It's only going to get tougher from here.
"We have been doing so much better with our execution down the stretch of close games," Miami coach Erik Spoelstra said quite correctly. "We've proven we've been better than that. ... This was uncharacteristic."
Uncharacteristic recently, yes, but still a season-long Achilles' heel dating back to November. This time Spoelstra wanted to point to defense. Holiday and Lou Williams drained 3-pointers and Evan Turner hit a runner and two free throws to complete a 10-0 run on the Heat in the game's last 1:22.
On the Holiday 3-pointer, Wade looked like he was standing in sand as he didn't challenge the wide-open look.
"It froze me," Wade said. "He got off a shot probably not many people in the arena expected him to shoot."
Um, Holiday is shooting 55 percent from 3-point range in the series and his team was down four points with 47 seconds left. Actually, it was a shot that was expected. But Wade is entitled to a mental error or two. He just happened to have about twice that in the final few minutes.
While the defense let the team down during that last stretch, the Heat held the Sixers to 41 percent shooting and 86 points. Most of the time, that's sufficient. But Miami managed just 16 points in the fourth quarter and a meager 35 in the second half. That's not enough against any opponent.
The biggest culprit was a breakdown in offensive teamwork, a place where the Heat had recently shown so much progress. Of course, there was limited help from the supporting cast. Mike Bibby, Mario Chalmers, Zydrunas Ilgauskas and James Jones combined to shoot 5-of-23. But this is nothing new -- the Heat have become used to dealing with and overcoming that.
The problem was James and Wade didn't use each other or Chris Bosh, who had his worst offensive game of the series, as well. In the final minutes they played isolation basketball and ignored when others were open.
Once Wade disregarded James when a switch left him alone in the post being guarded by the much smaller Holiday. Another time Wade settled for a low-percentage turnaround fadeaway, despite an offer of a screen from Bosh.
Nothing, though, was more passive and solitary than James' last shot, when he tried to flick the ball over Brand even as both Wade and Bosh were open against the Sixers' collapsing defense.
Games are 48 minutes long and series are much longer than that. The Heat will survive the loss in this series, and it hardly sullies their recent run of good play. But it was a sobering final few minutes. When they break down the tape they will sigh, knowing it is ground they've been covering and recovering for months.
"I think sometimes you get a little tight and it is tougher to execute down the stretch," Bosh said. "We've been talking about trust all this [season], so we're going to have to do it when it counts most. It is easy to trust when you're up 2-0, 3-0. When it is time to close teams out and it is time to get to those other elite teams, if we're going to have a chance to compete against them, we're going to have to do the same thing. We're going to have to trust each other."