About half an hour after hitting the two biggest shots of his life -- a pair of free throws to give the Miami Heat a 94-91 lead with 16.8 seconds remaining in the game -- Joel Anthony emerged from the training room wrapped in a towel. He was checking his iPhone intently.
Was he reading congratulatory texts? Savoring the atta-boys from friends and family?
"Nah, I want to find the Habs score," Anthony said. "It's Game 7 against Boston."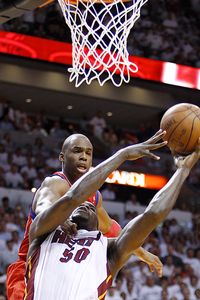 AP Photo/Wilfredo Lee
Joel Anthony: The Heat's closer in Game 5 after this foul sent him to the line.
Anthony's hometown Montreal Canadiens lost their decisive postseason game to the Boston Bruins, an outcome he took in stride. Anthony then ambled over to his locker, where a media scrum that's increased in size over the past month waited for him to towel off.
The relevant play occurred with about 34 seconds remaining and the Heat leading by a single point. The possession transpired like so many did for the Heat on Wednesday night. The Sixers responded to a high screen-and-roll from Dwyane Wade and Chris Bosh by pressuring Wade to his right, pushing him uphill.
With the shot clock ticking down, Wade slung a cross-court jump-pass to Mario Chalmers on the left wing behind the arc.
"I had the shot," Chalmers said. "But [Jodie Meeks] was closing out on me so hard, I knew there was no way he could stay in front of me if I drove. I looked at the clock and we had some time left, so I just tried to get a better shot for us."
Chalmers put the ball on the floor and drove toward the hole. As he reached the paint, Chalmers encountered a slew of red jerseys, including Thaddeus Young. Like so many of Anthony's defenders over his career, Young was roving freely around the court, lending help wherever his teammates needed.
Now stuck in heavy traffic, Chalmers did what guards are taught to do -- hit the open man. In this instance, that man was Anthony.
"I knew I had to be ready," Anthony said. "Mario did a real good job getting to the basket aggressively. At the last minute, he found me at the rim, so I knew I definitely had to be ready. I was ready to catch and finish."
Anthony caught the pass from Chalmers just on the low right block, then was mugged by Jodie Meeks while elevating for the shot.
"He got a great attempt up there," Heat coach Erik Spoelstra said. "I remember earlier in the season, people were fouling him to put him at the free throw line to try to get back in the game. We always shook our heads. He's one of our better free-throw shooters."
Spoelstra, Anthony's biggest champion, engaged in a bit of hyperbole. Anthony's career free-throw percentage stands at 66.2 percent. This season, he converted 47 of 73 attempts at the stripe -- a 64.4 percent clip. By no means does he reside in Ben Wallace World, but he's far from automatic.
Yet, here was Anthony with a chance to accomplish what so few Heat players have this season -- notch two points in a crucial late possession.
A trip to the free-throw line is basketball's ultimate mental exercise. Scoring a bucket in motion against defenders requires agility, deception and a full range of biomechanics, but free throws demand something more elusive -- pure concentration.
Every player approaches the task differently, and Anthony subscribes to the block-everything-out school.
"I just try not to think about anything," Anthony said of his routine. "Just focus on the rim, eyes on the rim, catch my breath. Don't listen to anything. Don't listen to the crowd. Don't listen to any of the players. After that, just make them. Follow-through the way I've been practicing all the time. I practice free throws all the time with Coach Askins before games. Come to the line, got to make one to tie, two to win. Try to put that mental pressure on yourself."
Anthony responded to that pressure by swishing both ends of the pair, giving the Heat a 3-point lead with 16.8 seconds to play.
"I don't know how many times 'Doc' has probably been in that situation in his basketball career," Dwyane Wade said of Anthony. "I don't think he knew what situation he was in. The only thing he knows to do is go up there and make two. I don't even think he really realized the situation and he didn't overthink it. That's what happens late in games when you get to the line -- you start thinking too much. I don't think he thought at all. He just went up there like normal, like, 'OK, I'm going to try to make two.' And he did."