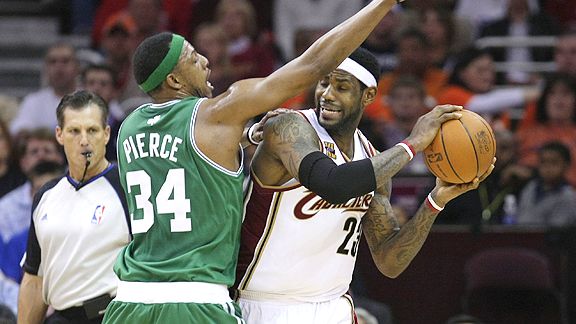 AP Photo/Tony Dejak
May 11, 2010, is the ugliest blemish on LeBron James' prolific basketball résumé.
MIAMI -- LeBron James is about to play the most important playoff series of his career.
Six surefire Hall of Famers will be playing in this upcoming Heat-Celtics series, but none of them has as much at stake as James does. His status is on the line, and right now there's no basis for excuse.
James' personal reputation never took a more severe hit than the fallout from the "Decision" broadcast. Yet, in an odd but tangible way, that miscue diverted attention from his basketball crime, when he tarnished his name as the league's Most Valuable Player by playing the worst game of his career at the worst possible time. And it came against the Celtics at the same pressure point where the Heat now find themselves.
After eliminating the 76ers this week, Heat players and coaches said it wouldn't have felt right had they not met Boston in the playoffs. For James, it isn't just right; it's potentially poetic and redemptive -- or ruinous.
James fled what he felt was an unsalvageable situation in Cleveland because he couldn't beat the Celtics even with a nearly $100 million payroll around him. He came to Miami for an upgrade -- more talented teammates and the promise to smash that bear trap that's swallowed him twice.
Now, with the Celtics at hand again, all of James' chips are in the middle. Win and he was right. Lose and he's in the same mud, a year older and looking no wiser. Fair or not, that's his situation. Either lead his team to being more clutch than Ray Allen, more rugged than Kevin Garnett, more crafty than Paul Pierce and more fearless than Rajon Rondo, or endure another burning summer of discontent. Only this time, the mockery will be more about basketball and not public relations.
To this day, they beg for answers back in Cleveland as to what happened May 11, 2010, when James' heavily favored Cavs lost Game 5 at home to the Celtics by 32 points as he delivered a historic dud. Cavs fans still bitterly argue and split hairs as to whether James quit on his team, choked on it or even lied to it about an elbow injury that he'd really been battling for nearly a month. They debate James' facial expressions, where he sat on the bench and what he said after what was likely the worst game of his career.
When James got booed around the country during this season, it had little or nothing to do with his 3-of-14 shooting performance and laissez-faire attitude just a few days after he'd been on the verge of tears accepting his second Most Valuable Player award. It had everything to do with a TV show and an awkward announcement that contained the words "talents" and "South Beach."
In the series against Boston that might have been quickly forgotten by the masses, James actually averaged more points, rebounds and steals per game than any other player on either team and was second in assists to only the incomparable Rondo. The defining Game 5, actually, from a statistical standpoint, wasn't even his weakest career effort in the postseason.
That could be traced to Game 1 of the Finals in 2007, when the Spurs squeezed James into 4-of-16 shooting and six turnovers at the start of a smothering and forgettable title series.
That is why James seemed personally insulted when some asked whether Game 5 immediately tarnished his legacy. That night, when asked whether he would have trouble looking at himself in the mirror after playing that way at home as the favorite in a series tied at 2, he recoiled in uncharacteristic defense.
"I've spoiled people with my play," James said that night. "When you have a bad game here or there, you've had three bad games in a seven-year career, then it's easy to point that out."
Cavs fans and even some of James' teammates absorbed this as a gut shot, the resident superstar snapping back for getting booed and not getting help on a night when he was expected to overachieve.
He was running right into a buzz saw, a surging Celtics team that was playing fierce defense on him and assembling a breathtaking playoff run that nearly resulted in an improbable title. But it was hard for anyone to see it.
James is such as student of the game that he can list his five favorite dunks in Finals history by recalling plays from before his birth, the time in the game and who got slammed on. He'll rattle off the rosters of title teams like an excitable boy memorizes the backs of baseball cards. Yet when it came time to judge himself on what was happening in that series with the Celtics, he couldn't help but get defensive and abrasive.
"You're crazy; c'mon, man, I'm 25 years old and you're talking about reputation and legacy," James said when it was over, the Celtics winning the series 4-2 to knock the top-seeded Cavs out before the Finals for the second straight year.
"Nobody can ever question what I do individually or what I've done in this short career. If anyone has the right to question how I play, then I don't understand that."
If you didn't have a rooting interest, however, James' position on the matter seemed reasonable. If averaging 27 points, nine rebounds and seven assists isn't enough for the No. 1 seed to beat the No. 4 seed, maybe it was time to re-evaluate everything. If the Celtics and their star-laden team willing to sacrifice individual attention for team success were better than what James could do as the center of a franchise's universe in Cleveland, maybe it was indeed time for a change.
Those are the questions James wrestled with and talked about before he decided to alter his approach. His conclusion, unpopular as it turned out, was that the status quo wasn't working. It was time for a player with the potential to be one of the greatest ever to take a risk to try to help himself get there.
He's no longer a 25-year-old at the start of a brilliant career. He's a 26-year-old in the midst of his prime with a lot to prove. That proving ground starts Sunday against the same foes who pushed him right into this situation.
Other than that, there's nothing on the line.