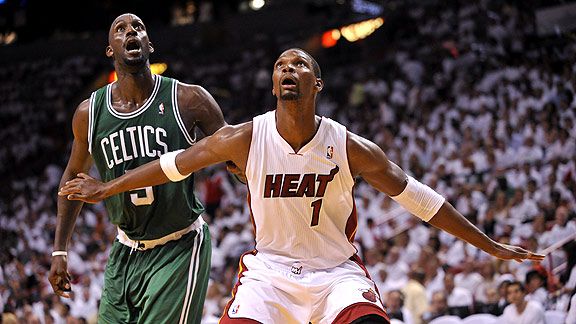 David Dow/NBAE/Getty Images
The Miami Heat got away with a subpar outing from Chris Bosh on Sunday. It's unlikely they can absorb too many of those and still win the series.
The Heat have a lot to feel good about after their convincing Game 1 victory over Boston. Dwyane Wade's regular-season struggles against the Boston Celtics didn't carry over into the playoffs, to put things mildly. LeBron James showed that he can still impact a game when an opponent takes away his drives to the rim. Most important, the Heat's defense showed what it is capable of. It was just one win, but this was a very good win for the Heat.
The bad news? As special as Dwyane Wade is, he can't be counted on to score 16 points on 14 jump shots every night. LeBron James didn't have a great night shooting the ball, but some of the shots he made were so difficult that they have to be considered found money. The law of averages dictates that James Jones will have a game where he only makes one or two out of seven 3-point attempts, no matter how good of a shooter he is and how open his looks are. And the Celtics have too much offensive talent to look that discombobulated in every game of the series, even though the Heat appear to match up well with them defensively.
At some point, you have to figure those jumpers will stop falling. That Rondo will activate and become a dynamo both in transition and in the half court. Or that Paul Pierce will start making those step-backs and picking the Heat defense apart while never appearing to break a sweat. Kevin Garnett will start making his catch-and-shoot 20-footers, mid-post fadeaways, and modified hooks over the right shoulder. Or Ray Allen will ... keep doing what he did in Game 1.
If and when those things start happening, the Heat will have to find a way to create effective offense in the half court against Boston's defense. And Chris Bosh will have to be a big part of that.
To be clear: Even though Bosh's final line in Game 1 was pedestrian, he did some things very well. He played Kevin Garnett to a stalemate, which is no small feat. He pulled down 12 rebounds, while Boston's big men pulled down only three offensive rebounds. Even though Boston doesn't chase offensive boards, somebody had to make sure they didn't get extra possessions. Bosh kept the floor spaced to some degree. The shots he did make came at opportune times, particularly a baseline jumper that rewarded a good LeBron post-up, ended an 8-0 Boston run, and put the Heat up 10 points with 3:55 remaining in the game. He was also active defensively and had a few nice deflections.
Bosh did a lot of good things on Sunday that won't show up in the box score -- in other words, he had a Joel Anthony game. Joel Anthony games are great. Joel Anthony has been absolutely invaluable to the team throughout the playoffs, and his contributions on the defensive end have been nearly as important, if not more so, as the offensive exploits of any of the big three. Everybody loves Joel Anthony, with good reason.
That said, Chris Bosh is not Joel Anthony. Chris Bosh is an All-Star power forward with a $110 million contract who averaged 18.7 points a game -- while sacrificing shots. Chris Bosh is a legitimate offensive weapon, and both he and the Heat can't forget that. With James and Wade on the roster, you don't want Bosh usurping possessions if things aren't working for him. However, there is a line between being efficient and being passive, and Bosh has to make sure he's on the right side of it.
On Sunday, Wade's jumper was on, James Jones couldn't miss an open 3, and Wade and LeBron showed some of the synergy they've been developing all season long, both in the half court and in transition; three of James' five assists led to shots at the rim for Wade, and Wade set LeBron up with two shots at the hoop. Bosh is simply the final piece of the puzzle.
Kevin Garnett is a terror both as a low-post defender and as a help defender on dribble-drives, but even he can't be in two places at once. Bosh is at his best when he's aggressive, makes himself available on rolls to the rim, pick-and-pop jumpers, and those in-between jumpers from the mid-paint he seems to excel at when James or Wade goes to the hoop. He's effective when he looks to put the ball on the floor himself while the Celtics are trying to sit on James and Wade.
If Bosh does those things, he can put enough pressure on Garnett for the Heat to pick apart the Celtics' defense without having to rely as heavily on perimeter shots as they did in Game 1. If Bosh commits to making an impact offensively, gets a few jumpers to fall, and James and Wade do their jobs, he has more than enough talent to be successful against any defense in the league.
In Game 1, the Heat were able to get a great win with Bosh playing the role of a cog in a very efficient machine. If they want 11 more wins like it, they will need Bosh to be comfortable being one of its primary sources of power.