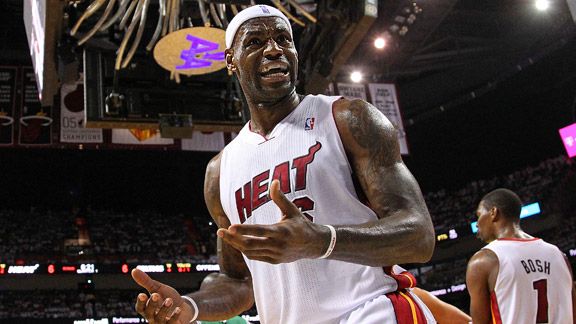 Mike Ehrmann/Getty Images Sport
LeBron James and the Heat were outplayed by the Celtics in the second half of Game 1.
MIAMI -- Trying not to get caught up in the afterglow of what he knew was probably just the beginning of a rugged series, Miami Heat coach Erik Spoelstra told his players he wanted them to come down with a quick case of amnesia following their Game 1 victory over the Boston Celtics.
That was an effective little turn of phrase intended to keep the Heat as eager as they were heading into the series opener Sunday. After looking forward to the series for months, they seemed to have more intensity and aggression than the Celtics from the start.
But the thing is, Spoelstra doesn't actually mean it. He'd much rather they not forget what happened Sunday, especially some events in the second half that the Celtics surely will be using as building blocks in their preparation for Game 2.
The Heat might have avoided the trap of getting a little cocky with their series lead, but the Celtics didn't leave the arena looking at all worried, either. Spoelstra and the Heat were pleased with the effort but saw some warning signs they need to address on both sides of the ball.
"We know how dangerous the Boston Celtics are," Spoelstra said after his team's film session and light practice Monday afternoon. "Particularly in a situation like this, down one game."
Spoelstra's attitude seemed to rub off on his players, as they admitted they can't play the same type of style and expect to win Game 2.
"They're coming with the mindset that going back to Boston with the series 1-1 and they've done their job," LeBron James said.
The Celtics played timidly and were in some foul trouble in the first half Sunday, most notably point guard Rajon Rondo. He didn't have a basket or an assist in the first half, as he spent all but a minute of the second quarter on the bench in foul trouble.
Rondo's absence, combined with some uncharacteristically passive play from Kevin Garnett (who had just six points in the game), were the primary reasons Boston scored a season-low 36 points in the first half. It was the Celtics' clear game plan to feature them both. The Celtics repeatedly called isolation plays for Garnett in the first half, but he never got anything going as the Heat's help defenders did a strong job forcing him out of rhythm.
"I thought [Rondo] and Kevin played the game in, though instead of intensity, they were thinking about what they should do instead of just playing," Celtics coach Doc Rivers said. "They both played with the right spirit; it just didn't go well."
By the second half, though, Rondo was back on the floor and the Celtics found an impressive offensive groove. They outscored the Heat 54-48 as Rondo racked up seven assists while the team shot 50 percent after hitting fewer than 36 percent of its attempts in the first half.
After not being able to distribute against the Heat's defense early on, Rondo was able to get into transition and earn the Celtics some easy points. He helped Boston get 11 fastbreak points in the second half after only four in the first half.
He also was more effective at getting his team better looks inside the paint, the other telltale sign Rondo was doing his job. After the Celtics shot just 5-of-18 in the paint in the first half, they were 8-of-14 in the second half.
Some of it was getting his trademark two-man game going with Paul Pierce, who had 17 of his 19 points in the second half before being ejected with eight minutes to play. Expect the Celtics to go back to those plays early and often in Game 2.
The Heat also spent time looking at their offensive trends in Game 1, which they weren't thrilled by. Getting 99 points was a triumph against an excellent defensive team. But they were a bit concerned about how they got them.
The Heat got 25 of their 99 points off Boston's 17 turnovers and 47 of them off jump shots. Both are fantastic in terms of production, but the Heat know those likely aren't sustainable. They also got five points off technical and flagrant fouls, something else they know they can't count on.
In short, the Heat players said Monday they feel like they're going to need to find some higher percentage shots within their half-court offense, something they excelled at during the last six weeks of the season. Some of that will fall to Chris Bosh, who wasn't much of an offensive factor with just seven points on 3-of-10 shooting.
It was Bosh's lowest-scoring outing in 23 games. The last time he scored seven points, in a loss to Portland in March, he came out after the game and asked to be more involved in the offense. This time he won't have to bring it up, as his teammates likely will be looking to get him going.
"Both teams are good defensive teams, and we're both trying to crack the code," Bosh said. "I don't think we can rely on the good shooting that we had. We need to put more pressure on the rim."