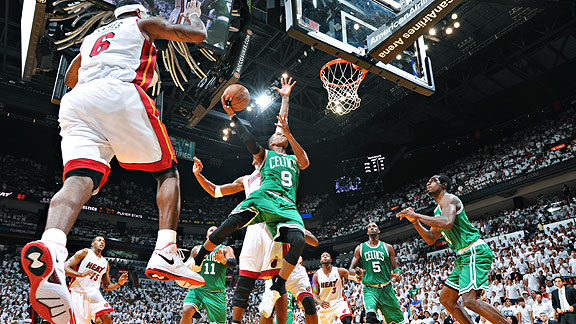 Jesse D. Garrabrant/NBAE/Getty Images
The Heat held Rajon Rondo in check during Game 1's first half. They must work even harder in Game 2.
Can the Heat bring back the defense from the first half of Game 1?
There might be as many as a half-dozen future Hall of Famers on the floor, but we learned early in Game 1 that this series will be fought in the trenches. This shouldn't come as a big surprise in a matchup of the NBA's No. 2 and No. 5 defenses, but the intensity from the Heat was especially impressive in the first half Sunday.
Time and time again, the Celtics would run through their stuff and find a stalwart Heat defender holding his ground. Even Mike Bibby got into the act! In a span of 60 seconds, Bibby blocked Rajon Rondo on a drive, then denied him on a post-up. When an entry pass went over Chris Bosh, who fronted Kevin Garnett on the block, a baseline rotator was there to slide over. When the Heat went small, the Celtics countered by trying to post Paul Pierce against James Jones, but again, the Heat stood firm.
In the second half, the Heat let up. They allowed the Celtics to strike in transition on spot-ups initiated by Rondo, and the Heat's defensive rotations on pick-and-rolls -- particularly those orchestrated by Delonte West -- were much slower. There were also individual breakdowns. At Tuesday's practice, Dwyane Wade confessed that he fell asleep a few too many times against Ray Allen.
In Game 2, the Heat likely will encounter an emboldened Rondo and a half-court unit that's not going to settle for face-up jumpers from Jermaine O'Neal and will be far more committed to finding second and third options. The Heat will need to combat that with 24 seconds of focus and a much more alert transition defense.
How creative will Erik Spoelstra get with lineups?
Once again, the Heat's starting lineup was rendered ineffective on offense, but the rest of the Heat's lineups were equally unconventional and successful. We've seen LeBron James play the 4, and he did so on Sunday for more than a quarter of basketball. Jones at the 4? That was imaginative.
In all, Spoelstra used 12 different lineups in Game 1. With Wade and James being able to play multiple positions, Spoelstra can afford to force mismatches and create advantages out of thin air. Often, the Heat put four wing players on the court to maximize their athleticism and floor spacing against the Celtics. That's the Heat we all imagined in the offseason: unpredictable and unguardable.
The Celtics acquired Jeff Green to be a versatile wing defender off the bench behind Pierce, but when LeBron gets the chance to go one-on-one against the former Thunder player, it's like watching a wolf encounter a lone lamb. The Celtics don't have many options once Pierce leaves the game, and the Heat scored at will when James went to the 4 (38 points in 26 possessions). The Celtics can't afford losing Pierce for any extended time again.
Will Game 2 be another visit to the lineup lab? The Celtics hope not.
How will the Celtics' defense adjust (if at all)?
In his postgame interview on Sunday, Doc Rivers said he didn't foresee a wholesale defensive adjustment in the Celtics' future, particularly with regard to Wade, who went off for 38 points. When asked what he plans to change in Game 2, Rivers responded, "Not a thing."
Rivers' resoluteness -- whether entirely true or not -- makes sense. Outside of a couple of transition buckets and a layup on a wily set out of a timeout, Wade had to drain a bunch of contested jump shots to get to 38. Expect the Celtics to continue to send that extra help defender to the edge of the paint early and often against both Wade and LeBron James -- and don't expect the two superstars to be as proficient from midrange.
The Celtics have a more difficult decision to make on the back side of their defense, where they got burned. The Heat were well-prepared for Boston's strong-side pressure and responded with quick reversals, flashes and timely kickouts to the perimeter. Will the Celtics loosen that vice and be more willing to stay at home, or will they double-down on their well-honed strategy, tighten the vise even more and count on the Heat's weakside threats like Jones to regress toward the mean?
Can the Heat contain Rajon Rondo again?
Raise your hand if you think Bibby will suffocate Rondo again in Game 2. Anyone? OK, raise your hand if you think Bibby will suffocate Rondo again and the Celtics' point guard will turn the ball over five times in another critical quarter. Didn't think so.
Rondo's Game 1 dud wasn't a complete fluke -- the Heat did some things to disrupt him -- but it wasn't the Rondo we're accustomed to seeing in the playoffs. The combination of turnovers in transition, forced attacks without purpose and unnecessary fouls made it seem he was a rookie out there playing in his first playoff game. Considering how dominant and creative he's been before in the playoffs, the Heat should not rest on their laurels and expect things to be so easy next time out.
The Heat need to continue use their wing length to offer responsible help from the weak side. Most of Rondo's turnovers in Sunday's game weren't provoked by those who were guarding him but by those who were lending a hand off the ball. Bibby won't have as much success in Game 2, but there's no reason all the others can't duplicate their efforts.
Which Chris Bosh shows up?
Going into Game 1, the Garnett-Bosh matchup looked to be the most intriguing on the surface, then both power forwards went out and proved to be nonfactors in their respective offenses. Credit Garnett's typically strong defense for marginalizing Bosh, but unless Jones bails out the Heat again, Miami is going to need more from Bosh.
Bosh doesn't need to go for 25 and 12 to be effective, but he can't continue to do things like catch a deep entry pass in the paint, then, upon confronting Garnett, backpedal with the ball to the high post -- something he did on the Heat's second trip downcourt on Sunday. His tentativeness wasn't entirely Bosh's fault. The Heat used him more as a spot-up threat off screens and on the weak side than as an aggressor in Game 1.
On Tuesday night, Bosh needs to dive hard to the basket off those high screens and attack off the dribble -- immediately -- after a deep feed. Because when the ball stops, that's when the Celtics' defense comes alive. To resist that pressure, Bosh needs to act quickly and decisively as a big man.