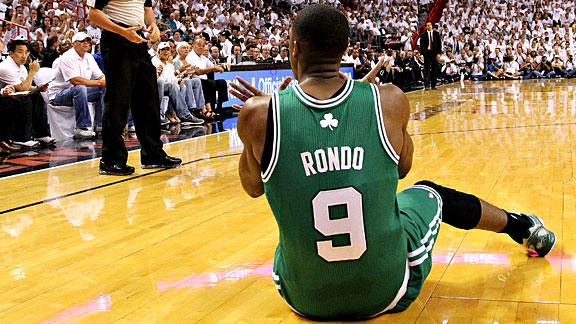 Mike Ehrmann/Getty Images
Rajon Rondo was supposed to be a difference-maker. But his strong Game 2 performance didn't make a difference for Boston.
If you never underestimated these Boston Celtics, then really, you never lived.
Their 2010 Finals run was shocking and made intelligent hoops writers look like cross-eyed quacks. I never saw it coming, and neither did you. Or, if you did, you're clairvoyant to the point of foreseeing the next sentence you'll read.
The surprise of last season's resurrection has perhaps led to an overcorrection in Heat-Celtics analysis. Betting against Boston, again, evokes the feeling of scarfing a meal that gave you food poisoning the last time. Factor in how these Celtics delivered the worst moment of LeBron's career, consider the 3-1 season advantage, and it results in an emotional sense that eventually, green will be verdant.
But those reasons are divorced from these last two games, contests that whisper: "Miami is much better."
On Inside the NBA, my favorite TV pundits waffled on the question of "Is Boston in trouble?" Let me answer that for them: Yes, Boston is scrambling in hell's sinkhole.
Though the idea that, "The Heat just protected home court," has resonance, look at the series another way: If you deemed the next two games a coin flip -- which is generous to Boston -- the original big three have a 25 percent chance of getting the series back to a point where they'd still be underdogs.
But that 2-0 disadvantage would not be so daunting had Boston played well in the losses. The Celtics offense has sputtered despite having splashed 51.4 percent on 3s, considerably above their 36.5 season mark. Granted, the Heat have gone 45.7 percent from downtown (37 percent on the season), but despite lighting it up, the Celtics still haven't built a substantial lead in this series.
Boston has never led by more than five (First quarter, Game 2) as the more dependable elements of its offense appear dependably mediocre. The Cs are shooting 40.3 percent on 2-pointers and not getting to the line. While some fans might blame refs for the 40-68 free throw disparity, they would do better to blame an athleticism deficit.
After Boston dropped Game 1, a few media tropes emerged to explain how they might rally back. Let us examine two of the most frequently talked about theories:
If Boston can get anything from their bench ...
In Game 2, they did. And the Celtics still lost convincingly. Jeff Green flirted with competence and Delonte West made all four of his shots. The bench outscored Miami's 27-12, all for naught.
Rondo is the key, just wait till he has a huge game ...
As goes Rajon, so goes the Celtics. He is their engine, their muse, their straw that stirs the drink. And in the three regular season victories, Rondo indeed averaged 14.3 assists. Well, Boston's point guard tallied 20 points, six boards, and 12 assists in Game 2, all in futility. Obviously, his better production helps Boston, but it was proven not decisive in of itself.
The idea that Rajon Rondo should determine the series seems based on the perception that he has a major offensive advantage over Miami's point guards. I believe this to be a fallacy. Compare his overall regular season numbers against Miami in the four regular season games:
Rondo 2010-2011 season: 37.2 minutes, .475 FG, 10.6 pts, 11.2 assists
Rondo 2010-2011 vs. Miami: 40.5 minutes, .371 FG, 7.5 pts, 12 assists
If anything, he played worse against the Heat. While it is intuitive to think the green blur would run Mike Bibby into retirement, I would hazard that nobody can check fast point guards -- not in the post-2005 NBA. As in: It would be impossible for Rondo to stay in front of Rondo. Many of the league's best defensive floor generals have poor defensive plus-minus ratings, including Rajon. This is not to say point guard defense is irrelevant -- it's just ancillary. If D at "the 1" mattered much, Earl Watson would play 36 minutes a game.
To quote RR: "I won't say that nobody can guard me, but when I'm looking at a guy, I don't really see the player in front of me. I'm looking at the second line of the defense, because that's where I'm headed."
He found success against that second line, but it's an accomplishment far more difficult than simply blasting past Bibby.
Even with Rondo's surge, falling 3's, and a bench cameo, the Heat dominated Game 2. If I am to believe my lying eyes, Miami is even further ahead than a 2-0 lead would indicate and Boston is in bigger trouble than our guts would admit.
After what happened last year, no one wants to be fooled twice by the team that's played dead before. Perhaps that's why they're fooling us into still thinking they're competitive.