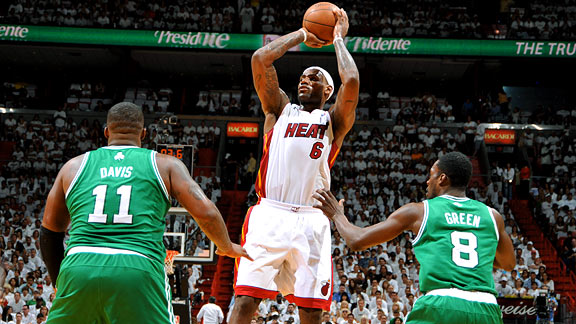 Jesse D. Garrabrant/NBAE/Getty Images
The Celtics want to force LeBron James and Dwyane Wade into jumpers, but is that strategy working?
MIAMI -- The Boston Celtics are down big in their series with the Miami Heat because they're having a major malfunction with their greatest asset: team defense.
Ask Celtics coach Doc Rivers the best way to defend LeBron James and Dwyane Wade and he'll tell you the same thing that's been the bedrock defensive philosophy for his team the last several years: Make them take jump shots.
James and Wade are two of the best scorers in this generation, but neither is a great or even consistent shooter outside 15 feet. This is especially true in the postseason, when many possessions end in isolation situations and percentages tend to dip further. This is scouting, coaching and game-planning 101 at this level of the game.
The execution of that strategy, however, is proving to be a problem for the Celtics and is a major contributing factor to their being down 2-0. Wade and James are abusing the Celtics with interior shots and free throws created by getting those interior shots. Unless something changes quickly and Boston can get its defensive mojo back, clawing back into the series doesn't seem likely.
"They're going to get their points, I believed that going into this series," Rivers said. "They can't be so efficient getting them and that's on us."
Rivers is right on target.
When the Celtics have done their job -- and that means working together to crowd the lane and lure Wade and James into jumpers -- they've done as well as the scouting reports predicted they would.
This season James had his best year ever shooting from outside 15 feet, making a career-best 45 percent of those shots. In fact, during the four games against Boston in the regular season, he blasted the Celtics for 61 percent shooting on jumpers. The Celtics were happy to surrender them. The strategy still worked because Wade was just 1-of-9 and the Celtics won three of the four games.
The plan is working in this series, too. James is just 8-of-22 on shots outside 15 feet in the two games, according to ESPN Stats and Information research. As for Wade, he's 9-of-21. That's a nice bump from his season average, which was 37 percent, and a huge improvement from those regular-season Celtics games. But it's still a number Boston will gladly accept.
With those two shooting like that, the Celtics can win games. But the reason James and Wade had 123 points combined in the first two games was because they're getting those closer shots, where they can use their talents to finish or draw fouls.
Wade and James combined to score 48 points on shots inside 15 feet or from the foul line in Tuesday's 102-91 Game 2 victory. In the series they have scored 83 of their points this way. In all, they are shooting 64 percent, including 15-of-24 in Game 2.
Wade and James have gotten to the foul line 39 times already, while the Celtics had just 40 trips in the two games.
"They're getting to the line and that right now is hurting us as much as anything," Rivers said. "I don't mind them taking jump shots. As long as they're taking the shots we're wanting them to take and they're making them, I can live with all those. What I don't like is that they're getting that and other stuff."
Some of that "other stuff" are fastbreak baskets, where it isn't a matter of beating the Celtics' defense in the half court. That was an issue in Game 1 as the Heat turned the Celtics' turnovers into 25 points. Boston cleaned that up in Game 2, giving up only 10 points off turnovers.
But Wade and especially James became more effective in breaking the front line of the Celtics' defense. Sometimes it was Wade on his own; his crossovers on Kevin Garnett and Ray Allen on back-to-back possessions in the first half created instant YouTube hits. Sometimes it was James off pick-and-rolls, as he used in the second half to get space to hit a series of jumpers.
At times, it was the players working together -- James cutting off the ball to create a backdoor lob for a dunk while the rest of the defense was focused on Wade.
All of those plays will be broken down in Boston during film sessions over the next few days as the Celtics look for a solution. What they've been doing so far isn't working and it is causing setbacks with James and Wade repeatedly beating the defense for key baskets.
"They were terrific and used every bit of their talent to help us win," Heat coach Erik Spoelstra said of his two stars. "When we needed a bucket and their defense started to turn up, we got some kind of emotional basket from the two of them."