The Heat's frontcourt rotation has been a study in evolution over the course of the season. Miami started 2010-11 with Zydrunas Ilgauskas and Joel Anthony as its primary centers, with Chris Bosh and Udonis Haslem holding down the power forward spots.
Haslem afforded the Heat a degree of flexibility. He could rebound, defend and hit spot-up jumpers. In a very real sense, he embodied the best of Ilgauskas and Anthony with few of their shortcomings. Against smaller, faster squads, Erik Spoelstra comfortably slid Haslem alongside Bosh during crucial stretches.
All that changed on November 20, when Haslem crumpled to the floor in Memphis with a serious foot injury. That loss threw the Heat for a loop. Not only did they lose their best rebounder and spiritual leader, but the Heat lost much of the frontcourt versatility that was going to help them challenge -- or at least tread water -- against the Eastern Conference's most formidable front lines.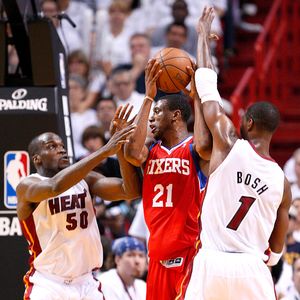 AP Photo/Wilfredo Lee
Chris Bosh and Joel Anthony are claiming the lion's share of the frontcourt minutes for Miami.
Once they learned Haslem was likely done for the season, and perhaps beyond, the Heat went searching for a contingency plan. Juwan Howard could spell Bosh for a few minutes a night, but his eroding skills wouldn't suffice in big spots. Spoelstra flirted with using Bosh at the 5 for significant stretches, but Bosh wasn't all that keen on playing the pivot. Bosh is a natural power forward who has a lovely home in the high post; relocation would be a major hassle with all those moving costs.
A couple of days after Haslem's diagnosis, the Heat signed veteran center Erick Dampier. And thus, the "three-headed center" was born. Mind you, this was Erik Spoelstra's sobriquet, not something cooked up by the Miami media.
The carousel at starting center for the Heat has been on an endless ride since the outset of the season. Anthony started the first nine games, then was displaced by Ilgauskas, who presided over the starting spot at the 5 from November 13 until the All-Star break. When the Heat returned on February 22, Dampier got the call and held onto the spot until April 8, when Ilgauksas resumed starting duties.
With the exception of four missed games in late January, Bosh has held down the fort at power forward. Howard logged a few minutes as Bosh's backup but, as LeBron James became increasingly comfortable at the 4, Howard's minutes dwindled in the closing weeks of the seaosn.
And that brings us to the Eastern Conference Semifinals against Boston, where the Heat have established a steady four-man frontcourt rotation of Bosh, Ilgauskas, Anthony and James.
By no means is this a perfect combination of personnel -- Bosh the exception. Ilgauaskas has been largely ineffective of late. For all of his defensive exploits, Anthony's limitations on the offensive end make the Heat easier to defend. James has grown leaps and bounds as a power forward, especially when his matchup during his stint at the 4 is a tweener like Jeff Green, but it's still not his natural position and many of the Heat's bread-and-butter sets work best with James at the small forward spot.
For all those imperfections, the shoddy plus-minus numbers posted by Ilgauskas and the winding road Spoelstra has taken to get to this point, the rotation is working -- and working well.
Minutes Played per Big Man
How do we know the rotation is working? Let's start with the anecdotal evidence.
First, there's little inclination or rush for Spoelstra to bring back Haslem, who is chomping at the bit to return to action, and has started and continues to participate in Heat practices. Why is that?
Second, the bulky body of Erick Dampier, once thought essential to provide the necessary size to confront the league's more physical competition, has been shelved on the inactive list.
But on a more tangible level, the proof can be seen out on the court.
Bosh is a lock at 35-40 minutes per night and proving to be as effective as advertised. Though the Heat haven't been terribly productive in their elbow sets this series, Bosh continues to facilitate the offense at the high post, to serve as a lynchpin in the pick-and-roll and has been crucial on the boards. Against Boston, though, the most valuable asset any power forward can offer his team is smart, decisive pick-and-roll coverage, and Bosh has earned an A in that event. His solid post defense has been a boon, too.

Anthony? What more is there to say that hasn't already been written. His absurd on-off numbers are astounding, as the Heat are plus-92 with Anthony on the floor, and minus-35 without him. For all the handwringing about the abysmal performance of the Heat's starting lineup that includes Mike Bibby and Ilgauskas (criticism that's warranted), Anthony has played three minutes for every one Ilgauskas has been on the floor.

James' minutes at the 4 have been extremely efficient for the Heat. During his 27 minutes as the Heat's nominal power forward (there are often defensive cross-matches and there are a handful of possessions when James effectively acts as point guard), Miami is plus-19. With the Celtics often countering James with Jeff Green, LeBron derives all the advantage of being the power forward with few of the compromises.

Big Z. What to do? Well, there's not much the Heat can do, unless they want to throw Jamaal Magloire into the starting lineup to see if he can best Ilgauskas' minus-11 during Z's 24 minutes on the floor in this series. Should Spoelstra start Anthony and relegate Ilgauskas to a reserve roll where he can match up with Nenad Krstic? Perhaps. But there are unintended consequences that come with a decision like that. Who's to say Anthony feels comfortable starting? Are we certain that Anthony's effectiveness is transferable to a new role? Basketball players are fickle creatures. Analytics-oriented observers -- and I am one -- often like to believe things like comfort and understanding-of-role don't factor into the equation. The majority of Anthony's time on the floor overlaps with Mario Chalmers. Are we certain Anthony's defensive effectiveness isn't enhanced by a superior on-ball defender like Chalmers who allows Anthony to be more aggressive than reactive as a help defender? I don't know the correct answers and certainly don't subscribe to the facile notion, if it ain't broke, don't fix it. But the bottom line is that Anthony can't play 48 minutes. Ilgauskas, unfortunate as it might be, is the next best choice. The Heat will have to swallow approximately 22 possession per night with Z on the floor. Does it entirely matter which 22 possessions those are?
One factor that could alter the Heat's frontcourt rotation is the return of Shaquille O'Neal to Boston's active roster. Would that warrant a shift by Spoelstra, either more minutes for Ilgauskas or the activation of Dampier?
It's hard to say. At only 6-foot-9, Anthony relies more on speed and instincts than brawn and tuchus on the low block. On the other hand, Spoelstra has been the coach in this series dictating both the pace and the matchups, and it's hard to see him switching things up until O'Neal can prove he's a factor that warrants a change in strategy.
Until then, the Heat have managed to accomplish something that exceeds even their own expectation -- sculpt a frontcourt rotation that maximize its attributes while mitigating its deficiencies.