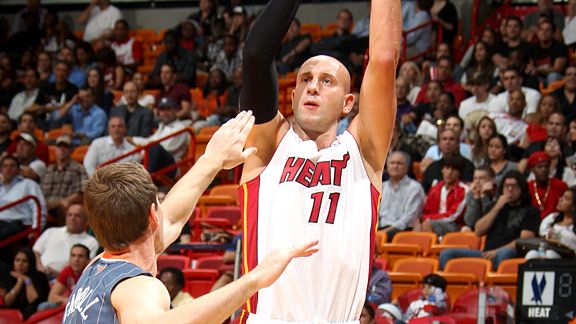 Nathanial S. Butler/NBAE/Getty Images
Bank on it.
Now that we're getting a sense of how the Miami Heat's offense is going to work -- all those superstars running all over the place! -- I had a thought strike me, as clear as day.
When the Heat are in crunch time, and need a bucket, in all likelihood Zydrunas Ilgauskas will have incredibly open looks. Defenses will simply be too worried about everything else. When he does, the Heat should not hesitate to get him the ball -- the man is not only incredibly tall, but he can also shoot.
It does not fit the narrative, to some. This is supposed to be LeBron James and Dwyane Wade duking it out to prove they are the man by taking over crunch time. But depending what the defense does, it may well be that the team's best option is a jumper from an aging role player. Machismo be damned -- if he's open, pass him the ball and live with the results.