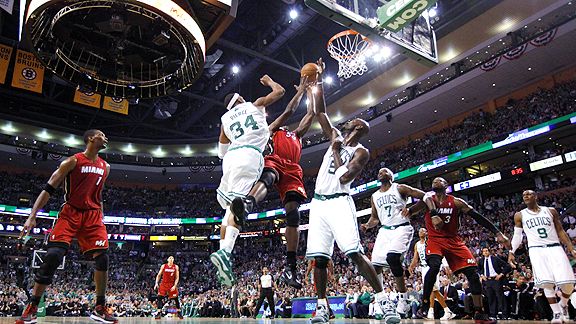 David Butler II-US PRESSWIRE
Joel Anthony showed a newfound aggression in Game 3 on Saturday, scoring a playoff-high 12 points.
Just when you think Joel Anthony has reached his peak offensively, he goes out and makes as many buckets as LeBron James (six). Sure, that also speaks to how off LeBron was in Boston, but Anthony was -- gasp -- smooth in the paint and continued to show confidence in his abilities.

If you've been regularly attending the Heat's practice, you can't help but notice the work that Anthony has been putting into his offensive game. Every time you walk onto the gym floor, there's Anthony working with Heat assistant coach Keith Askins on the most elementary post moves in the paint. Catch, turn, shoot. Catch, turn, shoot. Catch, turn, shoot.

The hard work is paying off. On Saturday, Anthony connected on six of his seven shots from the floor and recorded the first playoff double-double of his career. The Celtics were floating off of Anthony all game, an approach that many teams have employed against the Heat's offense. The strategy usually leads to 4-on-5 basketball if Anthony turns down shots and awkwardly passes out of wide-open opportunities like he did in November.

There was a play early in the second quarter that illustrated Anthony's growth this season. Mario Chalmers penetrated into the paint and Anthony's defender, Shaquille O'Neal, rotated to shield Chalmers' from entering any further, leaving Anthony wide open on the baseline. Chalmers dished the ball to Anthony and, instead of hesitating, Anthony immediately flew toward the rim and threw down a dunk with two hands.

If you watch that clip next to his Twitter-trending-blooper back in November, it's like looking at a before-and-after photo. His aggressiveness is essential to keeping the opposing defense honest.

Consider this: Outside of James Jones and Mario Chalmers, Miami is shooting 21-for-86 (24 percent) from beyond the arc here in the playoffs. And they've still won six of their eight games. The Heat are getting nothing from Mike Miller and Mike Bibby in the 3-point category and they've been able to sustain their cold shooting for the most part. As was the case in the regular season, the outcome of a Heat-Celtics game primarily hinged on the downtown game. In Game 3, the Celtics shot 9-for-18 (50 percent) while the Heat shot 5-for-23 (22 percent). And the Celtics won convincingly.

After Celtics coach Doc Rivers let it be known that he was going to play Shaq in Saturday's game, it was a little stunning to see former Heat starter Erick Dampier dressed in a suit on the Heat bench. If Dampier isn't worth activating in Game 3, when will he ever be? Squeezing Dampier out of the rotation against the 76ers made sense given that Philly could run circles around him. That was Spoelstra's rationalization for deactivating him in the opening round. But the size of Boston's O'Neal duo seemed to be a perfect opportunity to get Dampier some run. He did an admirable job on keeping Dwight Howard out of the paint earlier this season and seemed primed to be the Heat's answer for Boston's size up front.But, alas, Dampier was in a suit on Saturday. This is a former starter for the Heat, a guy who regularly played 20 minutes a game before Miami suddenly cut out the floor beneath him. No, Dampier won't decide this series either way, but it's odd to see Jamaal Magloire active and Dampier, someone the Heat trusted with the startging gig for 21 straight games, inactive.

How good is LeBron? On Saturday, he scored 15 points, blocked five shots, recovered seven rebounds, dished out four assists and grabbed two steals. And it may have been one of the worst playoff games of his career.