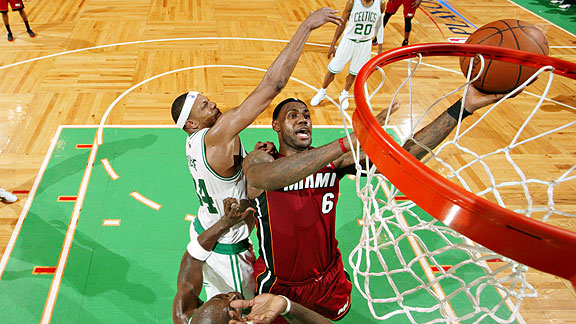 Nathaniel S. Butler/NBAE/Getty Images
This was one of the few occasions in Game 3 when LeBron James attacked the rim.
What kind of game will LeBron James bring?
For a player whose in-game stat line is constantly moving like a stock price, it's often hard to measure exactly what kind of impact James is having on a game. On Saturday night, James' contributions relative to his talent were about as negligible as it gets.
Know how many field goal attempts James had at the rim in Game 3?
Six -- and that includes those that resulted in foul calls and/or occurred in transition. For a Heat team that couldn't buy a shot from long distance, that's not going to cut it.
Defensively, the Celtics don't make it easy for either James or Dwyane Wade. In its half-court defense, Boston will almost always bring another help defender to the action before James can even reach the outskirts of the lane. And, in fact, half of those attempts at the rim developed because James cut to the basket without the ball.
In Game 4, LeBron will have to deploy every ounce of his basketball creativity against Boston's defense. It's always possible he can drain seven or eight long jumpers off the dribble and bludgeon the Celtics from the outside, but that won't force the Celtics to modify their defense, which should be LeBron's goal.
That's ultimately how a superstar "controls" the game -- by making an opponent question its entire defensive approach and ultimately adjust it. When James went off for 35 points in Game 2, he tormented the Celtics as a cutter, a weakside threat and an attacker off the pass. In fact, James drained only 4 of 11 shots from 16 feet and beyond that night, but was the Heat's catalyst.
James needs to use his presence to stretch out the Celtics' defense, and the best way to do that is stay on the move, work off the ball as both a screener and cutter, and attack the instant he catches the pass (rather than backing up for a dreaded step-back jumper).
Will the Heat take advantage of Boston's banged-up point guard position?
If Rajon Rondo plays, it will be with one arm. If Delonte West plays, it will be with a gimpy and tender shoulder. If Carlos Arroyo plays, it will be a sign that the Celtics are on life support.
Even though Boston stayed afloat while the medical staff treated (read: gruesomely snapped bones back into place) Rondo's left elbow, the Celtics need Rondo out there to conduct the offense. He's an escape artist in transition, pushes the right buttons and finds shooters where they want the ball. According to ESPN Stats & Info, the Celtics have shot 54.5 percent from downtown with Rondo on the court in the playoffs and just 28 percent when he sits on the bench. When Rondo's defender stays two arm lengths away, Rondo can send any pass without interruption.
In Game 3, the Heat did a poor job of forcing Rondo to his left post-injury, but don't expect that to happen again in Game 4. With a dead arm like that, the Heat would benefit from scrapping the hands-off approach to defending Rondo. Instead, look for them to stay on his right hip and force him to use his damaged goods.
Keep an eye on how the Heat set screens on and off the ball. If Rondo plays, he won't be able to bump the Heat's big men as easily when they come off of Bibby's pindowns, nor will he be able to fight through picks as well as he's used to. The Heat will have to be careful not to cross the line with physicality, but expect them to make Rondo work for everything.
Will the Heat's rotation change after Erik Spoelstra's re-evaluation?
If Spoelstra does tweak the starting lineup, he probably won't announce it until the very last moment. When he removed Erick Dampier as a starter, it was without warning even at the pregame presser.
It is safe to say that Zydrunas Ilgauskas, with his sloppy and defenseless play in the playoffs, has a weak grasp on the starting gig -- no doubt made weaker by Joel Anthony's suffocating defense and growth on offense. Should Spoelstra flip that switch, it would allow him to insert a big body like Ilgauskas or Dampier off the bench to play against Shaq, rather than watch Anthony try to front Shaq in the post. With 100 pounds between them, it's a matchup Spoelstra should try to avoid.
Elsewhere, Rondo's injury could warrant a change at the point guard position as well. Mario Chalmers can hound the ball far more effectively than Bibby, and would apply more pressure on the battered Rondo. However, it's doubtful that Spoelstra would demote the veteran point guard in favor of a combo guard who has been a ticking time bomb with the ball this season. But defensively, it makes more sense than ever.
Spoelstra has allocated the appropriate number of minutes to Anthony and Chalmers, but the timing of those minutes has been off. Does the coach want Bibby or Chalmers to pressure a damaged Rondo? Does the coach want Anthony or Ilgauskas to anchor the paint against Boston's most potent attack? We'll find out the answers to those questions in a critical Game 4.
Can the Heat regain their defensive intensity?
How bad was the Heat's defensive performance in Game 3? Only seven times all season did Miami surrender more points per possession than it gave up on Saturday night in Boston.
You have to hand it to the Heat -- they were equal-opportunity pushovers. They got torched from behind the line (9-for-18 for Boston) because they over-helped on penetration. The Celtics generated 21 points in transition after combining for only 22 points on the break over the first two games in Miami. And the Heat lost the battle inside, allowing Kevin Garnett to score every which way.
What was the problem in Game 3? The Heat simply didn't anticipate sharply enough. Possession after possession, they were caught off-guard by simple actions from the Celtics. Whether it was a down screen from Jermaine O'Neal to free up Pierce or Garnett, or a misdirection cut by Ray Allen, the Heat were a step slow or completely caught by surprise. They often played as if they'd never watched a second of Boston Celtics film.
Doc Rivers often says that the Celtics aren't a one-on-one team, and he's correct. Boston manufactures buckets waiting for you to overcommit or lose focus. The Heat's instincts were razor sharp at AmericanAirlines Arena, sniffing out everything the Celtics threw at them in the half court. To win Game 4, Miami will have to reapply itself.
How will the Heat respond to the emotional pitch of the series?
When Rajon Rondo dislocated his elbow in Game 3, the intensity of this matchup was heightened to where most thought it would reside from the opening tip of Game 1. Garnett was said to have been furious and Rondo's valiant return in the second half stirred the Garden faithful into a frenzy.
Rondo's presence in the second half carried great symbolic importance, but Garnett's awakening on the offensive end of the floor might have been the more tangible contribution -- and one just as emotionally vital to the Celtics' success in Game 3. Garnett's ferocity stood in stark contrast to Bosh's reticence. The Heat power forward confessed Sunday that he had some jitters, which might explain his subpar play.
Seven-game series allow for dramatic -- and instantaneous -- turns of events. You get a sneaking suspicion that something in Game 4 might spark the kind of explosion the Rondo incident had in Game 3. Will the Celtics physically retaliate on Wade in some form or fashion? Will Garnett do something Garnettian? Will James reclaim his aggressiveness, then taunt the TD Garden crowd as he did in Portland in January? Will Bosh have an opportunity to perform his rare primal scream?
If and when something unexpected (or expected) happens, how will the Heat react? Will they use that emotion as a springboard or will it consume them?