MIAMI -- Joel Anthony couldn't resist. It was an imminently blockable shot, the kind of schlock he's been sending back at opponents all season.
Glen Davis was working down low against James Jones at the two-minute mark of the first quarter. As Davis dribbled into the lane, poised to go up for a hook shot, Anthony darted over to contest. As Anthony elevated, he hacked Davis on the arm.
The foul was Anthony's second.
"I was just telling myself, 'This is not happening,'" Anthony said. "It's the biggest game of the year for us and you're in foul trouble. It's such a helpless feeling knowing you have to go to the bench."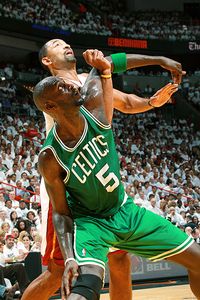 Victor Baldizon/NBAE/Getty
After logging only seven minutes during the Heat's first nine postseason games, Juwan Howard played 19 key minutes on Wednesday night.
That fateful second foul by Anthony prompted Miami Heat coach Erik Spoelstra to insert reserve big man Juwan Howard into the game. Prior to rising from the bench, Howard had logged seven minutes of playing time during the postseason, and had yet to play against the Boston Celtics.
"When Joel got into foul trouble, it forced our hand to come in a little bit quicker into our rotation," Spoelstra said.
It wasn't long ago that Spoelstra referred to his rotation in the middle -- consisting of Anthony, Zydrunas Ilgauskas and Erick Dampier -- as the "three-headed center." With Howard tapped as Anthony's replacement on Wednesday night, the creature has apparently sprouted a fourth head. When Anthony picked up his third foul about two minutes into the third quarter, Howard found himself on the floor for a 12-minute stint, well into the fourth quarter of a tight contest.
"I prepare myself like I'm a rotation player," Howard said. "Tonight my name was called and I was just trying to help out."
Spoelstra and Howard's teammates were complimentary of the veteran's performance -- such is the luxury of victory. Howard gave a full effort and scrapped during his 19 minutes, but they weren't entirely productive. Both of his shots were swatted away by the Celtics, the first a layup attempt on the break by Kevin Garnett, the second a running hook in the lane by Nenad Krstic. Howard was whistled for a charge when he stuck his shoulder out on a screen and plastered Ray Allen. Forty-five seconds later, Howard was slow to recover on Krstic, giving the Celtics' center an open baseline jumper that broke a 71-71 tie.
"It's challenging," Howard said of coming in cold to play meaningful minutes for the first time in weeks. "It's not easy at all. But you just have to stay mentally tough, and you have to keep your mind focused on the game and what's happening out there on the floor."
Had the Heat dropped Game 5 at home, Spoelstra would've likely been skewered for leaving Howard on the floor for 19 minutes. The alternatives were imperfect, but Spoelstra could've opted to go small, subbing in James Jones and sliding LeBron James over to the power forward slot. James would've been responsible for Jermaine O'Neal, then Glen Davis, on the defensive end. Those aren't ideal matchups for James, but for a guy who has defended everyone from Rajon Rondo to Marcus Camby this season, those aren't outlandish assignments.
When Paul Pierce picked up his fourth foul midway through the third quarter and was replaced by Jeff Green, Spoesltra had another opportunity to bring in one of his swingmen and go smaller. But Spoelstra opted to stick with Howard.
"It was tough," Spoelstra said. "When you change a lineup, you never know what the domino effect will be down the line."
Throughout the season, Spoelstra endured challenges with his rotation. Apart from James, Dwyane Wade and Chris Bosh, the Heat were paper thin. Spoelstra tinkered with his five-man units. More important, he designed a package of sets and defensive coverages that allowed for players to slide into any number of positions on the floor.
Coaches take undue criticism for not nailing down a firm rotation by the first week in December, but using the regular season as a laboratory to experiment with different units has tangible benefits.
"We've taken flak for that year, how guys have been thrust into situations, how they play minutes or don't play minutes," Jones said. "But tonight was an example of just how that musical-chairs rotation prepared us for moments like this. Because, in the playoffs, nothing is scripted."
Spoelstra improvised boldly by relying on Howard, who ultimately took a seat with the Heat trailing 79-72 with 9:52 remaining in the game. From that point, Miami outscored Boston 25-8 the rest of the way, a triumphant outburst that enabled Howard to morph from a potential scapegoat to heroic stand-in.
Even in basketball, history is written by the victors.