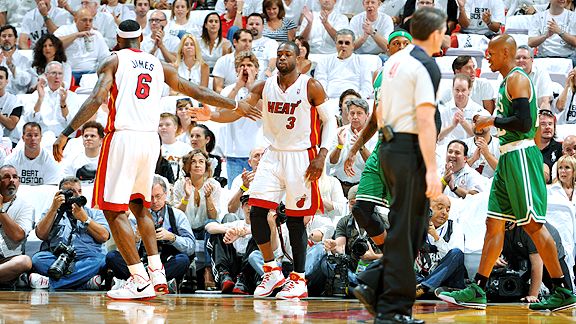 Jesse D. Garrabrant/NBAE/Getty Images
LeBron James closed the door on the Celtics late, but Dwyane Wade carried the Heat early.
The final moments of the Heat-Celtics Eastern semifinals belonged to LeBron James. He defeated his longtime nemesis, the team that embarrassed him in the 2010 playoffs and ultimately chased him out of Cleveland. For one night, if only for one night, James vindicated the hype that has surrounded him since he graced the cover of Sports Illustrated as a high-schooler and the hype that has surrounded him since he came to Miami.
And none of it would have been possible if Dwyane Wade didn't put on one of the best performances of the playoffs.
Throughout the first half Wednesday night, James looked just as flummoxed as he did trying to attack Boston's defense in Game 3 of this series, as well as in Game 5 of the infamous 2010 conference semifinals. Boston shut down James' lanes to the basket, and his passes failed to find their targets all night. Meanwhile, the Celtics maintained a lead over the Heat for nearly the entire first half and threatened to pull away on multiple occasions.
Fortunately for the Heat, Wade was on the scene, and he put on an absolute masterpiece of a performance to keep the Heat alive in the first half. The book on James and Wade has always been roughly the same: Do your best to keep them away from the rim, but if they're making their jump shots, pray for mercy, because you're not going to stop them.
That's not entirely the case with LeBron, who is bigger and stronger than Wade and probably would beat him in a 40-yard dash scenario, which makes him a more powerful basket attacker. And there's no question that LeBron is a better outside shooter; as LeBron has shown throughout this season and this series, he's quietly become one of the better outside-shooting high-usage perimeter players in the league.
Wade, meanwhile, is still a mediocre jump shooter. According to 82games.com, Wade's effective field goal percentage on jumpers was 43 percent, compared to James' 47.3 percent, and Wade is not really a threat from 3-point range unless he can step into his jumper.
Also, Wade obviously is smaller than James and his top speed is slightly slower. However, Wade has something James doesn't have -- the best change-of-direction ability in the NBA. It might be possible to get in front of Wade, but it's completely impossible to stay in front of him. He can accelerate and change directions in the blink of an eye, and he complements his agility with creativity, flicking shots and passes while moving his body at what seem to be geometrically impossible angles.
Unlike James, Wade can turn a drive into a jumper or a sure charge into a smooth "euro-step" floater in mid-dribble, and that's why he truly is unstoppable when his jump shot is falling -- there's no way to slow down a player who can be anywhere at any time and put in a shot from that spot.
In the first half of Game 5, the Celtics were forced to simply behold Wade's offensive mastery when they would have rather been ensuring a return flight to Boston. Wade made all four of his shots from outside the paint in the first half, forcing the Celtics to try to step out and defend his shot. When they did that, he blew by them and got to the basket. When they tried to trap him, he slithered through it like Barry Sanders, making a cutback to get space.
Wade made pull-ups. He made floaters. He went left; he went right. He grabbed an offensive rebound, flipped it in the basket and got fouled in a single motion. He missed a bunch of free throws on the night, but all that really did was prove Wade is a human being and not a basketball machine made of smoke, pistons and hexagonal padding.
When LeBron is on his game, he overpowers defenses with thundering drives to the basket and bombs from the perimeter. When Wade is making his jumpers and is feeling the flow of the game, he doesn't overpower defenses -- he dissects them.
This is the power of the Heat. Even with ball movement out the window, LeBron struggling, shooters missing open shots from beyond the arc and one of the league's three best defenses facing them down, they still were able to stay in the game by having one player break down the defense essentially by himself.
Eventually, Wade passed the baton to LeBron, and the rest is history. But without Wade, LeBron's shots in the fourth quarter would have long since been rendered irrelevant. Even when all the good synergy the Heat have spent so much time developing over the season goes awry, they still have two players who can put an offense on their back, and LeBron and Wade took turns doing so in order to close out the Celtics.
Whose performance was better? That's almost impossible to say. All we do know is that when whether LeBron at his best or Dwyane at his best is in question, the outcome of the game almost never is.