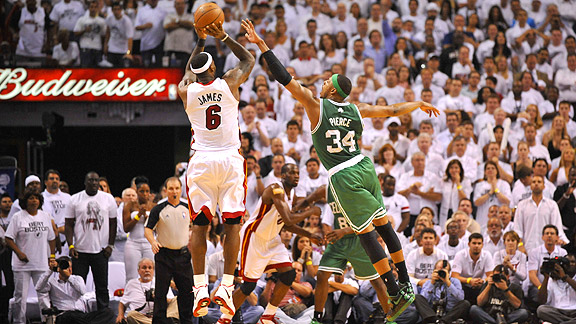 David Dow/NBAE/Getty Images
Did LeBron James "settle" for this 3-pointer in the closing minutes of Game 5? Does it matter?
When LeBron James caught the ball on the left wing with two minutes and 14 seconds remaining in Game 5, he didn't hesitate. He squared up, rose and fired off the kind of shot he's been criticized for taking so many times before.
James is too effective off the dribble to settle for contested jumpers on a frequent basis, but with the game tied at 87 and Paul Pierce practically daring him to release a 3-pointer, James just couldn't help himself. The shot went up and in, Doc Rivers called a timeout to regroup, and James sauntered to Miami's huddle, soaking in every bit of the arena's energy and Boston's desperation.
A few possessions later, James again found himself staring down Pierce outside the 3-point arc on the left side of the floor. This time he paced his dribble to a metronomic rhythm. He again squared up, settled into his shooting motion with a slight crossover, faded slightly and pulled the trigger. The shot fell, and James stood, charged by his own disregard for conventional basketball logic.
These are the shots that, with the ball still hanging in the air, reek of poor decision-making. In an alternate universe, we'd say that James settled; that Wade should have had the ball in his hands; that James just doesn't have the ingredients that make NBA legends. These are the shots that invite criticism and judgment under any other circumstances, as a player of James' gifts and skills -- and a 33 percent 3-point shooting mark for the season -- shouldn't be firing up 3s with a hand in his face and a cathartic series win hanging in the balance.
Yet James took them, and they went in.
The man is not infallible, but for all of the rules that outside observers construct for him -- don't settle for jumpers, develop a post game, move better without the ball, attack more, don't attack more -- James finds incredible, consistent success on his own terms. A pull-up 3-pointer wasn't the best shot available, but it was the shot LeBron chose, the shot that went in and the shot that downed the mighty Celtics.
The discourse surrounding James is so often concerned with the hypothetical, with what he should have done rather than all he's accomplished. James will never be perfect, but even in his current form, James is the closest thing the NBA has.
He'll likely never develop that meticulous, premeditated in-between game. His footwork is more a facilitator of his quick first step than a chess match of jabs and fakes. He's as susceptible as any to the allure of iffy shot selection, but he has the talent to render widespread criticism of his game irrelevant with a huge defensive play (like the steal that followed his pair of 3s and led to a fast-break jam), an awe-inspiring drive (like the "leave no doubt" layup James made with six seconds remaining), or an improbable jumper.
As much as we'd like to pretend that James must abide by the same rules and conventions of everyone else, superstars on this level are gifted with the freedom to disregard reason. A miss or misstep invites that same criticism and ignites that same hypothetical discussion, but as long as the ball finds the net, the makes control the narrative.