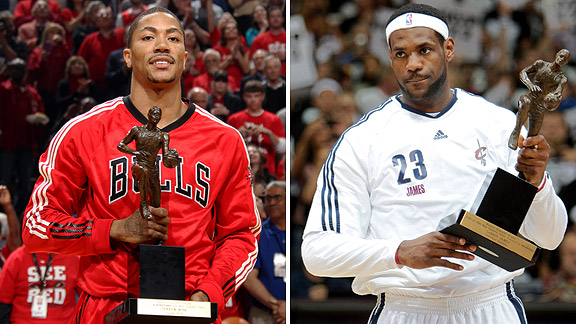 Getty Images/AP Photo
Who will prove to be most valuable in the East finals? LeBron James could be, thanks to his defense against Derrick Rose.
As diplomatic as LeBron James sounds, no reigning two-time MVP wants to cede the award to someone else. But that's what happened this season when Derrick Rose, the sensational 22-year-old point guard who helped propel his Chicago team to a league-high 62 wins in the regular season, took the honor from James in 2010-11.
And in this upcoming battle for a ticket to the NBA finals, James has a chance to put his value on display.
The East finals will be a referendum of the 2010-11 MVP vote. As much as it is about Bulls versus Heat, it's also about Rose versus James. This is James' opportunity for redemption. There's the lightning-quick point guard who shoulders his team's offense and then there's the do-everything talent who knows no boundaries on the court.
Who's more valuable?
Well, it depends on how you define value, doesn't it?
When a coach puts his lineup together, he's implicitly going through a checklist of basketball commodities. You need a ball handler to run the offense. You need someone who can knock down 3s and space the floor. You need someone who can rebound, protect the rim and block shots. You need someone who can guard the opposing team's top scorer. You need someone who doesn't mind doing the dirty work. You need someone to lead and take over when the team is in disarray.
And in the NBA, there is no player who checks off more boxes on that list than James. He is a Swiss Army knife on the hardwood. He can fulfill nearly every basketball requirement on both ends of the floor.
Offensively, Rose and James could be considered equals more or less. In the traditional stat line, you can see the symmetry in the regular season. James tallied 25 points, seven assists and three turnovers per 36 minutes on 33 percent shooting from downtown. Rose averaged 24 points, seven assists and three turnovers per 36 minutes on 33 percent shooting from downtown. Sure, that oversimplifies things, but you get the point.
But once we go beyond that, that's where James distinguishes himself. There are two sides to basketball -- offense and defense -- and defensively, there's no question that Rose is more limited than James. That's part of the nature of being a point guard and standing 6-foot-3. Rose's 190-pound stature doesn't allow him to guard big men and, on this Bulls team, he doesn't necessarily have to.
However, as we'll see in this series, James can man up on anyone from Rose to Joakim Noah. And that's value, even if it doesn't show up in the box score.
When talking to Heat coach Erik Spoelstra about the Bulls matchup, every other word revolves around James' versatility. Not just on offense, but on defense as well. Spoelstra knows he can stick James on Rose on one possession, Carlos Boozer the next and Noah the next.
"There really hasn't been a defender like him probably since Dennis Rodman," Spoelstra said. "Now, LeBron also has the responsibility of getting triple-doubles for us as well along with playing the Dennis Rodman role of guarding whoever the biggest threat is on the other team 1-through-5."
We saw this in the regular-season series against Chicago. When Spoelstra needed a defensive stop on the final possession in that Feb. 24 matchup, he put James on Rose. People forget that on the final Bulls possession in the March 6 game, Spoelstra stuck James on Noah.
Will we see more James-on-Noah matchups this series?
"No doubt about it," Spoelstra said. "There's no doubt in my mind. Chicago, because of how good they are, especially defensively, and the weapons they have offensively, we will need every bit of LeBron's versatility in this series. To be able to guard different guys, for us to be able to execute certain things offensively, to loosen up that defense, his versatility will be paramount."
James has excelled at the power forward slot this season to the point that Spoelstra isn't sure he'd play a healthy Udonis Haslem over him there. When asked about that hypothetical question at Friday's practice, Spoelstra responded, "Good question. I don't know."
In this playoffs, James has played a quarter of his minutes at the 4, thriving in his role as Bosh's backup. In the 129 postseason minutes in which James has played the power forward position, the Heat have outscored opponents by 20.3 points every 100 possessions. Sure, James guarded power forwards in Cleveland, but he was almost always the ball handler in those situations, rarely the player on the block.
"He is dynamic," Spoelstra said. "For the first time in his career, we needed him to play the 4. Not the 4-1, or the 4-3 or a combination player. We said you have to be Chris Bosh. You have to do whatever Bosh did at this position. Actually, I think it sparked his interest."
If you don't think James has added a post game to his repertoire, you haven't been paying attention. According to Synergy Sports, James has the sixth-highest efficiency in the post, among the 72 players with at least 100 post-ups this season. James scored 170 points on his 163 post-up plays, and his efficiency ranked higher than other famed wings on the block such as Kobe Bryant, Joe Johnson and Carmelo Anthony.
"He helped us," Spoelstra said about James' ability to play on the block. "We were able to be more dynamic and it's helped add more dimensions to his game. Offensively, other teams have to make some decisions against us when we do that."
For all of James' versatility and talent, Rose has had the upper hand in late possessions this season. The point guard's closing track record has been nothing short of remarkable this season. But if James does what he did against Boston down the stretch, it will be tough to find James' Achilles heel at this point.
For the Bulls, everything rides on Rose, and in many ways, the Heat's chances are riding on James as well. In order for the Heat to have the best shot at winning this series, James has to be effective playing the 4, defend all of the Bulls' players and come up big in crunch time. Spoelstra asks the world of James, and now the two-time MVP has no choice but to deliver it.
Because when it's all said and done, there's no greater value than a player who leads his team to the Larry O'Brien trophy.