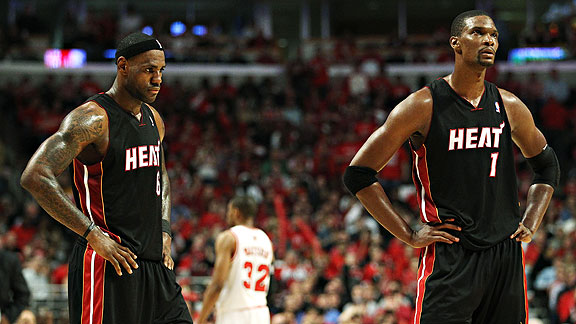 Jonathan Daniel/Getty Images
Chris Bosh: "Your first inclination is to get right back out there and try to erase the bad memory. But it is what it is."
CHICAGO -- Still trying to make sense of his team's blowout loss to the Chicago Bulls in Game 1 of the Eastern Conference finals, LeBron James retreated to the only comfortable place he could find amid the Miami Heat's effort to regroup before Game 2 on Wednesday.
He planted himself right in the middle of the bigger-picture perspective.
Although the Bulls dominated the Heat in numerous areas during Sunday's 103-82 drubbing at the United Center, it equated to only a 1-0 lead in the best-of-seven series for the right to advance to the NBA Finals. That basic math wasn't lost on James and his teammates as they work out the kinks in practice sessions at the University of Illinois-Chicago's athletic complex.
"We can lose by 100 [points]," James said. "This is the playoffs. This is only one game. It's just one game. It's not like it gave them two wins."
Nope. It didn't. But considering how thoroughly the Bulls defeated Miami in the opener, it seems like the Heat face a much steeper climb out of this 1-0 hole as they look to earn a split on Wednesday before the series shifts to Miami for the next two games.
Still, the Heat are faced with a staggering question: Is this the series when their weaknesses at point guard and center -- in addition to a lack of depth and consistency off the bench -- finally catch up with them?
James, Dwyane Wade and Chris Bosh got them this far. But can point guards Mario Chalmers and Mike Bibby and center Joel Anthony -- or whoever else is the flavor of the day at the 5 -- help Miami take the next step?
Besides failing to match Chicago's energy and effort in Game 1, the Heat had no answers for slowing Derrick Rose or either of the Bulls' centers. Miami used as many as three different defenders and multiple schemes on Rose, but the league's MVP still finished with 28 points and six assists (with just one turnover in the second half).
Chicago centers Joakim Noah and Omer Asik combined for 14 points and 16 rebounds. The Heat have gotten away with shuffling their point guards and centers throughout the season. But with James, Wade and Bosh set to receive the bulk of the Bulls' defensive attention, Miami will need its supporting cast to provide something -- anything -- to offset Chicago's balance and depth.
In Game 1, the Bulls outscored the Heat 28-15 in bench points. Miami also got only a combined four points and eight rebounds from starters Bibby and Anthony at point guard and center. Sporadic production from those areas didn't haunt the Heat in the first round of the playoffs against an inexperienced Philadelphia team or in the second round against a battered and bruised Boston squad.
But this is a mismatch that potentially could be painful to watch in the conference finals.
The Bulls are relatively healthier, younger, quicker and deeper than any team Miami has faced thus far. And their formula worked during a three-game sweep of the Heat in the regular season and has continued to click on all cylinders in the opening game of the conference finals.
"That's the way they play," Wade said when asked what the Heat must do to overcome shortcomings and re-establish themselves against Chicago in Game 2. "We have to find a way to match that. And everyone came in today with that mindset."
The Heat will try to make some adjustments on Wednesday. But the biggest change isn't a tactical one. Heat coach Erik Spoelstra said the only path to progress is to play with more energy and effort that what his team showed in Game 1. The Heat won't get quicker at point guard, where Bibby and Mario Chalmers have the initial assignment of defending Rose.
The Heat also won't get quicker and more athletic at center overnight. So even a rotation change that might get Zydrunas Ilgauskas or Erick Dampier off the inactive list and back in the lineup might not have a major impact in helping the Heat beat Noah, Taj Gibson, Asik or Carlos Boozer to loose balls.
That's why Spoelstra insisted on Monday that Game 2 won't be about significant adjustments. Instead, it will be about establishing a more aggressive attitude on the court -- even at positions where the Bulls seem to have competitive advantages.
"You can't just let it go," Spoelstra said of conceding anything from matchups to rebounds in this series. "The next two-and-a-half days we're going to work to fix some of these challenges that we had [on Sunday]. But we still have to understand that Wednesday is a golden opportunity for us."
Spoelstra said there are times when it's important for a team to have amnesia and forget about a bad performance. This qualifies as one of those times, he said.
But there was also another school of thought among Heat players on Monday. Some, like Bosh, said it is a good thing that the team will have to wait until Wednesday night before taking the court again.
"Unfortunately, [Chicago] threw the first punch," said Bosh, who had 30 points and nine rebounds in the losing effort. "We have to react. It's a good thing, just in our circumstance, to have some time now. You just have to let it boil sometimes. A bad team performance is the best thing, in a way, to be a little bit upset. Your first inclination is to get right back out there and try to erase the bad memory. But it is what it is. We just have to wait for another chance and do a better job of doing what we know to do."
The Heat found a way to roll through the season without having to rely on their role players on a consistent basis for production. But that is no longer the case now.
James, Wade and Bosh learned a valuable lesson in Game 1.
You don't beat these Bulls playing 3-on-5 basketball.
At this pace, this series could prove to be a referendum on Miami's roster beyond the Big Three.
"We've proven we can bounce back from adversity," forward Udonis Haslem said of Miami's sluggish supporting cast. "Everything we've been through this season has prepared us for moments like this."