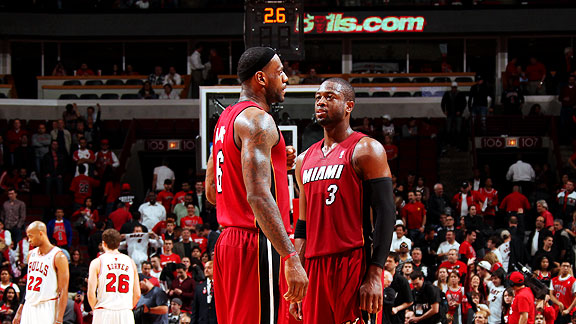 Nathanial S. Butler/Getty Images
During crunch time in the playoffs, the ball has gone to LeBron James, not Dwyane Wade.
MIAMI -- Who is the Heat's closer, Dwyane Wade or LeBron James?
The barroom debate has persisted the entire Heat season, even though it's largely a false construct. Heat coach Erik Spoelstra doesn't subscribe to the idea that a team has an established closer, and when talking about it at practice on Friday, Spoelstra refused to even use the word "closer."
"It has been such a big storyline all season long," Spoelstra said. "We just block everybody else out. It's as simply as this: the game will dictate. That's the way we always wanted it. They're such high IQ players and they're unselfish enough that they can read the game and understand who needs to make a play. But there's not a designated … whatever you guys what to call it."
Well, James certainly slammed the door on the Chicago Bulls in Game 2 and the Boston Celtics before that. And he has dominated the ball in crunch time.
How can we tell? We can call upon usage rate, a statistic that estimates the percentage of team possessions a player uses while on the floor, either via field goal attempt, free throw attempt, or turnover. If all five players on the court share their possessions equally, they each would post a 20 percent usage rate.
According to NBA StatsCube, James' usage rate here in the playoffs is 31.9 percent, just a tick below his usage rate in the regular season (34.5 percent). And Wade? His playoffs usage rate is 34.4 percent, virtualy unchanged from his regular season rate of 34.6 percent.
As we can see from usage rate, Wade has a slightly bigger share of the offense in the playoffs than James. But that all changes in crunch time.
For our purposes, we'll use the following standard "clutch" parameters established by StatsCube: final five minutes of the game and the score margin within five points. What does James' usage rate look like then?
52.6 percent -- as in, James has used more than half of the Heat's possessions during crunch time in the playoffs.
That's an astounding figure, especially when you consider that it was just 40.7 percent during crunch time in the regular season.
How do James and Wade compare during crunch time in this postseason? Let's cue up the numbers. (Note: the counting stats are per 36 minutes).
Wade and LeBron in crunch time
Here we see that James has shot the ball nearly twice as often as Wade in crunch time (27.0 field goal attempts for James vs. 14.6 field goal attempts for Wade), and has been more accurate -- or perhaps less inaccurate. If you had told me before the playoffs that Wade would shoot 31 percent from the floor in crunch time, there's no way I'd believe that the Heat would have won nine of their 12 games. But they have, thanks to James' timely shooting.
But Wade contributes in other, more subtle ways. Check out those rebounds. Standing at just 6-foot-4, Wade has transformed into Dwight Howard in the rebounding column. And it's also worth noting that he has yet to turn the ball over in 32 minutes of crunch time this postseason.
But the story here is that James has owned crunch time recently. His player efficiency rating (PER) is an astronomical 40.8 and he averages 34.9 point per 36 minutes. While we were all familiar with his big time shots against Chicago and Boston, his conversion rate isn't spectacular. Just 41.7 percent of his shots from the floor have gone through the net, which is actually slightly better than the league average in crunch time (38.9 percent).
James isn't just finishing possessions in clutch situations; he's starting them too. In Game 2 against Chicago, he ran and controlled the Heat's offense while Wade played off the ball.
Whether James continues to dominate the ball in the clutch remains to be seen, but he has certainly earned the closer label so far this postseason.