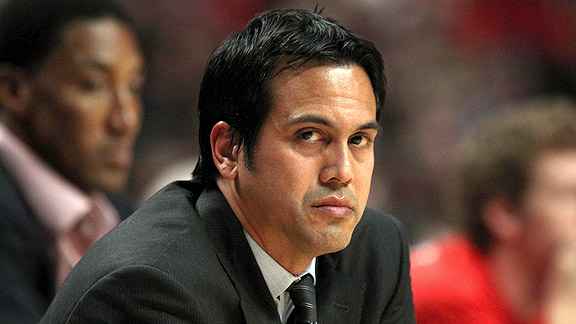 Jonathan Daniel/Getty Images
After a rough opener against Chicago, Erik Spoelstra made some bold counters in Miami's Game 2 win.
Heat coach Erik Spoelstra was decisively outcoached by Tom Thibodeau in Game 1. The Bulls bludgeoned Miami's small lineups on the boards and snuffed out its explosive pick-and-roll attack.
Game 2 didn't begin any better. For the fifth straight quarter, the Bulls appeared to be too physical for the Heat to handle. Miami's rocky start was highlighted by Spoelstra, seemingly in a state of panic, using 11 players on the way to a seven-point deficit at the end of the first quarter.
But even in that ugly first period, the adjustments Spoelstra made -- the ones that would eventually turn the tide in the game and the young series -- began to take hold.
Spoelstra and the Heat popped off the ropes by acknowledging where radical changes needed to be made, while preserving the identity that served them so well all season.
Personnel decisions
This is the area where Spoelstra made the most noticeable and crucial adjustments. In Game 1, the Heat had no answer for the athleticism, size and intensity of Chicago's second unit, which, though less skilled, may play even harder than the Bulls' starters.
Enter veterans Mike Miller, Udonis Haslem and Mike Bibby.
Miller and Haslem were thought of as specialists before the season started: Miller was to be the sharpshooter, Haslem the muscle. But the reality is that both are generalists relative to James Jones and the duo of Joel Anthony and Jamaal Magloire.
By handing more playing time to Haslem and Miller, Spoelstra acknowledged that this series will be rough and somewhat ugly, a style that demands gritty, physical play and offensive versatility at all five positions.
Despite enduring injury, the forwards are a significant upgrade in terms of physicality and rebounding. Sacrificing Jones' tremendous shooting for Miller's broader competence suggests Spoelstra's game plan had changed from increased buckets to increased brawn.
In Game 1, Jones played 24 negligible minutes. In Game 2, he played fewer than two minutes, while Miller's minutes jumped from three to 18.
One wonders whether Haslem would have played so much had Joel Anthony's two early fouls not set off a substitution carousel. After playing only seven ineffective minutes since Nov. 20, Haslem's contributions were an unexpected blessing. Along with Bosh, the Heat now have two big men capable of rebounding, defending pick-and-rolls and making midrange shots.
Twitter hates Mike Bibby, but so do the Bulls. Bibby is a nasty screener -- a crucial element of the point guard's role in the Heat offense -- and a sure ball handler. With Chalmers unable to even advance the ball past half court in Game 2, Spoelstra gave Bibby 35 minutes of court time, the most he's played for the Heat all season. Although Bibby has severe limitations that no doubt make the defensive-minded Spoelstra a bit uneasy, the coach also is a pragmatist, and knows that Bibby won't make any huge mistakes.
In all three cases, the Heat veterans offer the kind of versatility and toughness necessary to combat Chicago's depth and defensive schemes. The Bulls feast on specialists by taking away their strengths. In Bibby, Miller and Haslem, the Heat have three players with the experience and skill set to make plays.
Offensive schemes
Chicago's defense is of the same genus as Boston's, but carries some mutant characteristics that make it even more snarling and disruptive. The Celtics pressure the strong side, but the Bulls strangle it with quicker, longer players who overload the ball side even more aggressively.
To elude the Bulls' defense, Miami tried to disguise bread and butter pick-and-roll sets by running multiple screens to free up the screener before he even approached the ball handler. Bosh was routinely clever with his screening angle, approaching from one side then switching at the last second to put the hedging Noah out of position.
Once in the pick-and-roll itself, Miami also modified its tactics just slightly. Wade, James and even Bibby routinely refused picks and looked to find the screener, often Bosh, shuffling to the hoop to preserve a passing angle.
These small wrinkles may seem insignificant, but against a stubborn defense, they're often the difference between an empty possession and a clean look at the basket. In this regard, Spoelstra was able to modify this crucial element of their offense to be more effective.
But Spoelstra also needs to innovate entirely new plays to confuse the Bulls' defense. After breaking down the film, Spoelstra spotted some vulnerabilities in Chicago's strategy. Early on, the Heat got some great looks at the rim with some specially designed plays.
For instance, the Heat were able to free up Wade for a layup via a double screen on the baseline zone defenders. It was a look specifically devised to take advantage of Chicago's philosophies, but when the Heat went back to that play in the second half, the Bulls' bigs sniffed it out, avoided the screens and forced a missed shot. It was perfect example of the epic coaching battle between Thibodeau and Spoelstra.
Going forward, Miami's coach will need to continue to find new wrinkles, looks and ideas that can free his scorers for easy points in the half court. Thibodeau is too good of a coach, and his players are too aware, for gimmick plays to be a repeated source of offense. But though Spoelstra's tactical victory was short-lived, it was enough to help win Game 2.
Defensive schemes
Fundamentally, the Heat's defensive game plan in Game 2 was almost identical to that of Game 1. Their priority continued to be defending Rose and the Bulls' pick-and-roll attack.
Spoelstra is playing the percentages with Rose, who, although an improved jump shooter, is still only average at best beyond 15 feet. The Heat are mixing up coverages, sometimes forcing him to pass out of a double team, at other times hedging when they can push him well off the 3-point line. Above all, the Heat always try to keep as many bodies between Rose and the hoop as possible.
Shockingly, Bibby has been a major factor in the Heat's success against Rose. He seems to have an excellent feel for how far off to play him and almost never makes a mistake in the Heat's various coverages. He can avoid getting torched for the first three quarters, before Spoelstra sicks Wade and James on the young MVP.
The Bulls' dominant offense is a more conventional, predictable system (if the word applies here) than that of the Celtics, who used a series of pin-downs and pick-and-rolls to get shots. Spoelstra and the Heat took a game to adjust, but they seem to have transitioned fully to their new series, and held the Bulls to just 34 percent shooting from the field in Game 2.
The Heat actually defended the first Bulls attempt almost as well in Game 1 as they did in Game 2, but were slaughtered on the offensive glass. The Heat solved that issue by tightening up defensive rotations to send more players to the glass, and by simply playing better rebounders.
Maintaining an identity while making adjustments
There's a perception that great coaches make their master strokes in the playoffs, and to some degree that's true. An adjustment here, a new wrinkle there, and a team may be able to exploit a certain matchup so fully as to determine a series. But in reality, the best coaches prepare their teams for those situations throughout the season with productive practices and in-game experimentation.
Even the most extreme adjustments that Spoelstra made do not change the core of the Heat's identity. All season long they've been a productive pick-and-roll team, and have gradually worked on moving the ball side to side to open up space for Wade and LeBron. They've been developing a defense that allows for the kind of switching, help-and-recover principles and gang rebounding that showed up in Game 2. Spoelstra has preached toughness, a warrior mentality and that their season would eventually come down to how well they well defend.
These ideals are important to preserve. But against the fiercest competition they've faced all season, Spoelstra also had to face the reality that significant changes were necessary. He acquitted himself well in Game 2, but Thibodeau and Chicago will be back with new challenges. For Miami to survive this series, the Heat's coach will need to stay one step ahead of the ever-charging Bulls.