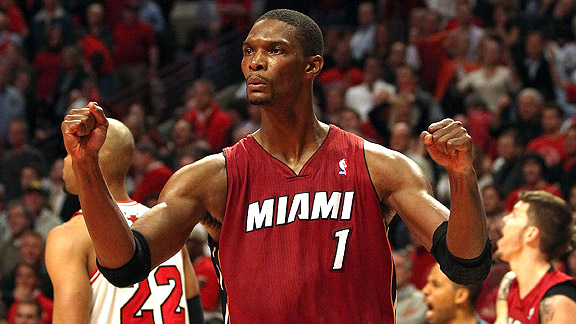 Jonathan Daniel/Getty Images
Chris Bosh's confidence has grown with each series this postseason. Now comes his biggest test.
MIAMI -- There were 16 seconds left in Game 5 and the Miami Heat needed Chris Bosh to make two crucial free throws under pressure in an Eastern Conference finals road game.
There was a time, and it was remarkably not that long ago, that trusting Bosh in this spot would qualify as risky. In his first road game in the second round against the Boston Celtics, for example, Bosh admitted his nerves got to him with negative effects.
Never before had Bosh dealt with this type of postseason pressure -- it was said both implicitly and explicitly -- and his fragility was then called into question. Bosh's mental makeup was presented as a potential breaking point for the still unproven Heat.
Yet as Bosh calmly arced in both free throws, providing the final points in the series that the Heat won in five games to advance to the Finals, no one blinked. By then, Bosh and his teammates knew he'd drain them.
This hasn't just been a transformative postseason for LeBron James' clutch resume, Erik Spoelstra's sideline presence and Pat Riley's model for team-building. It's also been a proving ground for the Heat's supposed lesser star, who has presented a compelling case that everyone might need to find a new batch of jokes.
Simply put, Bosh had a fantastic and perhaps reputation-changing conference finals. He assembled a stat line -- 23.2 points and 7.6 rebounds per game, 60 percent shooting and 32-of-33 at the foul line -- that would have qualified him as a serious series MVP contender if such an honor existed.
With James' strong fourth quarters, Dwyane Wade's erratic play and the intense scrutiny on Derrick Rose, history threatens to forget what Bosh did. That's certainly the case with Game 5. Bosh's free throws may have sealed the game, but it was James and Wade's 22 consecutive points that led a breathtaking comeback that everyone will reminisce about for years.
Few will consider that Bosh had the Heat's other four points in the quarter and had two rebounds and two important blocked shots. When people discuss what James did in that final 12 minutes defensively, they'll remember his steal and block on Rose in the final minute that changed the outcome. They won't remember that Bosh was the help defender on both plays that enabled James to get in position to make the plays.
Bosh had 20 points, 10 rebounds and four blocks in Game 5, a tremendous performance in a clinching game.
"I want people to know that I want it," Bosh said. "I'm just trying to be more confident and step outside of myself to show it."
In the previous series against the Celtics, Bosh struggled at times and averaged only 12.8 points and shot just 40 percent from the field. He had been signaled out as a potential weak link by the Celtics, who openly admitted their game plan included consistently challenging Bosh with Kevin Garnett. So the ball kept going to Garnett, but Bosh kept holding his own defensively.
Bosh might not have won the battle but he played it to an effective draw, which meant it was effectively a loss for Boston. Though Garnett constantly tested Bosh one-on-one, the Celtics' power forward averaged just 14 points a game in the series on 43 percent shooting. Both averaged 10 rebounds a game.
In Game 4, the swing game that put the Heat in control, Bosh's offensive putback in overtime sealed the game. He finished that game with 20 points and 12 rebounds, outplaying the tiring Garnett, who had just seven points and 10 rebounds.
In the series with the Bulls there was no question about how the individual matchup between Bosh and Carlos Boozer turned out. Bosh thoroughly outplayed both Boozer and Joakim Noah, who defended him the majority of the time. Bosh lost some rebounding battles to the bruising duo, yes. But he undercut another opposing game plan aimed at him.
The Bulls' scheme was to focus on Wade and James and let Bosh have some space. Given what transpired in the series against the Celtics, where Bosh's offense suffered, it wasn't a foolish plan. But Bosh once again made a statement that regarding him as a weak spot is a flawed strategy. His two 30-point games and strong shooting proved that again.
In Game 4, a moment in the series when it still felt like it could go either way, Bosh made two clutch jumpers down the stretch. He also went 10-of-11 at the line, playing under control and aggressively at the same time by driving to the rim to draw contact repeatedly.
"I've dealt with a lot of different situations and a lot of criticism during this season," Bosh said. "There's nothing in the playoffs that I'm dealing with that I haven't prepared for in different ways. It's just been a process to get here. But it's starting to work out, I'm starting to figure it out."
That process is another overlooked aspect of what Bosh has accomplished recently. He's constantly had to adjust to new roles.
The Heat have started three different centers next to him in the past 20 games, altering the starting lineup in the middle of the series with the Celtics by putting Joel Anthony in there to start.
During the series with the Bulls, when Udonis Haslem re-emerged as a reliable player, Bosh adjusted on the fly to logging more time than ever at the center spot as the Heat decided to play most of the game with a small lineup.
"It's been kind of weird, things have changed week to week," Bosh said. "It has been learning on the fly with us and especially with me in particular."
Bosh has handled all of it with aplomb and realism. His honest commentary about his nerves and his on-court celebrations have revealed just how much all of this means to him. He's going through a huge personal trial, and enduring moments and games that have a chance to define him. He is both aware of it and immersed in it.
Now come the Finals, Dirk Nowitzki and another string of challenges. Yes, Bosh will have some jitters, but he's also going to have some success to draw upon and some momentum to rely on.
"Sometimes you can be so tense in the days before the game that you can kind of have a sick feeling to your stomach," Bosh said.
"You're just so intense, so looking forward to everything, every detail that's paid attention to, it can affect you. That's how it is. Because you can't wait to get out there and you can't wait to play."