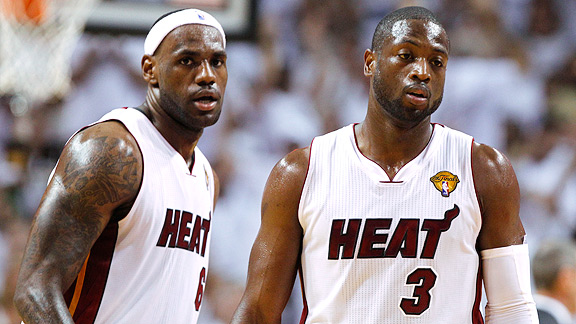 AP Photo/Lynne Sladky
LeBron James and Dwyane Wade have something they didn't in previous Finals runs -- each other.
MIAMI -- Dwyane Wade never intended to watch it.
To him, it just didn't register as must-see TV. But as he was flipping through the channels the other day while waiting for the NBA Finals to start, Wade came across a replay of the Miami Heat's run to their 2006 championship.
The run that had his footprints and fingerprints all over it.
It was a rerun of Game 3 against the Dallas Mavericks in the Finals, the game when Dwyane Tyrone Wade Jr. would simply be shortened to D-Wade, the game when the gap between Kobe Bryant and the league's next-best shooting guard would be narrowed to nearly nonexistent.
Wade never intended to watch the replay of that game as the Heat prepared for what would be their 92-84 victory on Tuesday night in Game 1 of their Finals rematch against the Mavericks.
But LeBron James insisted.
"I knew what he was doing," Wade said of James' persistence in getting his teammate to channel his 2006 postseason form, when Wade went on to be named MVP of the Finals. "I actually wasn't trying to, but I did watch Game 3 on TV [Monday night]. I see I had no conscience back then. I think what he wanted me to do was look back at how aggressive I was, the mentality that I had. I knew what he was saying. And it helped me out."
James finished with 24 points, nine rebounds and five assists in Tuesday night's victory against the Mavericks to take a 1-0 lead in the best-of-seven series that resumes Thursday. But the box score doesn't credit James with perhaps his biggest assist of the game, the one that came when he got Wade to reconnect with the player Wade doesn't even recognize anymore.
The morning before Tuesday's game, Wade equated watching replays of the 2006 Finals to an out-of-body experience. The spry, young, relentlessly attacking offensive juggernaut who went on that tear of 40-point games to lead the Heat back from a 2-0 deficit to a 4-2 series victory has changed into an older, more cerebral and seasoned veteran who picks his spots and explodes in spurts.
So if you're expecting to eventually find the Wade who was "Flash" five years ago in this series against the Mavericks, end the search now.
"I don't know who that player was," Wade joked. "I was just raw talent at that time. Totally different player. With time comes wisdom. That's how I've changed. I'm a better I.Q. player now."
Wade is smart enough to know that he either can't be or no longer needs to be the offensive maniac that tormented the Mavericks. Physically, he's two surgeries removed from those days when he dominated Dallas the first time.
At 29, he's five years older. Naturally, he may have lost a step. But what's more important -- and vital to the Heat's chances of winning the franchise's second championship -- is that he's gained a competitive equal as a teammate in James.
So even as Wade continues to deflect speculation about being injured, and even as he continues to struggle with his shot -- he was 9-of-19 in Game 1 after shooting just 39.6 percent against Chicago in the conference finals -- the reality is simple.
James' presence allows Wade to pace himself. And the same works the other way around, too, with James now able to pick his spots instead of having to carry the bulk of the burden every minute of every game. The Heat are on the verge of winning a title because of the plain fact that Wade and James have a luxury that Kobe, Derrick Rose and Dwight Howard lacked this postseason.
Each other.
So disregard the shooting percentages, player efficiency ratings and other statistics that indicate how well or poorly a player is performing at this stage of the season. Having each other means that Wade and James don't have to do everything all the time for their team to have a chance to win.
Wade started Game 1 missing seven of his first 10 shots and had three turnovers in the first half.
No problem. James was able to carry the load as a facilitator and scorer until Wade found a rhythm late in the game.
And when James had his lull, it was Wade who found fresh legs and an energy boost just in time to help the Heat pull away from the Mavericks.
Wade had a deeper and more balanced supporting cast during the Heat's 2006 postseason run. But that team, which included Shaquille O'Neal, Alonzo Mourning, Gary Payton, Antoine Walker, Udonis Haslem and James Posey, also lacked another player Wade could turn over the keys of the offense to on a regular basis in times when he would struggle.
A season later, James would almost single-handedly carry the Cleveland Cavaliers through the East and into the Finals against San Antonio. But when he got there, he delivered by far the worst playoff series of his career on the way to a four-game sweep.
There's a reason why James could sympathize with what Rose felt last series and Howard went through during Orlando's first-round exit earlier this postseason. And that's also the reason why Wade took a moment after the Game 1 win Tuesday to acknowledge James' minor yet meaningful accomplishment.
"D-Wade said that to me -- congratulated me after the game on my first Finals victory," James said. "It feels good because it's the first game, and we played well as a team. We got a lot of work to do. We'll come in with the same mindset on Thursday, and looking forward to the challenge once again."
The Heat put together the kind of roster you're only supposed to be able to form on video games. And there have been moments when James and Wade have made child's play of these playoffs.
If you watch them closely in these games, it almost seems that one instinctively knows when the other is about to hit a rough patch. So the other steps up and takes the lead. At one point this season, that was only a wishful concept. Now, it's become commonplace.
If you listen to them closely after games, it's gotten to the point where one finishes the other's sentence or thought. Before Tuesday's game, LeBron was asked a question about matching up with Dallas. He rocked back in his seat and nodded for Wade to answer the question.
After the Game 1 win, Wade was asked if the two of them ever lost confidence this season in their ability to coexist late in games, their capacity to close out opponents even in games when they were sluggish.
Wade needed only one word to sum up his thoughts.
"No," he said.
That's part of the difference with Wade this time around against Dallas. Less is sometimes more.
And on cue, James picked up the slack.
"We always said we would figure it out," James said, elaborating on Wade's point. "Everything we went through, the pitfalls and the downs were going to turn and make its course. We stuck with it and understood it. What we had to figure out is how we do it together to maximize our team potential. Those pitfalls early in the season helped us get to where we are now in the postseason."
It's been a long time since we've seen this level of chemistry between two players who were supposed to be too much alike in their strengths and weaknesses to fit together this naturally.
But Cheech made it work with Chong.
Starsky figured it out with Hutch.
Laverne got it right with Shirley.
And so is the case with LeBron and D-Wade.
James doesn't have to be the lone ranger he was in 2007 against San Antonio.
Wade won't need to go nuts this time around the way he had to against Dallas in 2006.
So they both can burn those old Finals tapes now. Wade and James have something better to motivate them these days, something stronger to pick them up and get them going in tough times.
They've got each other.