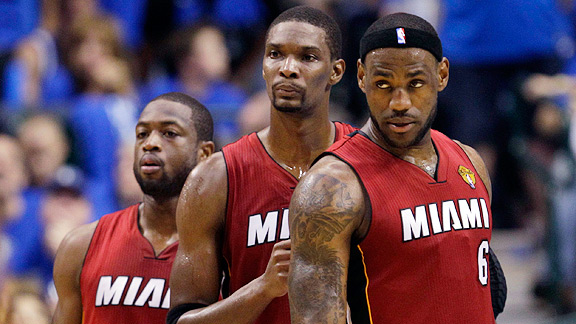 AP Photo/David J. Phillip
The Heat's unsettling tendency to blow big leads has resurfaced at the worst possible time.
DALLAS -- Perhaps we've had the Miami Heat pegged wrong all along.
LeBron James' latest, infamous, playoff disappearing act notwithstanding, it's not the pressure that seems to bring out the worst in these guys.
It's the prosperity.
That, at least, has become the case in the NBA Finals after the Heat's second falter-from-well-ahead meltdown over the past three games has left them knotted 2-2 with the Dallas Mavericks in the best-of-seven series heading into Game 5 on Thursday night.
Apparently, being up big in the fourth quarter against the Mavericks is the last place the Heat seem to want to be in this series. For the third consecutive game, Miami has squandered what should have been a comfortable cushion.
In Game 2, the Heat saw a 15-point lead vanish at home in a 95-93 loss.
In Game 3, Miami led by as many as 13 in the second half and gave it all back before it made one last stand to hold off Dallas for a 88-86 victory.
And in Game 4 on Tuesday, the lead stood at nine with less than 10 minutes left in the fourth quarter before the Mavericks stormed back with another of their routine rallies for an 86-83 win that made this series a lot more complicated than it should be for Miami.
The reality of the Finals for the Heat is simple and sobering. Handle prosperity, as in hold solid leads late in games with two of the best closers in the league, and this series would have been a sweep.
Instead, the Heat must sweat. They could have landed back at home today to prepare for what should have been a championship parade this weekend down Biscayne Boulevard. Instead, their inability to close out games -- an old problem from months ago that has resurfaced at the worst time -- ensures that the Heat will head home in a couple of days with travel guests from Texas for Game 6 on Sunday.
"The one thing about this series, you see no team is ever safe," Heat guard Dwyane Wade said of his team's inability to finish off the Mavericks when they're down. "When it looks like one team may be in control of the game, the other team comes back. We have to give them credit where credit is due. But we'll also learn from it and we will come back again and try to get Game 5."
The Heat aren't only giving the Mavericks credit today, they're also giving them credence.
Just two games ago, the overwhelming feeling in this series was that the Heat were clearly the better team, that anything near their best brand of basketball would be enough to get past the Mavericks.
Now? Not so much.
Now? Dirk Nowitzki and Co. are being called the cardiac crew for their ability to weather whatever initial onslaught Wade, James and Chris Bosh unleash and to counter with the knockout blow.
What happens when what's supposed to be an aberration happens three times in a row?
It becomes a trend. The Heat came to Dallas still confident despite having split the first two games in Miami. Well, that confidence has given way to growing concern given their penchant for short-circuiting down the stretch of these last few games.
The Mavericks have outscored the Heat in the fourth quarter during each of the past three games, fueled by that 22-5 run to end Game 2 in Miami and a 17-4 spurt to pull ahead Thursday night.
Miami has lost its grip in different ways in these games.
Dirk beat the Heat with some miraculous plays in Game 2, aided by a boost from his supporting cast.
On Thursday, LeBron beat the Heat. He might have been on the court for 46 of a possible 48 minutes, but he essentially checked out shortly after the national anthem.
Credit Dallas for confusing Miami by effectively mixing defensive coverages and personnel. But a lot of what's hounding the Heat is created by self-inflicted wounds late in the game.
Who throws the ball in to Joel Anthony with three seconds left on the shot clock and expects something fundamental -- let alone good -- to happen?
And it's impossible at this stage of the season to not expect missed free throws and careless turnovers to not come back and bite you down the stretch. But more than anything, Miami was done in by indifference.
It's one thing for guys to miss big shots. It's another for players you're relying on to refuse to take them.
As a result, it's another drawing board retreat for coach Erik Spoelstra in his search for answers to this disturbing trend of fourth-quarter swoons for Miami.
"They outplayed us, obviously, there in the fourth quarter," Spoelstra said. "And we didn't take care of our business on both ends of the court. We didn't execute with a level of efficiency or trust, and we had a couple of breakdowns. That's uncharacteristic for us."
At this rate, not anymore.
Bosh, who snapped out of his Finals slump in Game 4, tried to put a positive spin on another missed opportunity for his team by saying that the Heat are back in their comfort zone now.
He admitted they handle adversity much better than prosperity.
While that sounded good and reasonable during the regular season, it doesn't fly the same way on this stage.
What happens when you keep ending up with your backs against the wall or up against the ropes?
You eventually get knocked down. Or maybe knocked out.
"For this team, I think we're back in our comfort zone. We're desperate again," Bosh said. "The pressure is on again. This is when we're at our best. We just have to keep that in our mind, go back to the lab, watch film, break it down and just keep supporting each other."
The bottom line is that two Heat collapses have kept Dallas in this series.
The Finals would be finished if the Heat weren't so bad at being finishers.
Now, it's a fight heading into Game 5.
The Heat remain two wins away from a championship.
The question now is will they be haunted by the two games they gave away?