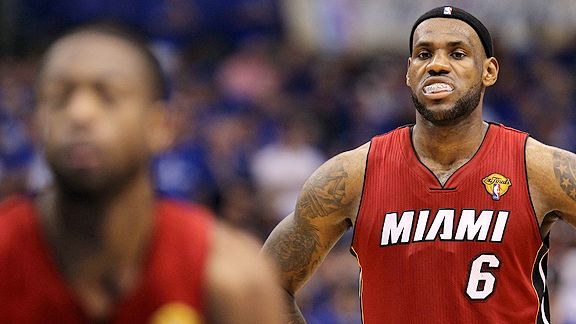 Ronald Martinez/Getty Images
LeBron James hasn't logged fewer than 40 minutes since April 18, when the Heat blew out Philadelphia in the first round.
DALLAS -- As the Miami Heat attempt to regroup in the standard fashion after a playoff loss, they are examining every possible solution that might lift LeBron James out of his slump. They could start by just giving him a break. Literally.
James' position for years, repeated several times this postseason, is that he's willing to play as many minutes as needed in the playoffs. But James is starting to show wear from what has been an extremely high load of minutes recently. It might be a significant factor in why James appears to have less than his normal energy in fourth quarters during the NBA Finals. He has scored only two points in the fourth quarter during the past two games as his playing time has soared to new levels.
In the Heat's 86-83 Game 4 loss, James was on the bench for just a little more than two minutes -- and that rest came in the second quarter. He played the most amount of minutes in a regulation game so far in the postseason. He played the whole second half for basically the sixth time in the past seven games, having rested for about 90 seconds in the second half of Game 2.
Heat coach Erik Spoelstra has noticed and hinted that he might look at finding James a couple of minutes of rest in the second half, perhaps around a television timeout that would extend the break in a tactic commonly used by coaches in the playoffs.
"I'll have to see," Spoelstra said. "During the course of the game, a lot of times I'm reading his body language. He's a remarkable athlete, but he's also an incredible competitor. He wants to be out there and impact every possession. He's expending a lot of energy. He's a world-class athlete, so depending on the game, we'll see."
Playing in Game 4 moved James to the 3,900-minute threshold for the season, the most in four seasons and second most of his career. It also is now the most of any player in the league this season thanks to the Heat's long playoff run. In addition, he has played in more games than in any other season of his eight-year career; Thursday's Game 5 will be his 100th, not counting the preseason.
As James went scoreless in the fourth quarter in Tuesday's loss, a game in which he recorded a career playoff-low eight points, it certainly appeared he might be nearly on empty. It wasn't a notion he denied.
"You can always use, if you can get a minute or two minutes [of rest] there, it helps anyone," James said. "It would help me as well. I feel like I'm in condition where I can still be effective. I just have to be effective at both ends of the floor."
After Game 3, in which James frustrated Dallas Mavericks guard Jason Terry with his defense, Terry questioned whether James could keep up the pace over the course of the series. James' teammates laughed it off, pointing to James' age (26) and shape. But James himself just bypassed the comment. Perhaps now we know why, because in Game 4, as James was missing his normal pep, Terry looked like he was on to something.
James has been expending a huge amount of energy at the defensive end in this series. He's been required to be a help defender near the rim, but also get out to perimeter shooters. The Mavs are one of the best ball-movement teams in the league, putting extra pressure on the Heat's perimeter defenders. It has been working, as the Mavs' offense has held the Heat's points and shooting percentages dramatically in check.
But with all the movement on defense, James seems to be getting some of his rest at the offensive end, especially late in games.
With Dwyane Wade averaging nearly 30 points and shooting 59 percent over the past four games and Chris Bosh putting up some points, James has slipped to the Heat's third leading scorer in the series. It is due, in part, to his lack of activity on offense at times. He has just 14 free throws in the four games, a huge fall-off from his average of nine per game in the playoffs, as he hasn't been able to beat his primary defender off the dribble to force fouls as much as he's used to.
The Mavs have something to do with it, as they've routinely double-teamed James, but all the data and the eye tests indicate James might have a case of tired legs, even as Spoelstra has continued to dial up his minutes.
Everything points toward James needing some help, and it is assumed the message was received after his terrible Game 4. He won't ask for it, but his recently play is screaming out for it.
"Eight points is definitely inexcusable for myself; I hold myself up to a higher standard than that," James said. "I have to do a better job of putting myself in situations where I can benefit myself and my team, no matter how many minutes I'm out on the floor."