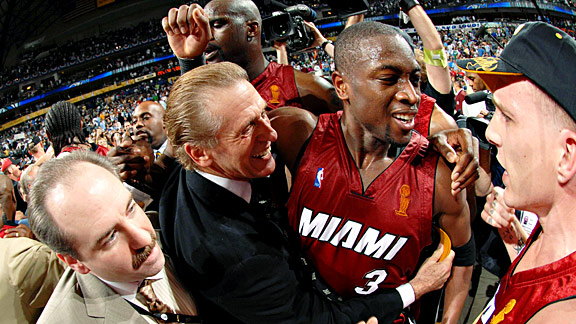 Andrew D. Bernstein/NBAE/Getty Images
Did this year's model of the Heat lack the toughness and resolve of the 2006 championship team?
MIAMI -- In the end, it was as obvious as ever that the Miami Heat were flawed from the beginning.
And when it was over, Dwyane Wade talked about the pieces not fitting together well enough. LeBron James elaborated on how all the so-called haters and naysayers can enjoy their parade for now. Chris Bosh revealed that another team wanted it more, needed it more, had to have it more.
If you listened to the reaction from the key members of the Heat after they completed their collapse -- and, yes, that term is apt after you take a 2-1 series lead, then lose three of four, capped by one of your worst games of the postseason -- there is cause for concern moving forward.
If you heard the Heat as they withered away after the Dallas Mavericks completed a 4-2 series victory Sunday night to clinch the NBA championship, the language was startling.
Even in defeat, champions don't talk like that.
Championship-caliber teams don't get worse as the biggest series of their season progresses. They don't fumble, stumble and crumble under the sort of spotlight that requires them to be committed, aggressive and accountable. And they certainly don't publicly question the pieces, get defensive about detractors or divulge that their will wasn't where it needed to be to match that of team that beat them.
Magic Johnson, who owns a fistful of championship rings and was in AmericanAirlines Arena working the Game 6 broadcast, must have cringed when he heard how the Heat sounded as their season ended.
Bill Russell, who has two fistfuls of rings and one for a toe, must have shaken his head in bewilderment if he stuck around to hear the Heat after participating in Dallas' trophy presentation.
Charles Barkley -- who won … uh, well, never mind -- would have had enough blast material to fill an entire season of broadcasts with anti-Heat rhetoric from Sunday night's responses.
When you reach the NBA Finals, the truth is, it doesn't much matter anymore how you got there. It's about what you do -- and who you are -- once you arrive. Or, if you lose, how you exit the stage. The Heat sounded more like a team of young phenoms who just lost an AAU tournament instead of an NBA championship. They sounded like a team that will just pick up their gear, head to Vegas or Orlando, break out another pair of expensive sneakers and ball out again next week.
This one slipped away. Oh well, there's another chance next week. There's only one problem with that logic: This NBA basketball thing might be gone for a while, considering the looming labor lockout.
At a time when Wade, James and Bosh should have been locked in on shutting down the Mavericks in a series they once controlled, and then shutting up segments of the basketball world that ridiculed their every step, the Heat instead stammered down a path to perdition.
There's no doubt about it. Somewhere between Game 2 and Game 4 of the Finals, the Heat lost their soul, their spirit, their spunk, anything and everything that made them so special during an otherwise near-dominant dash through the NBA playoffs.
Give the Mavericks credit where credit is due. They clearly were takers in this series. They took advantage of the fourth-quarter generosity of the Heat, who coughed up comfortable leads. They capitalized on Miami's total lack of a defensive presence at point guard or center. They preyed on an opponent that got too caught up in petty storylines and distractions than handling business at hand.
I've used boxing metaphors before, because no sport better blends the human condition with the spectrum of sports. So in many ways for the Heat, they were Mike Tyson in Tokyo. They were intoxicated with the paparazzi following. They were the life of the Finals party. They were the popular pick to win it all, even after some flaws were exposed early in the series.
And then they got popped in the mouth, and started scrambling around the ring searching for a mouthpiece instead of getting up to answer the count.
And as a result, the Mavericks -- those takers -- snatched a championship from the Heat's waste. But here's where the Tyson-in-Tokyo analogy ends. What the Mavericks accomplished was no upset.
Team won out over top-heavy talent. Determination beat out distraction. Substance overcame style.
One team did its best work at the most clutch moments in games.
The other, ultimately, could perform up to par only at the podium in press conferences.
The hope, if you're a Miami fan right now, is that the Heat will hemorrhage a bit from this hurt and come back next season being a little less great at interviews and more committed to introspection. James and Bosh have never won the NBA's top prize. So they don't have a full grasp of what they missed out on this week.
Wade knows better. He won a title in 2006 over the Mavericks, when the Heat celebrated in Dallas the same way Dirk Nowitzki, Mark Cuban and Co. partied in Miami and turned the visitors quarters into a champagne room at AmericanAirlines Arena.
Wade once said it's much harder to win a championship early in your career and then go through the frustrations of failing to taste that sweet success again as you chase another title. So that had to make it an especially painful experience when the final buzzer of the Heat's season sounded.
Wade stuck around just long enough to congratulate the Mavericks as they celebrated on his court, having to take exactly the same feeling he dished out in Dallas five years ago when he tossed the ball high into the air as the final seconds ticked off the clock in Miami's Game 6 victory.
After that, Wade then had to make that long, slow walk down "championship alley" on Sunday, back to the Heat's locker room. That path is adorned with floor-to-ceiling photos of shots taken from the Heat's march through Dallas toward that 2006 title.
This installment of the Heat will win a title eventually. Maybe a few of them. Getting a center, a point guard and some mental toughness would be a start in any offseason improvement program. That would make this Heat team a bit more like the Dallas squad that beat them.
Actually, it'll make them more like Miami's title team in 2006.
The reality is there are so many differences between that Heat team and this one that came up short. Dirk and Jason Terry are surrounded by a superior cast in Dallas than the one they had in 2006 -- even if it was J.J. Barea, Brian Cardinal and DeShawn Stevenson who helped turn this series around.
That 2006 Heat team had more toughness. This 2011 version of the Heat has more top-heavy talent.
That team had better balance, with Shaquille O'Neal and Alonzo Mourning offering defense and a far more effective post game to complement Wade's perimeter postseason brilliance.
This team had the best group of free agents money could buy, but spent all season with Wade, Bosh and James trying to avoid stepping on one another's toes.
That team five years ago had a much more reliable bench, with James Posey, Gary Payton, Zo and holdover Udonis Haslem filling any and every void. Meanwhile, on this team, you never knew what to expect from Mario Chalmers, Mike Miller or any of the Heat's centers.
That team had Pat Riley on the bench.
Case closed.
Well, except for one more thing.
That team wouldn't have gone out like this.
Not on the parquet. And certainly not at the podium.