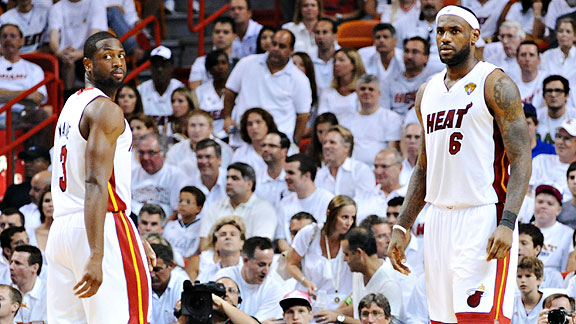 Garrett Ellwood/NBAE/Getty Images
What could the Heat have done differently to change their fortune in 2010-11?
How did the Heat blow it? How did a team with such an impressive collection of talent become so listless when it mattered most? Was it personnel? Coaching? A lack of will or desire? Mental errors?
When a team such as the Heat spirals into oblivion, there's no single contributing factor. As convenient as it might be to identify one scapegoat, miscue or bad acquisition, losing is almost always a team effort.
As we examine the tea leaves of the Heat's failures, a number of questions come to mind:
What if LeBron James and the Heat had managed his move to Miami more smoothly?
Whatever is driving the pitchfork crowd to direct a bizarre level of collective hatred toward a basketball player, one thing is undeniable: LeBron and his handlers managed to take one of the era's most marketable and talented athletes and turn him into Public Enemy No. 1. That feat requires a special kind of mismanagement, but they pulled it off. Then the Heat compounded matters with the pyrotechnics show in July.
A lack of execution and aggressiveness doomed the Heat, not a pep rally or the fumes from LeBron's jerseys burning on the streets of Cleveland. But try as they might to reject the idea that outside distractions adversely affected on-court play, James and the Heat played their worst ball when the spotlight was the brightest.
What if the Heat had played more small ball?
When you break the Heat down to their component parts, they have one asset that stands above all others: athleticism.
There are a number of ways to maximize that attribute, and playing James at the power forward position is one of them. Over the course of his career, James has been resistant to embrace that shift, even though lineups that feature LeBron at the 4-spot perform incredibly well. He was more receptive this season, but what if the coaching staff had pressed the issue and established a front-court rotation of James, Chris Bosh and Udonis Haslem (with Joel Anthony's defense on call if necessary)?
It's confounding that James prefers to play along the perimeter, where he pressures defenses far less than he does in the basket area. That's unfortunate, but it's a reality the Heat can solve only by challenging him to fully embrace his size and strength. It's a project that should've been pursued more aggressively from the outset (not merely out of necessity when Bosh went down in January), and one that could've paid dividends in June.
What if Spoelstra had used his lineups more proactively in the Finals?
In most competitive seven-game series, one team emerges as the tactical aggressor while the other is forced to react.
Mavericks coach Rick Carlisle was the bolder general in the Finals, deploying J.J. Barea as a starter in Game 4. It was more than a cosmetic move, as Dallas was able to more ably respond to defensive matchups and got its most efficient players on the floor in crucial spots.
Meanwhile, Spoelstra was much slower to adjust, staying with stale, unproductive units rather than taking a more proactive approach. All season long, Spoelstra lauded the versatility on the Heat's roster. Yet when the team desperately needed to combat the Mavericks' guerilla warfare with less conventional responses, he remained conservative -- perhaps fatally so.
What if Udonis Haslem hadn't tried to save that ball in Game 2 of the Finals?
With a 1-0 lead in the series, the Heat led by two points with possession of the ball in Game 2 inside of the two-minute mark.
The Mavericks ratcheted up their defense, and the Heat couldn't generate anything other than a pair of contested 25-footers for James. Haslem doggedly pursued James' second miss. As Haslem gathered himself for a putback, Jason Terry got his hand on the ball.
Had Haslem let the ball fall out of bounds, the Heat would've inbounded with about a minute remaining and a fresh shot clock. Instead, Haslem lunged across the baseline and saved a ball that didn't need saving. In doing so, Dallas seized control of the ball and tied the game on a fast-break bucket by Dirk Nowitzki.
The Heat ultimately lost the game 95-93, and the victory -- made possible by Haslem's well-intentioned but errant decision -- changed the complexion of the series.
What if Mike Miller was healthy?
The Miller acquisition last summer was supposed to be crucial for the Heat. Not only did Miller have the capacity to serve as an ideal backup in the Heat's three-man wing rotation, but he could actually play alongside Wade and James in an untraditional, hyper-versatile perimeter unit. Here were three guys who were excellent ball handlers and among the best rebounding perimeter players in the NBA. Throw in Miller's deadly shot from long range, and it was a coaching staff's dream.
All that changed on Oct. 20, six days before the Heat's season opener at Boston. Miller got his right thumb caught in James' jersey and suffered serious ligament damage to it. In April, he suffered a ruptured tendon in his left thumb.
Miller never found his groove. Simply catching the ball was a painful task, and he finished the season with a lowly 9.73 Player Efficiency Rating (PER). Miller didn't give the Heat a whole lot in the postseason, in which he averaged 2.6 points and about 12 minutes per game.
What if the Heat had stocked their bench differently?
After the Heat signed their Big Three, Haslem and Miller, they had little money left to offer basketball's legion of free agents. Pat Riley pursued the low-risk strategy of finding aging veterans who knew their way around an NBA locker room: Zydrunas Ilgauskas, Jamaal Magloire, Juwan Howard, Eddie House and, later, Erick Dampier and Mike Bibby.
Identifying cheap talent is a tough exercise in personnel management, but the Heat's low-risk scheme yielded low-reward results. Rather than taking a waiver on an eager young player who might have worked hard to achieve the Heat's professional standards we hear so much about, the Heat got a geriatric ward.
Would things have been different had the Heat been more creative? What if they had opted for an Anthony Tolliver over one of their veteran centers? Or pursued a Gary Neal? The Mavs won a title with improbable contributions from Brian Cardinal and Ian Mahinmi. The Heat lost one with a lot of veterans sitting on the sidelines in street clothes.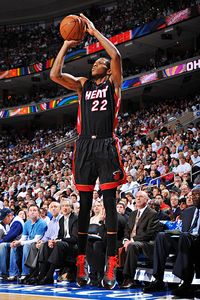 Jesse D. Garrabrant/Getty
Could James Jones have helped the Heat's perimeter game?
What if James Jones had seen playing time in the Finals?
James Jones' disappearance from the Heat's rotation continues to be one of the more mysterious riddles of the postseason.
Jones was the hero of Miami's Game 1 conference semifinals win over Boston. He continued to come off the bench in the Boston series and the opener in Chicago before being sidelined by a toe injury. Although Jones went 17-for-37 from beyond the arc during the first three rounds of the postseason and insisted he was ready to play, he was never heard from again.
Dallas' complicated zone defense gave the Heat fits. It confined the Heat to the perimeter, where they indiscriminately fired up jump shots. A long-distance shooter would've come in handy, and Jones had traditionally performed in that capacity, yet he racked up a DNP-CD for the Finals.
It's entirely possible a proud competitor such as Jones would minimize his injury and was in far worse shape than advertised. That might be the only satisfying explanation for his absence.
What if Dwyane Wade hadn't barreled into Brian Cardinal?
With just under four minutes remaining in the third quarter of Game 6 of the Finals, the Heat got out in transition trailing by six points. House pushed the ball ahead to Wade on the left side, where only Cardinal stood between him and the basket.
Rather than using his speed to burst by Cardinal, Wade decided to slow-play the opportunity with his patented Eurostep. Cardinal read it perfectly and planted his feet just outside the restricted circle. Wade barreled into Cardinal but drained the shot on the collision -- count the basket and the ...
Before the ball could fall through the net, Wade got whistled for the charge. He barked at official Scott Foster, who promptly hit him with a technical foul.
Turning points are easy to spot in retrospect, and this one pushed the game -- and series -- a little further out of reach for Miami. Although there were still 16 minutes left to play, the emotional tenor of the game changed at that moment. Dallas was clearly the more poised and opportunistic team, while the Heat were coming unglued.
What if the Heat had stuck with Carlos Arroyo, warts and all?
It's unreasonable to believe Arroyo, who was the Heat's opening-night starting point guard, would have saved the Heat against the Mavericks. Yet Arroyo has one vital quality as a ballplayer:
He's not Mike Bibby.
As Tom Haberstroh noted on Monday, Bibby's performance this spring was historically bad, the worst individual postseason in NBA history among a player who recorded at least 400 minutes.
Arroyo is no great shakes, but he did shoot 46.6 percent from 16 feet and beyond for the Heat this season before being cut to make room for Bibby. That capacity to spot up coupled with a mistake-free brand of basketball would've been a vast upgrade on what Bibby offered the Heat this postseason.
What if Bosh had been more assertive when things got rocky in the Finals?
For all of Wade and James' talents, this experiment in Miami can work only if they have a power forward who can operate as an offensive catalyst. Bosh was signed to be that guy and, despite a bevy of criticism, he was for the vast majority of the season.
When the Heat lost their fifth straight home game in early March, Bosh demanded more opportunities to play like a big man. From that moment on March 8, the Heat lost only six games until Game 2 of the Finals, and Bosh flourished down the stretch. Although he hit a bump in the Boston series, Bosh had a strong series against Philadelphia and was brilliant against Chicago's bruising front line.
Bosh had it going in Game 6 of the Finals, both his midrange jumper and his inside game, but ended with only nine field goal attempts (seven of which were successful). What if Bosh had made the in-game version of his podium plea? When James stepped back, what if Bosh stepped forward?