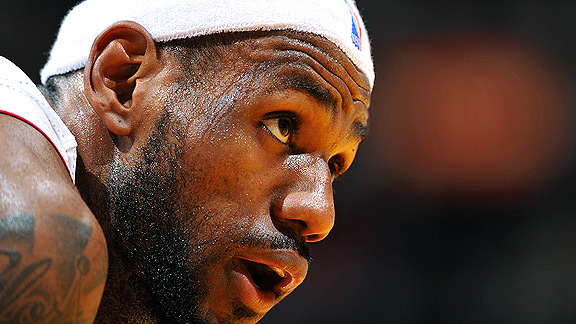 Jesse D. Garrabrant/NBAE/Getty Images
James said he plans to put in the work to improve his game this summer. What's on his to-do list?
MIAMI -- LeBron James' game needs a makeover, and there may be no better time to do it.
Not a radical reconstruction, mind you; no one questions that he's one of the NBA's most dominant players. But with perhaps an extended hiatus before his next game because of the potential lockout, James is about to get a golden chance to answer his critics and overcome one of the greatest challenges of his career.
In defending himself Sunday night from an onslaught of criticism after a poor individual showing in the NBA Finals, James leaned on his work ethic.
"I know how much work individually that I've put into it when you guys are not around," James said after the Miami Heat were closed out in Game 6 by the Dallas Mavericks.
"In the summertime I'll put a lot of hard work into my individual game, try to bring my individual game to a team, and I work hard every day as an individual to go out there and perform at a high level for my teammates and for myself."
James is right; he puts in as much work in the summer as any player in the league. His workout routine is ironclad, whether he's on vacation, in China on a promotional tour or in Los Angeles filming commercials. But in the wake of another untimely defeat and some unexpected struggles, perhaps James needs to re-evaluate what he's working on.
There are two areas of James' game begging for some attention, and they may be the keys to his finally reaching his championship goal when his next opportunity arrives. One is a matter of coaching and repetition, and one doesn't involve the court at all.
At this point in his career, James is compelled to get serious about developing his offensive post game. There is almost no one who knows the league well who doesn't think this is the last frontier for James' game, and the time for him to get serious about it is now.
The other issue is more delicate and complex. After delivering some uncharacteristic performances under clutch playoff circumstances in each of the past two seasons, James might benefit from doing some work on his mental approach. This may involve working with some veterans and also seeing a sports psychologist on a regular basis.
Over the past three seasons, James has indeed spent some of his offseasons working on technique in the post. He has made strides there, and that needs to be acknowledged. In truth, James spent more time working out of the post this season than any in his career. He's getting better and deserves credit for paying more attention to it.
But James has yet to dedicate himself to it like he has with his midrange shooting and his defense, two areas in which he's taken giant steps over the past five seasons. This season James shot a career-high 45 percent on jumpers from 16-23 feet and was at 51 percent overall, also his best ever. In addition, he had his most dynamic defensive season, spending more time guarding power forwards than at any point in his career, while also continuing to be a strong defender on the perimeter.
He has not shown the same intensity working with the post moves. The primary issue is that James is does not have the footwork and positioning habits that would make him a devastating scorer from the post. Being more proficient and comfortable closer to the rim would make him harder to defend and more difficult to double-team than it is when he's on the outside.
The hard parts are already taken care of. James is 6-foot-8 and over 260 pounds. He has the size and lower-body strength to establish position. He is also ambidextrous and can score with both hands turning either direction. This is a trait that could make him a huge challenge to defend.
However, throughout his career James has often been reluctant to commit to posting up. Even on plays in which he gets the ball in the post he does not use his talents to fight for position. He is clearly much more comfortable facing the basket, because that's how he's played his whole life.
James has worked with several assistant coaches in his career on post moves but has yet to seek out an expert or former players known for their post skills as some of his peers in the league have. Perhaps as a result, his post improvement has been gradual even when a breakthrough seems possible.
This isn't a major sin. Michael Jordan and Kobe Bryant are two examples of perimeter players who made themselves into great post players later in their careers. So is Jason Kidd. These players did it when their athleticism started to fade. James isn't there yet, but there's also no reason to wait for his explosiveness to diminish -- especially now after the Mavs put on a clinic of how to slow him down on the outside with double-teams that took away his ability to penetrate in the Finals.
As for the mental aspect, that one may be a harder sell. James has never been one for introspection, but that's what it might take to address some of the issues that have seemed to bother him at the end of the last two postseasons.
He doesn't actively seek advice from veterans who came before him, always wanting to handle situations himself. While he has numerous close friends in the league, most of the relationships are with players his age or younger. He's been serving as a mentor for years now but has never really been mentored himself -- though coaches say he was very willing to accept coaching.
This kind of coaching requires time to examine what happened to him emotionally during the Finals. It looked strikingly like what happened when he went into a shell in the conference semifinals against the Boston Celtics last season.
Like most players in the league, James has worked with sports psychologists in the past, though how much he has consulted with them over the past year is private.
At this juncture, however, James has to look at himself in the mirror and examine the root of what's happened over the past two years. That task might require asking for some additional and more intensive help with the mental aspect of the game. When he was younger with fewer expectations and on underdog teams, James seemed to perform better. For years James said regularly that he "didn't believe in pressure."
While James can insulate himself from critics and chose to ignore detractors, there is no running from the fact that he was not himself in the Finals, and it was more than a shooting slump. When asked about how he evaluates pressure now, James has a different answer.
"Once you get to the playoffs, every game is pressure," James said.
So understandably, it's been a tough year.
James prides himself on his work over the summers, and there's no doubt that process has made him a better player. He's serious about it, and it shows. No one questions that he's putting in the time. The way this season ended, however, sent him a signal that it's time to tackle some harder challenges.
Time will tell if he's ready to do it.